We help you find the best parking prices at Gatwick Airport airport
The benefits of Parkos
All parking lots are personally inspected
Guaranteed the lowest price
Changing and canceling is free
We're here to help
Our experts are here to assist you with comparing car parks and are happy to answer any questions you may have.
Please contact us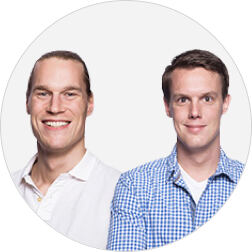 Customers rate our parking providers with an average of
Customers who have booked a parking space through us, rate these with an average of 8.7/10 based on 421 reviews.
Parking at Gatwick
A very convenient way of accessing the airport is through driving. It puts you in charge. Look around Gatwick airport and consider what Parkos is offering in terms of airport car packing, and you would want to make a reservation immediately. If you choose to patronize Parkos parking, you can be sure of having a comfortable spot at a very pocket-friendly cost. All parkings are situated close as well as within the airport. You can get a good parking space anywhere in the country. Grab the most fantastic parking deals when you book through Parkos.
Passengers Gatwick
| Year | Amount |
| --- | --- |
| 2013 | 35,444,206 |
| 2014 | 38,103,667 |
| 2015 | 40,269,087 |
| 2016 | 43,119,628 |
| 2017 | 45,516,700 |
| 2018 | 46,075,400 |
Gatwick Airport, or London Gatwick, is an International Airport in West Sussex, 29.5 miles south of Central London. Gatwick Airport handles more than 45 million passengers every year, which makes it the second-busiest airport by passenger traffic in the UK, and the eighth-busiest airport in Europe. The big airport lounges in the north and south terminals is home to thousands of traveling people everyday. From this Gatwick airport lounge you can hop on one of your flights. The airport is a base for scheduled big airlines like British Airways, EasyJet, Virgin Atlantic and charter operators such as Thomas Cook Airlines and TUI airways. Around Gatwick there are alot of airport hotels where the passengers can stay the night if they want. Because Gatwick airport handles such a significant amount of passengers, since it is a international city airport, it also needs a significant amount of parking spaces.
Air transportation is getting cheaper as the years go by, accounting for more customers for the airlines. As such, passengers assume the price of parking should also drop, but unfortunately, that has not been the case. The London Gatwick airport's official car park is very much expensive. And which is equally applicable in other airports such as Aberdeen airport, Stansted airport, Birmingham airport, Luton airport, Bristol airport, Heathrow airport, Liverpool airport, Manchester airport, etc. Interestingly, business persons quickly introduced alternative parkings to fill in that cost gap. These companies do not have any affiliations to Gatwick airport, yet they offer superb packing services. What you pay for accessing these parking services are far cheaper than the cost of getting the same service at Gatwick, offering you the opportunity of parking at the London Gatwick for friendly rate.
Gatwick address and information
| | |
| --- | --- |
| Adress airport | Horley, Gatwick RH6 0 NP. United Kingdom. |
| IATA-Code | LGW |
| Airport type | Public |
| Passengers | 46,075,400 |
Cheap parking at Gatwick
Are you traveling abroad and you seek a parking spot at the London Gatwick? It is possible for you to book a parking spot with Parkos. Nobody enjoys paying excessively for parking. You can find affordable Gatwick car parking spaces available all year round. You can try leveraging on Parkos alternative providers since they provide airport parking at cheap rates for longer periods. These alternative provider companies are not known because they have expensive offices, management systems, or any kind of luxury. Therefore, you can be sure of getting great parking spots for a cheap price. A couple of these alternative parking providers that you can always rely on are APH parking, Purple Parking, or Parking4Less.

These providers don't base in the actual airport, but somewhere not far from it. A typical instance is just after M23 exit. London Gatwick is designed to have parking space in all directions, like Gatwick south or Gatwick north. The parkings aren't in anyway distant from the airport's surroundings, hence no need to go any far to access great parking space. The implication is that you can get parking spaces for much less.

So many people assume cheap prices to be bad service or bad quality. At Parkos, we understand that this general belief does not work with parking providers. Since these provders don't have any big brand name to cling onto or steady car coming in, they do what they can to ensure that their services are of the best quality so that their reputation is not tarnished. That is why they offer incredible extras some times. For instance, some proviers would offer washing services when you're traveling. This helps you to select your most preferrable parking packages based on your most liked parking experience. Providers are fully aware that if customers aren't happy, they won't return. When it comes to this business, short-term strategies don't make any sense, so a couple of beautiful holiday extras will go a long way. These guys equally deliver outstanding services alongside their low prices. The majority of the parking providers operate 24/7.

We didn't make up these statements, they are all tetimonies of our clients. When you book a parking space via Parkos, you have the opportunity of leaving a review. If you haven't booked any reservations through Parkos, it will be impossible to leave a review. Read reviews from our customers.
Park and Ride & Meet and Greet parking Gatwick
There're a couple of terms that are very popular on our site; valet parking and shuttle parking. We would love to throw some more light on these terms.
Park and Ride at Gatwick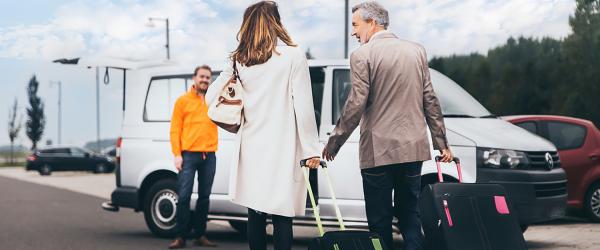 Park and Ride parking at Gatwick is all about driving straight to your preferred parking provider. This one helps you to avoid the jam-packed roads leading to the airport. From this very parking, you would be transported to the appropriate departure hall in a convenient shuttle bus. Some parkings do have fixed transfer periods based on the transer runs of the airport, but a good number of Gatwick car park will individually drive the shuttle for you. You do not have to pay a dime for airport transfer, making it a stress-free park and ride experience. What you see on our website regarding price is exactly what you would pay; no extra charges! When you arrive from your trip, the parking provider picks you up at the airport terminal and brings you back to where your car is at the parking location. You can decide to stick with outside parking or covered parking. You can also decide to leave your key if you choose to. You are not obliged to. For extra comfort, you could book for one night in any of the airport-managed hotels. You may discover an airport hotel that has parking. If you desire this sort of park-sleep as well as fly-type travel experience, look at the offers we have in our website. If you still have any questions concerning shuttle parking close to Gatwick or just parking around Gatwick generally? Go through our FAQs.
Meet and Greet parking at Gatwick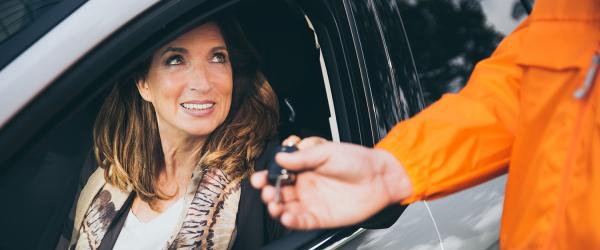 Another name for this more convenient option is meet and greet. You have the privilege of choosing well ahead of time if you'd prefer uncovered or covered parking. This option allows you drive your car to Gatwick airport' departure hall. Where you would have to hand over your car will be inscribed within the parking instruction contained in the confirmation email that will be sent you. That parking employee will be there waiting for you to hand the car over so it can be parked at the appropriate parking lot outside the airport. After reserving a spot ahead of time, we will send you a confirmation email. It will include the driver's telephone number. You can put a call through to the driver informing him of your arrival, or even request an assistance if you want any. Therefore, valet parking simply means no need driving to the parking space all by yourself, and you wouldn' need any shuttle bus. On your returning, your car will be reparked at Gatwick, allowing you to hop in and just zoom off without wasting any time. In summary, meet and greet is just one convenient parking option at London Gatwick. Parkos offers you valet parking services for a much cheaper rate compared to what you would be offered at the airport. If you still have any more questions on valet parking, you can glance through our FAQs.
Long term parking at Gatwick
Parkos makes parking in Gatwick for a long time very achievable. Be it a 2 day period or for much longer periods, Parkos assures you of the most reliable providers. We offer so many parking options, allowing you to make a wise choice based on the price comparisons we show to you. You don't need to doubt the safety or security of your car when it is under the care of any of our providers because we have double-checked with them to make sure they are genuine and good enough to give you the service you deserve.
To make your trip an absolutely pleasant one, we would give you some Gatwick parking tips that are necessary for long-period packing. If you are only staying for a short period, you can also apply these tips.

Compare directly between different kind of providers: Comparing prices will help you save money, which is very obvious of our various prices. Do you seek long-period parking in Gatwick? Then patronizing the airport will cost you a fortune. Why don't you save yourself some bucks by allowing Parkos hook you up with a reliable provider for a lot less.

Choose your style of parking: Would you like a driver to come pick your car up? Or you prefer that someone drives you to the airport? There are various parking options at Gatwick airport. Make sure you understand what differentiates shuttle parking from valet parking. How you would like to pay is also up to you. Majority of parking providers offer options of paying in advance, by creadit card or by cash. Parkos has really simplified airport parking to a great extent.
When you select shuttle parking, you'll have to drive your car to where the parking is all by yourself. When you are done with that, a shuttle will be available to take you back to the airport' departure hall for free. Anytime you return, a shuttle bus will be there to drive you back to where your car is. If you want a good parking option that is cheap around Gatwick airport, then shuttle parking will be your best bet. Parkos ensures you don't have to pay as much as you would have to pay when using other providers for this type of parking.
When you choose valet parking, you'd have the option of driving your car yourself to the airport, with the driver waiting so he can have your car parked. That way, you can just head for your check in directly. On your returning, the car will be brought to you at the airport. You can drive home immediately after your long or short flight. As long as it has to do with London Gatwick parking, you are free to choose between valet nd shuttle parking, and you can also decide if you want covered or uncovered Gatwick parking.

Safety: Are you through exploring all the various prices of the different parking providers? Then naturally you would want to be assured of the safety of your car. Parkos does inspection of the locations of our parking providers to know if they are safe enough for customers to keeps their cars. Explore the various safety measures adopted by these providers. You would be totally convinced about your car's safety, which will amount to you traveling with rest of mind. Security is tight around these parking locations 24/7. With our premium and ride experience, you have nothing to worry about as you leave your car behind and think of your business operation.

Plan your trip: Prior to leaving for Gatwick airport, it's recommended that you have your drive properly planned so you arrive in time for check in. There is always a chance of meeting traffic or a detour as you head off to the airport. Therefore, if you are planning to leverage London Gatwick's parking, you should acquaint yourself with traffic-related information by using the driving directions on our routeplanner webpage to plan your movement.