Information
Parking providers
5
Top rated
Imagine Parking Liverpool
Cheapest
Imagine Parking Liverpool
Closest to the airport
Liverpool Airport Secure Parking
Parking at Liverpool Airport
Liverpool John Lennon airport services both domestic and international flights, operated by airlines such as EasyJet, Ryanair and Wizz Air. The airport is renamed after the musician John Lennon of the Beatles, 21 years after his death. The terminal of Liverpool Airport has a capacity of 7 million passengers per year, with departures and an arrivals hall. These are connected to each other within a short walking distance. It is possible to stay overnight in one of the Liverpool airport hotels. In 2019, the airport served over 5 million passengers, making it the 13th-busiest airport in the United Kingdom.
It can get very busy so planning your next trip to Liverpool Airport should be considered carefully. If you come to Liverpool airport by car, we will take care of your specific airport parking needs. Regardless of whether your trip is a two-day domestic trip to London or a two-week holiday to Spain, Parkos will provide you with cheap Liverpool airport parking, so you can save money on your trip. On our website, you can compare a variety of parking options to suit your cheap Liverpool Airport parking requirements. Booking Liverpool Airport parking is easy, and we offer anything from a standard car space with no frills, to the airport Meet and Greet service when you are on a tight schedule. Of course, we have long term parking available at the cheapest price as well.
Parking reservations - The most important current information for Liverpool Airport car parking
| | |
| --- | --- |
| 🚙 Parking lots: | 1 parking |
| 🏆 Top rated: | Imagine Parking Liverpool |
| 💶 Cheapest: | Imagine Parking Liverpool |
| 🛫 Closest to airport: | Imagine Parking Liverpool |
When you want to take away the stress of Liverpool airport parking look no further than Parkos. Driving your car to the airport has many distinct advantages. You don't have to rely on public transport timetables or be burdened with carrying heavy luggage, for example. Taking your own car to Liverpool Airport means you need to find the cheapest parking option at Liverpool Airport. We provide you with exactly that, everything bookable online. You can choose a specific airport parking space with driving directions that we provide you. This leaves you to enjoy getting on with your journey. We take care of your Liverpool airport car parking needs when you are away. Have a look at all the services we offer including Meet and Greet parking Liverpool airport, or Park and Ride services, where professional drivers take you to the airport by transfer bus.
We provide a selection of Liverpool airport parking deals enabling you to decide which one to use. If you are under no time pressure you might decide to just book the Liverpool airport car park space and take the shuttle bus to the airport terminal. These airport transfers are very convenient when you want to have a hassle free start to your trip. Booking through Parkos will get you the best deal, at real-time parking prices. Our website picks out the best choice and cheapest prices for you so half the work is already done for you. You will get a confirmation email detailing your order and directions to the parking space. Liverpool John Lennon airport parking can be time-consuming at the best of times. We relieve you of all that worry when we take care of your parking requirements.
Parking at Liverpool terminals
If you're looking for parking at Liverpool terminals, here at Parkos we have all the information you need. We know it can be hard to find the best parking option for you, so we've made it easy by gathering everything in one place for your convenience. In addition to commercial off-site parking, you'll also find information on the official airport car parks and drop-off areas.
There are several on-site parking options at Liverpool airport and all of them are within 5 minutes' walk of the terminal. The multi-story short-stay car park is less than a 1-minute walk from the terminal building, as is the fast track long-stay car park. The airport also offers a meet and greet parking service where you can drop your car at the airport door.
The valet parking meet and greet service gives you the convenience of bringing your car right to the terminal building. You simply hand over the keys to a fully-insured driver who will park the car for you. When you return from your break, the car will be waiting for you close to the arrivals hall. If you're looking for a simple parking solution, then this is the service for you.
The terminal has two drop-off areas close to the departures hall. The express drop-off point is directly opposite the terminal building. There is no reservation service for this facility and payment is required on exit. Free parking is available for disabled badge holders for up to 40 mins. The second drop-off point is 5-10 minutes' walk from the terminal, but is free for 40 minutes.
Cheap parking at Liverpool John Lennon airport
We all know that getting to, and spending time at airports can be expensive. If you decide not to take a car to the airport, you might have to stay at a hotel the night before, which will not be cheap. Alternatively, if you take public transport to the airport on the day of your flight the bus or train might get in several hours before your departure. This means, of course, you will spend more money in the airport terminal than you had originally intended. If you decide to take the car, then we offer cheap parking for a short stay car park or long stay car park. It will make your holiday experience even more enjoyable.

We have an extensive comparison tool that will enable you to find the exact parking space you are looking for. Use the filter and preference options to find the space that suits your car parking needs. You will be able to see how far your space is from the airport, for example at easy walking distance. If you are worried about the weather, check and see if there is a covered parking spot available. You will find excellent customer reviews on our website for you to browse through to put your mind at ease. It really could not be easier to find the space you are looking for. The website will show you the parking spaces available at the best prices.

You don't have to worry about security at the airport car parks. All the parking lots on our platform have 24hr CCTV coverage and employees of the Liverpool airport parking lots are present at all times. The Liverpool airport parking partners have all the ownership information on all the cars parked in their car parks at one particular time. High fences surround all of the car parks adding to their safety. Of course, you can help by taking all your valuables from your parked car and making sure all the doors are locked. Your car is in safe hands. So security is not something you have to worry about when you are away.

Not only is this something we make up, but our customers say it too. The moment you have reserved a parking spot at Liverpool Airport through us, you can leave airport parking reviews without any obligation. The parking providers are rated 8.8 out of 10 on average.
Liverpool Airport car park types
We provide two types of parking at John Lennon International airport. The first one is a Park and Ride service which allows you to leave your car at your designated parking spot and take one of the shuttle buses to the terminal. The second one, a Meet and Greet service, enables you to drive your car all the way to the airport terminal building to be picked up by one of the parking employees. The second option is more expensive due to the service and the time involved. It does, however, reduce your travel time to check in. Both types of parking are really efficient, and we are sure you will be delighted with the parking experience you have when booking parking at Liverpool John Lennon Airport through Parkos.
Park and Ride Liverpool airport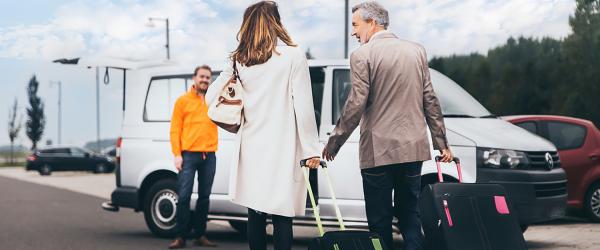 When you book a parking space with us, you will be able to use our Park and Ride service. This service will make your travel experience much more enjoyable. After you have parked your car you hop on one of the airport shuttle vans that will take you directly to the airport. You will appreciate the convenience of this when you see the number of cars at the airport. It can get very congested. You don't have to worry about any of this. Just sit back and dream about your upcoming journey. The same applies when you return. Wait for the shuttle bus at the entrance to the airport, and it will bring you back to your parked car.
Meet and Greet parking Liverpool airport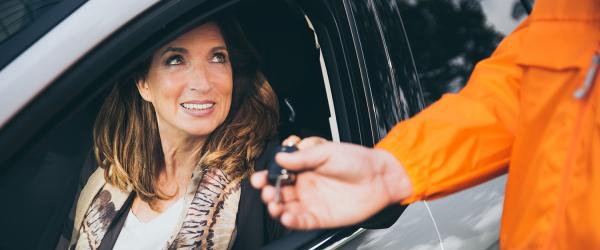 The Meet and Greet service suits, in particular, people who are working on a tight deadline or simply want the seamless transition from car to departure entrance. It is particularly suited to people with mobility problems as your car will be left very close to the main entrance of the departure hall. When you book a Meet and Greet parking service you will be sent an email confirmation order. This email will detail exactly where you should leave your car. Your car will be picked up at the parking location. The departure area is only a short stroll away. On the day of your return, your car will be driven to the airport for you to drive home.
Long stay car park at Liverpool airport
It doesn't matter how long you want to leave your car with us. At Parkos, we can provide you with long-term, secure parking for any period determined by you. The common misconception that privately owned car parks offer inferior service and care is incorrect. From the moment you leave your car with one of our parking partners, they will treat it as if it is their own. Our customer reviews testify to that. With our comparison tool on our website, you will find the long stay parking space that will suit you the best. When you are comparing prices and finding locations our website is the best tool to use. It will give you the best combination of your preferred choices.

Customer service: Parkos places a lot of importance on customer service. Handing over your car to someone else is not something to be taken lightly. We appreciate this and, as such, make it easy for you to contact us about any queries you might have. Click on the customer service section on our website, and you will get all the answers you need. If we don't address your particular situation there, you can send us a direct message in the section at the top of the page. We will get back to you as quickly as possible to help you solve your problem. Your booking for parking at Liverpool airport with us will always be very secure. We think you will appreciate our booking flexibility.

Filter parking options: When making a reservation you can choose from different options and use filters to narrow your choices down. We offer you the best deals for Liverpool airport car parks. We update the parking prices regularly according to the time of the year and suppliers. The price will fluctuate because of seasonal demands. Price fluctuation is one of the reasons why we can not take bookings by phone. We recommend that you book in advance to take advantage of the best prices and to make sure that parking is available. You will have the opportunity to change your booking on our website after you have booked. If your flight is rescheduled, for example, you can change your booking, free of charge.

Safety: The price you see on our website is the actual price you will pay for parking at Liverpool airport parking. So you can be sure in the fact that you will not be affected by any future price increases if you pay immediately. We process all of our online payments via a secure connection with an SSL certificate signed by Verisign. This means that all your information is encrypted. You can get an invoice for your booked parking space on our website, after you have paid. Parkos accepts all the most recognized debit or credit cards. We also accept payments through PayPal. You can be safe in the knowledge that Parkos will take care of you every step of the way.

Travel planner: We will provide a route planner in your booking confirmation email to help you find your Liverpool airport parking space quickly. The planner will take you from your place of departure directly to your parking space. We advise you to print out your planner and all the relevant contact details in case you encounter any problems. Download Google Maps to your phone if you haven't already done so. This will bring you all the way to your designated spot. If you continue to encounter difficulties you can contact us by phone, and we will put you on the right path. The phone number of the car park will also be on your confirmation email.
Information
Parking providers
5
Top rated
Imagine Parking Liverpool
Cheapest
Imagine Parking Liverpool
Closest to the airport
Liverpool Airport Secure Parking
Customers rate our parking providers with an average of 9.7
A printed map on the booking confirmation would have been handy but worth the money and not that difficult to find
Mark Huyton
Park and Ride outdoor
1 August 2022
1st class service throughout
Darren Potter
Meet and Greet outdoor
1 August 2022
Frequently Asked Questions
How early to arrive at Liverpool airport?
How does Park and Ride work at Liverpool airport?
How does Meet and Greet work at Liverpool airport?
The benefits of Parkos
All parking lots are carefully inspected
The best deals on airport parking
Free cancellation up until 24 hours
Over 2 million customers globally