Edinburgh airport car parking
Edinburgh Airport (EDI) is Scotland's busiest airport and the sixth most active in the UK. In 2019 14.7 million passengers passed through it. Edinburgh airport operates from a single airport terminal building and has around 2,500 employees. Parkos provides cheap Edinburgh airport parking for you when you are away. Edinburgh airport is located just off the M8 and M9 motorways. It is served by a train, bus, and, quite unusually, tram connection. Parkos has partnered with different businessmen to offer "alternative" Edinburgh airport parking options. Although not affiliated with the airport, our partners provide the cheapest Edinburgh airport parking alternatives for you when booking parking at Edinburgh airport. Please browse through our website to see all the off airport parking services we offer and book your space today!
Edinburgh airport is well served by public transport. Several bus companies go to the airport from Edinburgh and its surrounding areas. Although there is no official train station directly connected to the airport, you can catch the train to Edinburgh Gateway Station, which connects with Edinburgh trams, which goes to the airport. Choosing how to get to the airport is always an important decision. The bus and train schedules might not suit you, for example. Although they will connect you to the airport, you may arrive too early. This will mean you will have too much time on your hands and you will end up spending some of your hard-earned holiday money. Taking your car is probably the best option, and Parkos can provide you with Edinburgh airport car parks at the cheapest price. Compare parking with Parkos today.
Edinburgh airport is a one terminal, one runway airport. The fact that it is relatively small makes everything easy to navigate for the passengers. Most of the destinations are short-haul flights to European cities. However, Virgin Atlantic and United Airlines fly seasonally to Barbados and Newark, respectively. Westjet will start flying to Toronto in early 2022. Edinburgh airport offers the usual selection of airport restaurants and bars for you to enjoy a meal or a drink in the airport lounge before your flight. Edinburgh airport has three airport lounges, two Aspire and one designated to British Airways customers. They also offer a security and passport fast track service. If you decide to book the Edinburgh Meet and Greet services, you will have ample time to enjoy all the terminal amenities.
Cheap car park Edinburgh airport
The most practical and comfortable way of getting to Edinburgh airport is by car. It gives you flexibility and basically assures you of getting to the airport on time. A full car is not only the easiest way to travel but also the most cost-effective. It also means that you don't have to wait for a bus or train connection when you arrive back in Edinburgh. Parking your car can be an expensive affair, however, and if you don't book with the right company, you might end up paying a lot more for it than you had initially intended. At Parkos, we guarantee you the cheapest car parking at Edinburgh airport parking when you book our Park and Ride Edinburgh airport service. Have a look at this service here!

Sometimes booking your flight can be the easy part of going away on a trip. Getting someone to take care of the dog and look after your house can be hard at the best of times. Finding a suitable airport parking spot for your car adds to your worries. At Parkos, we provide you with a booking platform that will simultaneously take care of your airport parking needs. You can also use the filter feature on our search engine to find the Edinburgh airport car park you want for your specific travel dates. Once you find it, you can book it directly, and we reserve the space for you. If you have an early flight, you might want to book an airport Hotel and Parking service for your extra convenience. Check out this service on our website now!

Parkos has teamed up with local Edinburgh airport car parks to offer you the cheapest Edinburgh airport long stay parking. These car parks are not affiliated with the airport but are all within five minutes of the departure hall. We call them "alternative" off airport parking car parks. Our partners typically own the land and have fewer costs than the official Edinburgh airport car parks. This, in turn, allows us to offer much cheaper spots. Parkos receives a commission on every Edinburgh airport car park space booked through us. However, the cheap parking price on our website will never be greater than booking directly with the car park provider. You pay the same price with the added security of our helpline and customer service to back you up. If you encounter any problems with parking at Edinburgh airport, we are there to help you.

Just because Edinburgh airport parking is cheaper than our competitors does not mean that we offer an inferior service. The opposite is the case. We are very aware that customers might be wary of booking with an off-site car park, so we have to prove to them that we offer a service that compares to the rest. All our car parks are manned 24 hours a day, with CCTV cameras and high fences surrounding them. We have customer service that will take care of any issues you might have on the way to or at one of the car parks. At Parkos, we realise that taking care of you and your car is our most important priority. We have many reviews to testify that we are succeeding in doing this.
Parking options at Edinburgh airport
At Parkos, we offer three primary airport parking services. Park and Ride is when you drive your car to your designated spot and take the shuttle bus to the terminal. When you arrive back in Edinburgh, the bus will take you back to your car. Our Meet and Greet service allows you to drive your car up to the airport terminal building, where you will be met by one of our employees who will take your car and park it for the duration of your stay. We will drive it back to the terminal when you arrive back. The Hotel and Parking service from the Edinburgh airport parking packages allows you to book a hotel with airport parking on the hotel grounds. This is perfect for you if you have an early flight.
Park and Ride Edinburgh airport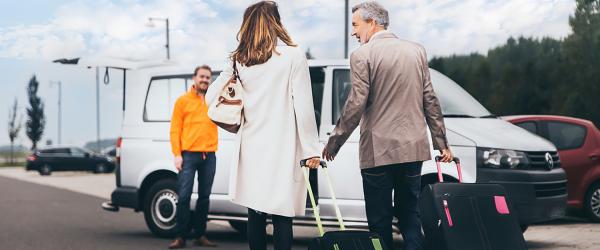 The Park and Ride service is the one most favoured by most of our customers. It offers excellent value for money, and the transfer from the car park to the terminal building is fast and efficient. You select your preferred spot and book it. After you have paid, your space is confirmed, and you will be sent an email of your pre booking giving you specific directions to the parking at Edinburgh airport. After you have parked your car and checked in at the car park office, you jump on one of the shuttle busses with a drop off at the Edinburgh airport terminal. These buses arrive at regular intervals, so you will not be waiting long for the airport transfers. On your arrival in Edinburgh, you get the bus back to the Edinburgh airport parking where your car will be waiting for you.
Meet and Greet Edinburgh airport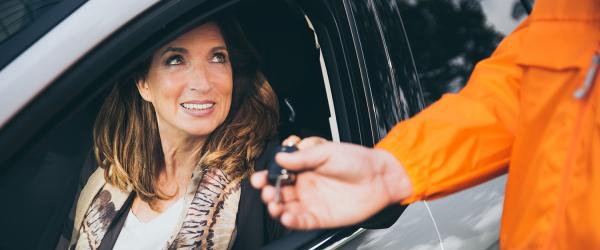 The Meet and Greet service offers you the possibility of leaving your car with the car parking partner at the terminal on your way out and collecting it from the partner at the same place on the way back. It is an excellent way of transferring from your car to check-in with minimal fuss. When you book this service with us, you will be sent a confirmation email detailing how to get to the meeting point at Edinburgh airport. We will also need your departure and arrival times. You will be given the name and phone number of the employee taking care of your car. After meeting at the designated spot, you hand the keys over and enter the terminal building. Your car will be waiting for you at the selected location when you arrive back at Edinburgh airport.
Edinburgh airport Hotel and Parking
Have you ever wondered why your flight was so cheap? It can be because it is the first one out of the airport at 6 am. This early start gives you the option of driving to the airport very early in the morning or staying at a hotel the night before, so you can wake up fresh the next day to start your holiday or trip away. If you choose the latter, we can book your Edinburgh airport hotel with parking when you pre book the Hotel and Parking service. This is a popular option, but the low cost parking spaces are limited. We advise you to book well in advance. You can park your car safely at the hotel and get a shuttle bus to the terminal the morning after, making it in good time for your flight.
Edinburgh airport long stay parking
Regardless of whether your trip is for two days or three months, we guarantee you that your car will be in safe hands with us. Because we are not directly affiliated with the airport car parks, customers will naturally be more sceptical of us when handing over their car. We are aware of this and, as such, make sure that your car is secure the whole time you are away. All our employees are insured to drive your vehicle and are trained to take great care of them. Our goal is that you are so satisfied with our great value for money long stay car park that you recommend us to your friends and book with us the next time you have a flight from Edinburgh airport.

Reliable Edinburgh airport car parks: Booking and paying for your car park spaces is easy. Pick the airport you are travelling from and search all available spaces. You can even filter your search if you would like a space with a roof, for example. When you have selected the airport parking spot, book it and then pay. You can only book online as our prices are in real-time and influenced by seasonality and demand. Once you have paid, you have locked in your spot at the specified price, no matter how the price fluctuates afterwards. We will send you a confirmation email detailing the location of car parking spot reserved. If you have any problem with your booking, please contact our customer service. We will answer your query as soon as we can.

Secure payments: Parkos accepts most debit and credit cards. PayPal is also a popular option. After you have booked your parking at Edinburgh airport, you will be asked for payment. Once this is confirmed, we will send you the confirmation email outlining all your booking details. Your payments go through a secure payment system. All your information is encrypted. It is, therefore, impossible for any of your personal financial information to be shared. At Parkos, we never have access to our customer's details. This is taken care of by your bank. Most of our Edinburgh airport parking partners also accept cash if this is your preferred choice of payment. However, not all do, so it is advisable to check this out on the page for Edinburgh airport parking to confirm.

Reviews: We appreciate it when you leave reviews on our website or TrustPilot. These insights into our business are essential to our need to improve constantly. Without these reviews, we might be unaware of things we are doing wrong or, for that matter, something we are doing well. So it is so crucial for both our car park providers and us to get feedback from you. If you have had a bad experience at one of the Edinburgh airport car parks, we need to know. If you have had bad customer service from our staff, we need to deal with this. Fortunately, we have hundreds of good reviews, so we feel we are on the right track. We want you to be satisfied with your experience, and book with Parkos every time you are at Edinburgh Airport.

Customer service: Parkos prides itself on the customer service. It has to be of a very high level because we are offering low cost parking at Edinburgh airport that are is off-site and not official Edinburgh airport parking. We need to gain the confidence of our customers by showing them that we will take care of any issue they might have. Any question you might have will be answered when you contact our helpdesk. We appreciate that your plans can change very quickly. This is why we offer free cancellation 24 hours before your intended arrival. You can change your pre booking cost-free as well. Our mission is that you come back to us every time, and to be sure of this, we know we have to have excellent customer service. We are all looking forward to seeing you soon.
If you need a route description, take a look at our directions page. We hope to see you soon for Edinburgh airport parking.
Parking providers at Edinburgh Airport
Frequently Asked Questions
How early to arrive at Edinburgh Airport?

How early you have to arrive at the airport depends on the type of Edinburgh airport parking you have chosen. The general rule is that you have to be ready to go through airport security 2 hours before your flight departs. So before that time you have to have parked your car, go to the airport and check in for your flight.

Park and Ride

Park and Ride is often the most affordable parking option. With this option you drive straight to the airport parking lot. The parking lots are often located 10-20 minutes from the airport. In this case a shuttle bus will be available to take you to the airport. Please check the parking page of your parking provider to check the shuttle departure times and transfer time to Edinburgh airport.

Meet and Greet

Meet and Greet parking at Edinburgh airport is the type of parking that saves you the most time. With this option you drive straight to the airport. Approximately 30 minutes before you arrive you call the parking provider you have reserved your parking spot with to let them know that you are close. Upon your arrival a valet will be ready to park your car for you. This process should take no longer than 10 minutes.

International flights

When you are flying internationally you should keep in mind that the process of check in might be longer due to extra security measures or procedures. A check in time is usually provided with your flight reservation. We advise that you stick to this time. If you are unsure, you can always call your airline.

How does Meet and Greet work at Edinburgh airport?

The Meet and Greet facility at Edinburgh Airport offers a fast and convenient way to park your vehicle. Simply drive to the airport's departure hall and phone the parking partner about 30 minutes prior to your arrival. The parking phone number can be found in the confirmation email you receive.

Continue Your Journey

Drive your car to the airport's departures hall. Upon arrival, a parking provider staff member will be waiting for you. They will check your car for damage, have you sign a receipt, and take your keys. The parking attendant will drive you to the parking area while you proceed to the Edinburgh airport check-in desk. There's no need for you to drive to the parking lot - the parking lot staff will park your car for you in a car park space.

On Return

Please phone the parking provider after you've arrived and picked up your luggage at the baggage claim. The parking partner's phone number can be found in the reservation confirmation email. You and the parking provider personnel will then arrange a time for your arrival. After that, an employee will transport your car to the agreed-upon place, usually in front of the arrivals hall of Edinburgh airport.

Advantages and Disadvantages

When it comes to parking at Edinburgh airport, it's important to make an informed decision. The following are the advantages and disadvantages of the Meet and Greet service:

Benefits

Time-efficient - having your car parked for you will save you time, as you're right in the departure hall and don't have to drive from the parking lot to the airport.
Convenient - there's no need to bring your large luggage from an off-airport parking area to the departure hall, as you can just exit your vehicle in front of the departure hall of Edinburgh airport.

Disadvantages

Trust - you won't be able to see where your car is parked in the parking lot. However, we can assure you that all parking partners on our comparison platform only deal with licensed drivers.
Cost - the Meet and Greet parking service is slightly more expensive than other parking options.

How does Park and Ride work at Edinburgh airport?

When you choose Park and Ride at Edinburgh Airport, you drive yourself to the car park of the parking provider. All of the parking partners on Parkos' comparing platform are close to Edinburgh Airport. The airport terminal is accessible through a free shuttle bus.

You can check how long the shuttle bus will take to arrive at Edinburgh Airport on our website and in your confirmation email.

On return

Please contact the parking provider when you return from your vacation and land at Edinburgh Airport. You meet with a parking lot employee at the agreed-upon spot, who drives the shuttle bus to the airport. The parking provider's phone number will be included in the confirmation email you get from us after booking your reservation.

Traffic information

If you are travelling to Edinburgh Airport, please be aware that it is a packed and congested location with frequent traffic delays. As a result, whether your flight is early in the morning, late in the afternoon, or late at night, we recommend taking extra measures. Check the daily busiest routes and see if there are any road repairs going on before you go.
Our benefits
All car parks are carefully inspected
The best deals on airport parking
Free cancellation up until 24 hours
Over 4 million customers globally