We help you find the best parking prices at Heathrow Airport
The benefits of Parkos
All parking locations are personally inspected
Guaranteed the lowest price
Changing and cancelling is free
We're here to help
Our experts are here to assist you with comparing car parks and are happy to answer any questions you may have.
Please contact us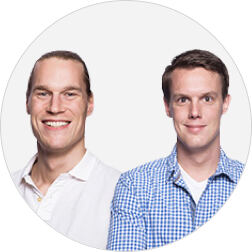 Customers rate our parking providers with an average of
Customers who have booked a parking space through us, rate these with an average of 8.7/10 based on 421 reviews.
Parking at Heathrow airport
Driving is the most relaxing way of getting to the airport. This means that you are in control. Compare the most reliable parking providers for airport car parking around Heathrow airport with Parkos and reserve your place immediately. When booking a parking with Parkos, you are assured of the lowest price and the guarantee that your car has a spot. Parking lots that are full will not be shown. The parkings are placed close and around the airport. This means that the parkings are accessible for travelers all around the country, which means there are parking options for everybody. Book via Parkos for the best parking deals.
Passengers Heathrow airport
| Year | Amount |
| --- | --- |
| 2013 | 72,367,054 |
| 2014 | 73,374,825 |
| 2015 | 74,959,058 |
| 2016 | 75,676,223 |
| 2017 | 77,988,752 |
| 2018 | 80,102,017 |
London Heathrow, also known as London Heathrow is a big international airport located in London, United Kingdom. Heathrow airport is one of the busiest airports in the world by international passenger traffic. In 2018, it handled a record 80.1 million passengers. Heathrow occomodates these passengers in one of their many airport lounges. Heathrow is also the primary hub for British Airways and Virgin Atlantic. Because Heathrow handles quite a significant amount of passengers, since it is a international city airport, it also needs a significant amount of parking spaces for the cars that people bring.
Traveling by plane is getting cheaper every year, which makes it accessible for more people every year. Because of this, people expect that parking by the airports will also get cheaper, which is not the case. The official car parks that offer onairport parking and belong to Heathrow airport are still very expensive. But the story is the same with other big airports in the United Kingdom like Manchester airport, Liverpool airport, Bristol airport, Luton airport, Gatwick airport, Birmingham airport, Stansted airport, Aberdeen airport and so on. Fortunately, entrepreneurs around the airports noticed this and smartly decided to start offering so called 'alternative parkings' or offairport parking. These companies are not linked with Heathrow airport, but offer great parking services. Some car hire companies also started to offer such services.Often these parkings are just a fraction of the price you pay at an official airport parking facility, which makes parking at Heathrow Airport more affordable in an instant. At Parkos you can compare parkings around the airport, and be assured of the best possible parking deals.
Heathrow airport address and information
| | |
| --- | --- |
| Adress airport | Longford TW6, Verenigd Koninkrijk |
| IATA-Code | LHR |
| Airport type | Public |
| Passengers | 80,102,017 |
Cheap parking at Heathrow Airport
You are going abroad and want to park at Heathrow airport? You can reserve your parking spot easily via Parkos. No one wants to pay too much for parking. Cheap Heathrow airport parkings are available throughout the year. That's why Parkos offers alternative providers who focus on cheap and long term parking at the airport. These companies don't have big management systems, expensive offices or unnecessary luxury. That way you can park your car for very cheap at parking providers like Purple Parking Heathrow, Budget Heathrow parking, Purple Parking park or NCP flightpath Car Park. This way you can always enjoy parking at the lowest rate possible.

The providers are not based on the airport itself, but close by in convenient locations. An example is next to the exit of the M4. Heathrow airport has parkings in every direction. The parkings are located on a short distance from the airport, so you don't have to make any unnecessary miles, but with the benefit of cheaper terrains for the providers. This means they can offer the parking places at an even lower rate.

A lot of people associate cheap with bad quality or bad service. Here at Parkos we know that this is a fable which doesn't apply to parking providers. Because these providers can't lean on a big name or a continuous stream of cars, they are forced to keep the quality of their service high in order to stay relevant. This is the reason that parking providers offer special extras in some occasions. For example, some providers offer to wash your car when you are traveling. This way you can choose your own ideal parking packages for your own ideal premium parking experience.The providers know, that if customers are not happy, they will not return. A short term strategy won't work in this business, so they try to offer you some nice holiday extras. So next to low prices, you should also expect an outstanding service! Most parking providers are also opened 7 days a week and 24 hours a day.

These statements are not something that we made up, it's also what our clients say. When you have booked online via Parkos, you can choose to leave a review. People who haven't booked a reservation via Parkos, will not be able to leave behind a review. Click to read reviews of all our Heathrow parking partners.
Park and Ride & Meet and Greet parking at Heathrow airport
There are a few terms you will see quite often on our website; Park and Ride & Meet and Greet. Because of this, we want to give some extra explanation on these terms.
Park and Ride at Heathrow airport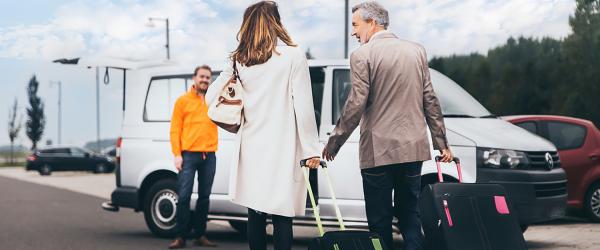 When you want to park your car at Heathrow airport, there are a few forms of parking you can choose from. These forms are Park and Ride & Meet and Greet. Park and Ride at Heathrow airport means that you drive directly to the parking provider, no matter which one you choose. You don't have to worry about the busy main roads to the airport, because you will avoid most of them. From this parking, you will be transferred in a comfortable shuttle bus right to the airport terminal. Because you booked your spot in advance, the parking provider knows when you will arrive and he will have a shuttle bus ready for you. Some parkings maintain fixed transfer times on which the airport transfer runs, but most of the Heathrow car parks drive the shuttle individually for you. Of course, the airport transfer is free of charge, which makes it a simple park and ride experience.The price we show on the website is the price you pay, and not a pound more. This is guaranteed. When you come back, you will be picked up at the terminal and brought back to your car at the car parks. As easy as that. You can choose for covered parking, or outside parking. There is also a possibility to choose whether you want to hand in your key or not. If you want even more comfort and time, you can choose to book a night in one of the airport hotels. If you are lucky you can find an airport hotel with parking. If you're interested in this type of park sleep and fly type of travel, check our site for our offers. Hotels and parking are a great combination, but the offer is quite slim. Our parkings around Heathrow airport are reviewed with an average of an 8,8, so great service! Do you have any questions about Park and Ride around Heathrow or parking around Heathrow airport in general? Look at our frequently asked questions.
Meet and Greet at Heathrow airport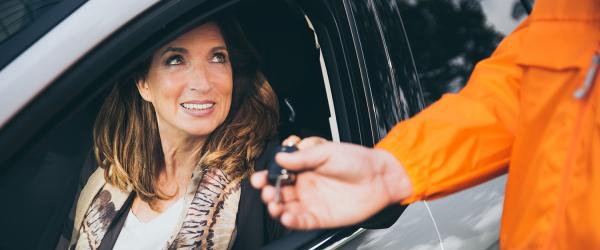 Meet and Greet parking at Heathrow Airport, also known as valet parking, gives you even more comfort. You can choose in advance if you want covered or uncovered parking. You will drive your car to Heathrow Airport yourself, straight to the airport terminal. The exact place where you will have to hand over you car will be mentioned in the parking instructions that the parking will provide within your confirmation email. Then, an employee of the parking will be waiting for you and your car in that location, to take the car and park it in the parking lot away from the airport. When you reserved a spot in advance, you will get a confirmation from us. This will also have the telephone number of the driver in it. Call the driver to let him know when you are arriving so he can be ready, or to make it clear that you need special assistance. So Meet and Greet means you will not have to drive to the parking lot yourself, and don't need a shuttle bus. On the day of your return, your car will be brought back to the airport, so you can get in and drive off immediately. Happy days! In short, Meet and Greet parking Heathrow, or valet parking, is a convenient way of parking at Heathrow Airport. This service is also very popular for business parking at airports. With Parkos, you are guaranteed Meet and Greet parking at a lower cost than Meet and Greet parking at the official airports. Do you still have any questions on Park and Ride or Meet and Greet parking, or just a general question? Look at our frequently asked questions.
Long term parking at Heathrow airport
Witch Parkos, long term parking at Heathrow Airport is a piece of cake. Whether you are parking for 2 days or for a longer period of time, via Parkos you will always find the best providers. Through our comparison you will always find the best price between all the parking options that are offered to you. Also, we have inspected all of the providers personally, to make sure that you will find yourself at a reliable and safe provider you can park your car with peace of mind.
To help you start your trip well we would like to give you some tips on long term parking at Heathrow Airport. These tips can also be used for short stay parking.

Compare directly between different kind of providers: Comparing prices saves you money, which you can see in our prices. Are you planning on long term parking at Heathrow airport? Than it could be so that the costs are running up quite high. Don't overpay, keep your travel money, with Parkos you are guaranteed the lowest price.

Choose your style of parking: Do you want your car picked up by a driver? Or would you rather be driven to the airport? There are different ways you can park at Heathrow Airport. Pay attention that you know the difference between Park and Ride & Meet and Greet. The payment is also your choice, most parkings offer you the choice whether you would like to pay up front, by cash or by credit card. Airport parking is made simple with Parkos.
When choosing Park and Ride, you will drive straight to the parking itself. After that, you will be driven to the airport with a free airport transfer. When you return, the shuttle bus will be on stand by and ready to pick you up immediately, and drive you back. Park and Ride is often the best option when you are looking for a cheap alternative to park around the airport. The parkings at Parkos are almost always cheaper than the official parkings from Heathrow airport.
When choosing Meet and Greet, you can drive to the airport yourself, where a driver will stand ready to park your car. This way you can directly go to the check in. When returning, the car will stand ready for you at the airport again. This way you can immediately drive home after your flight. When choosing for parking at London Heathrow, you can choose between Park and Ride or Meet and Greet parking, next to that you can choose between covered and uncovered parking.

Safety: Are you done with comparing prices of all the different providers for Heathrow Airport parking? Then you would like to know that your car is parked in a safe way. Parkos personally inspects all locations from the parking providers and checks the safety and reliability of the parking where your car will be parked. Look into the different safety measures that the providers have taken. This way you can see for yourself why your car is parked safely, and you can set off with peace of mind. All parking terrains are guarded, 7 days a week and 24 hours a day. These parking packages make it feel like a travel insurance for your car back home. With this premium park and ride experience you can relax completely while you leave your car behind at a London heathrow Airport park space.

Plan your trip: Before you leave enroute to Heathrow Airport, we advise you to plan your drive so you are sure that you will arrive on time for check in. There's always a possibility that there is traffic or detours on the route to the airport. So are you planning on parking at Heathrow Airport? Look into the traffic information and plan your trip on the route planner page.