London Heathrow Airport car parks
When you're setting off on holiday, the last thing you want to worry about is transport to the airport. So, why not use our comparison platform to find a good deal for Heathrow airport parking, and drive to the airport in the comfort of your own car? Heathrow long stay parking can be great value for money. Compare the parking providers on our website, so you can choose the best option for you. Whether you travel for business or pleasure, there are options for all budgets, including Meet and Greet parking, self park and Park and Ride. Parkos has the best deals on all types of parking. Whatever the length of your trip, don't hesitate to start searching for your parking spot straight away. Some of the best parking deals are available well in advance, so don't wait too long when booking Heathrow airport parking options.
London Heathrow parking Terminal 2
Heathrow Airport Terminal 2 has a good range of airport parking options to suit every need and budget. As well as low-priced self-park options, there are good-value Meet and Greet parking options that will save you time and stress when parking at Heathrow airport. Another good parking option, especially if you have an early morning flight, is stay and park at one of the airport hotels with car parking. When you use park and stay, you don't need to worry about traffic on the way to Heathrow airport. Get a good night's sleep, leave your car at the airport hotel and take a taxi transfer to the airport in the morning. Search our site for the best Heathrow car parks charges from all the different parking providers. There are five parking providers of Meet and Greet parking at Terminal 2, so there is plenty of competition to provide the best service at a reasonable parking price.
Read more about parking near Heathrow Terminal 2, prices, services, availability and other information about the car parks near Heathrow.
London Heathrow parking Terminal 3
Heathrow Terminal 3 is the main airport terminal for long-haul departures to the USA, Canada and Asia. The last thing that you want to worry about when travelling at the long stay car parks is your car. Terminal 3 offers two Meet and Greet options. If you're looking for cheap London Heathrow parking, try one of the three budget self-park options. Most self-park options at Terminal 3 have shuttle bus transfer times of less than 15 minutes. Some car parks a little further away and will transfer you to the terminal within 30 minutes. Stay and park options are also available. Just stay in an airport hotel for one night before leaving on your trip, and leave the car at the hotel parking until you return. With prices from as little as £9 a day, there terminal parking options at Heathrow airport for every budget.
Read more about parking near Heathrow Terminal 3, covering everything from costs and features to availability and helpful tips for choosing the best parking facility near the airport.
London Heathrow parking Terminal 4
London Heathrow terminal 4 was originally built for short-haul flights within Europe, but now services passengers travelling to and from Europe as well as long-haul passengers. While official airport parking can be very expensive, there are budget options off-site. Our search engine compares all the off-site parking providers, so you can find the one that suits you the best. While this terminal doesn't have quite as many options as Terminals 2 and 3, you can choose from Meet and Greet or self-park services. Whichever self-park service you choose, the free shuttle transfer busses take between 7 and 15 minutes and run regularly 24 hours a day. Take a look at the options on our website to see all the parking options at the best Heathrow parking prices.
If you want to learn more, click on: parking near Heathrow Terminal 4 such as pricing, services, availability, and other essential information, check out our page dedicated to the car parks near the airport.
London Heathrow Parking Terminal 5
Terminal 5 is Heathrow Airport's newest and biggest terminal. It is used exclusively for British Airways and Iberia flights. This terminal is likely to be very busy at all times, so you'll want to arrive in good time in advance to check in, go through security and catch your flight on time. For long-haul destinations outside of Europe, it is recommended to check in 3 hours in advance of your flight time. Taking your car to the airport means you won't need to worry about transport delays on your way to the airport. There are many parking options available to suit all your needs, including Heathrow Meet and Greet, self-park and stay and fly. If you're considering park and fly, you can choose between different Heathrow airport hotels. They offer hotel and parking packages. Whichever option you choose, we'll find you the best deal available. Book Heathrow airport parking.
Discover further details on parking near Heathrow Terminal 5, including rates, amenities, accessibility, and additional useful information about the parking facilities in the area.
Cheap Heathrow airport parking
Heathrow is the main UK and London hub for long-haul destinations. It is a very busy airport at all times. So, whether you're taking a luxury holiday or making a business trip to the USA or anywhere else in the world, you'll want to be there in plenty of time. With excellent transport connections to London and the Home Counties, it's also a popular choice for short-haul destinations, especially for business travellers. Demand for airport parking at Heathrow Airport is growing all the time, and with so many different parking operators, it can be hard to know which one has the best deal. Parkos has partnered with local car parks operators to get the best deals for you. Our easy and convenient search engine enables comparisons of all the different options for each Heathrow airport terminal, giving you all the airport parking choices you need at the best parking prices. You won't find a better deal than ours.

We all enjoy planning for a holiday, but sometimes little things can get forgotten about. Depending on the time of your flight, getting to the airport by public transport may not be as easy as you expect. Remember, you need to be at the airport at least 2 hours in advance, and allow 3 hours for long-haul flights. If you don't want to rely on public transport, taking your own car is cheaper and easier than booking a taxi for example. Taking your own car means you can take your time packing and loading the car and still arrive at the right time. Once you decide to take your car, check out the Heathrow airport parking deals here at Parkos to find the best airport parking option for you. You might be surprised at the deals you can get on parking Meet and Greet and Park and Ride services.

On-site airport parking at Heathrow airport is incredibly expensive, but cheaper off airport car parks are available. Because Parkos works in partnership with the local parking companies, we are able to bring you a better deal. Car parks are willing to offer customer discounts in exchange for Parkos bringing their deals to public attention. Being that little bit further away from the airport means that costs are much cheaper and these savings are passed on to the customer through our competitive comparison of different car parks. You may even find that meet and greet services are available at a little extra cost, so you just arrive at the airport and hand over your keys. No more worrying about how long it will take for the transfer to arrive or how far it is to Heathrow airport. We'll find you the best and the cheapest deals for car parks at Heathrow airport.

All the available car parks close to Heathrow airport have excellent round the clock security. With cameras and security guards always on duty, you don't need to worry about your parked car while you're away. Don't worry if your plans change or your flight home is delayed. All of our long-stay car park partners allow you to leave your car for as long as necessary and pay the balance when you pick up the car. Because we bring you all the Heathrow parking prices from local independent operators, you can be sure you're getting the best deal. Whatever the chosen car park service, we'll find the best price. Booking well in advance could get you an even better deal, and give you the peace of mind of knowing where your car will be while you're away. So you can relax and enjoy planning your actual holiday.
Parking options at Heathrow airport
Heathrow Airport offers all types of car parking. Park and Ride is usually the cheapest car parking option. With this option, you drive your car to a short stay car park or long stay car park a few miles from the airport terminals and are taken to the terminal by a free shuttle bus service. A slightly more expensive, but very convenient option is the Meet and Greet service, or valet parking. If you choose this option, you simply drive up to the drop-off point at the Heathrow airport terminal building and hand over your car keys to a member of staff of the car park. Another popular option is Park, Sleep, Fly. This is the best option if you need to stay overnight before an early morning departure. Simply leave your car at the car park of the hotel for the duration of your trip. Parkos bring you the best deals on all the options. So, why not try our comparison tool today?
Heathrow airport Park and Ride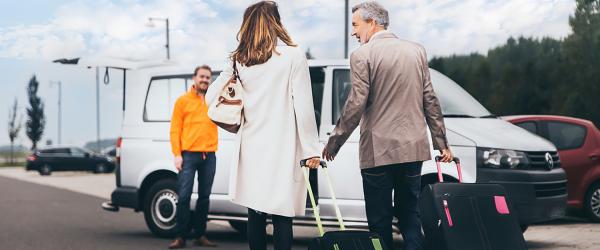 There are many Park and Ride services at Heathrow Airport, and most have transfer times to the airport of under 15 minutes. To use this option, drive to the car park and find a parking space. Don't forget to make a note of where you have parked your car so you can find it again. Depending on the car park, you may have to check in. Others work solely on number plate recognition. Then you'll take a shuttle to the airport terminal. Park and ride is usually the cheapest option, but remember to leave extra time for the transfer. Make sure you take the parking details with you on your trip. When you return you'll need to find the right bus to get back to your car park. Parkos compares all the park and ride options, so you can be sure you're getting the best offers.
Heathrow airport Meet and Greet service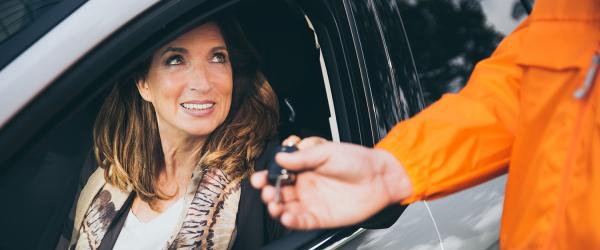 There are a number of Meet and Greet parking services in operation at all Heathrow terminals. If you're in a hurry or have lots of luggage, this is the perfect solution. Once you arrive at the airport terminal, take out your luggage and hand over the keys to the company representative. They will then drive your car to an off-site Heathrow car parking where it stays until your return. A member of staff will bring your car back to the terminal to meet you when you come home. For many people, it's worth paying a little extra for this convenient service. And don't worry, your car is fully insured under policy of the parking provider. During the period that the car's driven by an employee, the company is fully liable for any damage to your car. Don't hesitate to take a look at the Meet and Greet service on our website.
Long stay parking at Heathrow airport
Whichever short of long-term parking you're looking for, you're in safe hands with Parkos. Not only do we find you a great deal, we also look after you throughout the process. We provide customer service from start to finish. You can find answers to most questions in the FAQ section of our website. If you have further questions, please don't hesitate to get in touch with our customer service. We will answer any questions or queries as quickly as possible. There is also detailed information on our website about the parking services our partner companies offer. There are directions and post codes available to help you find your chosen Heathrow car park. All of our partners are carefully chosen reliable companies, with security measures in place. If you're looking for a good deal and a reliable service, Parkos is the place to look for Heathrow airport parking.

Reliable Heathrow car parks: We offer a simple booking service for any airport parking service. Simply choose your airport and terminal and choose your dates and times. You will then be able to see all the available options and prices. Our exclusive online deals are available to book immediately through our website. Prices may change and the same deal may not be available next time you search. Once you enter your details on our site, we send your details to your chosen Heathrow airport parking partner. They will then email you a confirmation with all the car park details and instructions. If you don't receive the email confirmation, please get in touch with our customer service centre. We also offer free cancellation or booking changes within 24 hours of booking. So don't worry if you made a mistake, we can fix it.

Secure payments: When you book with Parkos, you can opt to pay online when you book, or directly to the car park according to their terms. Different Heathrow airport parking providers offer different payment options and you should check before booking that you are happy with the payment options. For online payments we accept most major credit cards and PayPal payments. We use a secure payment provider and none of your payment details are available to or held by Parkos. You can also download a copy of your invoice from the Parkos website. If you choose to pay onsite at the car park, the Heathrow airport parking provider will take your payment. Depending on their procedures, you may pay on arrival at the car park or when you return to collect your car from the airport car park. If you experience any problems please contact our customer service centre.

Reviews: Feel free to check out the reviews on our website. We encourage all our customers to leave a review in order to monitor customer satisfaction. We keep track of our reviews and try to address any issues that arise from them. If you have special requirements please check the individual parking provider page for details of their services. Most Heathrow parking providers offer reserved parking spaces for those with mobility issues, but some may not. If, after reading the provider page, you still have questions, please contact the customer service centre, who will try to provide answers. Our service enables you to choose from a range of parking options to suit your situation. We combine convenience, service and price to give you the best airport parking deal. Try to check which parking at Heathrow airport services are provided by your chosen Heathrow parking provider before you book.

Customer service: Here at Parkos, we want you to find the best car parking for you based on your individual needs. That's why we provide detailed information on all our parking providers. Whether you choose a budget Heathrow airport parking Park and Ride or Meet and Greet service, we want you to have the best experience from start to finish. We hope that our simple and transparent booking system, flexible payment options and excellent value will keep customers coming back. Choosing holiday parking shouldn't be a chore. We try to keep things simple, so that you can enjoy planning the rest of your trip. With a good selection of partners offering safe and secure parking, we hope to keep our customers happy. When you've booked through our website and used the services of our parking partners, please leave a review. We are always trying to improve the offers on the website.
If you need a route description, take a look at our directions page. We hope to see you soon for Heathrow parking.
Parked from 03/11/2023 to 17/11/2023
When we collected our car it was filthy, mainly on the inside, there is dried mud all on the inside of the drivers side which will be very difficult to get off. All of the cars driving settings had been changed or altered, our dash cam had been unplugged at the camera and at the power. We are very shocked and unimpressed at all of this. The people who greeted us were nice. The parking instructors we got when dropping our car off was incorrect, the person who collected our car said we were in the wrong section, but we followed instructions from the telephone call.
...Read more
Parked from 04/11/2023 to 25/11/2023
Very good service. They arrived promptly for drop off and were already waiting for pick up 15 minutes after our phone call. Professional and polite. Even gave us some fresh water bottles for the drive back home on return. Highly recommended and will use again
...Read more
Parking providers at Heathrow Airport
Frequently Asked Questions
How early to arrive at Heathrow?

When parking at Heathrow, we recommend arriving at the car park or departure hall minimum 2.5-4 hours prior to your flight departure time. We advise early arrival based on the suggestions from Heathrow Airport. Although showing up 4 hours early sounds like a long wait, it may be necessary for international flights as you will then have an hour before needing to be at check-in, and have time to spare in case of delays. Not to mention, arriving at your destination with plenty of time to spare ensures a more relaxing, stress-free experience.

Park and Ride

If you have booked Heathrow Park & Ride, you will first park your vehicle at the car park before being taken to the airport by shuttle. In most instances, you can immediately board the shuttle bus upon arrival. However it may be the case that you arrive right after the shuttle has departed, and you must wait for it to return for the next pick-up. The shuttles run approximately every 30 minutes.

Meet and Greet

Have you chosen Heathrow Meet & Greet? If so, we suggest you arrive at the designated meeting point 3 hours prior to your departure time. Upon arrival, the parking attendant will inspect your car for any damages and complete the necessary paperwork. If the attendant is busy and unavailable when you arrive, you may have to wait. That's why we always recommend arriving 3 hours ahead of your flight. One of the pros of booking Meet & Greet is it gives you peace of mind and you can simply drive straight to Heathrow Airport without any additional stops.

International flights

If you're flying international, Heathrow recommends that you check-in 3 hours prior to your flight's scheduled departure. We therefore advise you to be present at the car park (Park & Ride) or at the departure hall (Meet & Greet) 3.5-4 hours in advance.

How does Meet and Greet work at Heathrow airport?

The Meet and Greet service at Heathrow provides a quick and easy method to park your vehicle. You drive directly to Heathrow airport's departure hall and phone the parking partner approximately a half-hour before your arrival. They will then know you are on your way to the airport terminal of Heathrow airport. The parking phone number can be found in the confirmation email you have received.

On arrival

You can drive your car to the departure hall of Heathrow airport. When you arrive, a parking provider staff member will be waiting for you. He will check your car for damage. The employee of the parking provider will take your keys and drives your car to the parking terrain. You can then check in at Heathrow airport with peace of mind. There is no need for you to drive to the parking lot; the parking lot staff will park your car for you in a parking space. Easy right?

On return

Please contact the parking provider to let them know you've arrived and picked up your luggage at the baggage claim. The parking partner's phone number is contained in the booking confirmation e-mail. Then you and a parking provider staff arrange on a time for your arrival. Following that, an employee will drive your car to the agreed-upon place. Normally, you will meet in front of the airport terminal.

The benefits and drawbacks of Meet and Greet

When it comes to Heathrow parking, you always should make an informed choice. The advantages and disadvantages of the Meet & Greet service are outlined below.

Advantages

Time-efficient. It goes without saying that having your car parked for you will save you time. You are directly at the departure hall and do not need to drive from the car park to Heathrow airport.
Convenience. You are not required to bring your big and heavy luggage from an off-airport car park to the departure hall. You just exit your vehicle in front of the departure hall.

Disadvantages

Trust. You can't see where your car is parked in the parking lot. We can promise you, however, that all of our parking partners on our comparison platform only operate with qualified shuttle bus drivers.
Cost. The Meet and Greet parking option costs little more than other parking alternatives.

How does Park and Ride work at Heathrow airport?

When you choose Park and Ride at Heathrow Airport, you will park at the parking lot of the parking provider. All of the parking providers listed on Parkos' platform are located near Heathrow Airport and have a free shuttle service to the airport terminal. You can check the shuttle bus arrival time at Heathrow airport on our website and in your confirmation email after making a reservation.

Parking providers

When you return from your journey, please contact the parking provider and meet a parking lot employee at the agreed spot. The shuttle bus will take you back to your parked car. The phone number of the parking provider will be included in the confirmation email you receive after booking your parking spot.

Traffic information

Please be aware that Heathrow airport is a busy and congested location with frequent traffic delays. Whether your flight is early in the morning, late in the afternoon, or late at night, we recommend taking extra measures to account for the traffic. Check for any road improvements and busy routes before you go to Heathrow airport.
Our benefits
All car parks are carefully inspected
The best deals on airport parking
Free cancellation up until 24 hours
Over 4 million customers globally