Parking at Glasgow Airport
Glasgow International Airport (GLA) is located about 10 miles from Glasgow city centre. The best way to get there is on the M8 motorway. With passenger numbers reaching nearly 9 million in 2019, it is the second-largest airport in Scotland and the eighth largest in the UK. At present, Glasgow airport has no direct train connection. However, the authorities plan to start building a rail link in 2002 with a completion date sometime in 2025. Glasgow Shuttle provides a 24 bus service from Glasgow city centre to the airport. Parkos offers Glasgow airport parking at very reasonable Glasgow airport parking prices when you drive your car to Glasgow airport. You can compare the best prices to the other car parks on this website and see the savings you can make when pre booking Glasgow airport parking with us.
Because Glasgow airport doesn't have a direct train connection, the two remaining choices are bus and car. The airport is well served by the Glasgow Shuttle. This transfer bus service runs 24 hours a day via the M8 motorway. However, if you don't live in Glasgow, the bus service will not be feasible for you. The only option left is to travel to the airport by car. We have partnered with different local entrepreneurs to offer you off-airport parking. Although the car parks are not affiliated directly with Glasgow airport, they provide cheap Glasgow airport parking. Our website allows you to compare all the Glasgow International airport parking options to choose the right one for you. Please have a look and book Glasgow airport parking with us now, to save money on airport parking.
Glasgow airport has two terminals and one runway. The airport's most prominent airlines are British Airways and Easyjet. Emirates and Westjet have long-haul flights to Dubai and Toronto, respectively. Glasgow airport offers a couple of convenient shopping services. You can pre-order food from the Glasgow Airport App and pick it up when you arrive at the Glasgow airport terminal. This is perfect if you are on a tight schedule and need to grab a quick bite before your flight. You can also pre-order duty-free from the airport's extensive catalogue. Glasgow has a wide selection of bars, restaurants and airport lounges for you to relax in before your flight. The Meet and greet parking Glasgow airport service will get you to the airport terminal effortlessly, so you can enjoy all the amenities Glasgow airport has to offer.
Cheap Glasgow airport parking prices
The best way to get to Glasgow airport is by car. Taking your car allows you to plan your trip, so you arrive at the airport with plenty of time to check in and relax before your flight. It is the most cost-effective way to get to the airport, especially if you have a full car. Having your car at the airport provides the added convenience of driving home directly after you land. However, official Glasgow airport car parking is notoriously expensive. So shop around for the best deals before you commit to a booking for parking at Glasgow airport. Your car parking fees might be pretty substantial when going away on a two-week holiday. At Parkos, we offer you the cheapest car parking space when you book our Park and Ride Glasgow airport service.

Pre booking your flight can be the easiest part of planning your holiday. To start with, you will have to find someone to water your plants and keep an eye on your house. Trying to find a suitable long stay car park or short stay car park can be an arduous and expensive affair, as well. At Parkos, we have a real-time booking platform that will find you the cheapest car park at the airport with the click of a button. You can filter your car parking choice through the website's search engine. This ensures that you book the parking at Glasgow airport you want, which we reserve for you immediately. It's as simple as that. If you're going to stay at the airport the night before your flight, our Glasgow airport hotels with parking are something to consider.

Parkos has partnered with local entrepreneurs to offer you the cheapest Glasgow airport long stay car parks. Although the long stay or short stay car parks are not affiliated with the official Glasgow airport, they are all a short distance from the Glasgow airport terminal. These are known as alternative off-site parking spaces. Our business partners, in most cases, own the car park land. These lower fixed costs allow us to offer lower prices than the official Glasgow airport car parks. Parkos works on a commission basis for every Glasgow airport car park space you book on our website. However, this will never be more than booking directly with the car park provider. You will always be charged the same amount with the added security of Parkos customer service to help you with any problems you have with parking at Glasgow airport.

With the options for Glasgow airport parking, we offer better value for money than our competitors. However, this does not mean that the service you receive will be in any way inferior to them. It is quite the opposite, in fact. We know that our customers might be cautious when booking an off-site Glasgow airport car park, so we have to demonstrate that our service is equal to our competitors. All Glasgow airport's car parks on our website have CCTV cameras, are surrounded by high fences, and are manned 24 hours a day. Our customer service staff can help you with any issues you might have. At Parkos, we make taking care of you and your own car our top priority. Please take a look at the reviews on our site to see how other customers have rated the Glasgow airport parking service before.
Car park options at Glasgow airport
We offer three airport parking services at Glasgow airport. Our Park and Ride option allows you to drive your car to a pre-ordained space where you will connect with our shuttle bus to take you to the departure area. The bus will take you back to your car when you arrive back at the airport. You can drive your car up to the terminal if you book our Meet and Greet service. You hand the car over to one of the staff members who will drive it to its Glasgow airport parking, where it remains until you return. When you arrive back at Glasgow International airport, your car will be waiting for you. If you have an early flight, the airport hotels with parking will provide you with a room and a car park at Glasgow airport on the hotel grounds.
Park and Ride Glasgow airport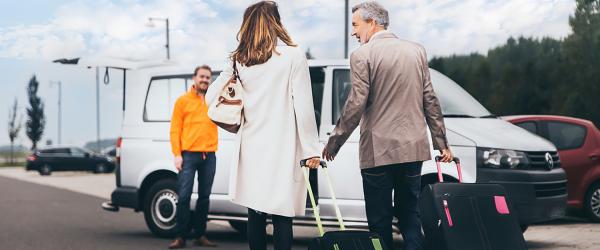 The Park and Ride service is very popular with our customers. Apart from being great value for money, you will also experience a fast and efficient service for the cheapest price. You select the Glasgow airport parking you want on our website and book it. After payment has been received and your area confirmed, we will send you a confirmation email that gives you specific directions to the car park and your space. After you have parked your car, report to the office and check-in. Then get on a shuttle bus that will take you directly to the terminal building. Our buses arrive regularly, so you will never have to wait long. On your arrival back in Glasgow, take the bus back to the car park where you can collect your car.
Meet and Greet Glasgow airport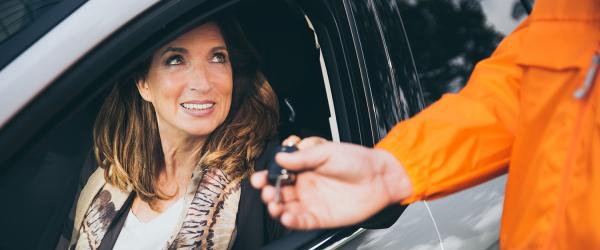 The Meet and Greet service allows you to leave your car at the terminal on your departure and collect it from the arrivals' hall when you arrive back and collected all your luggage. This service is your best option if you want a seamless transition from the car to the departure hall. We will send you a confirmation email detailing how to get to the meeting point at the airport. We will need your flight details at the time of booking. In the confirmation email will be the name and telephone number of the staff member taking care of your car at the car park at Glasgow airport. After meeting at the designated spot, you leave your car with him/her and take a short minute walk to the terminal building. Your car will be waiting for you at the designated spot when you arrive back.
Glasgow airport Hotel and Parking
If you have an early flight from Glasgow airport, you will have to decide if you will drive through the night or stay in a hotel the night before. If you choose to stay at a hotel, Parkos can book it for you, with a long stay or short stay car park, if you book our Hotel and Parking service. The extra cost of staying at a hotel is worth it if you wake up relaxed and in good time for your flight the following day. This service is in high demand, as the spaces are limited. We advise you to book it well in advance. It is worth it if you know that your car is safe, and you are only a quick shuttle bus ride away from the airport.
Glasgow airport Long Stay parking
At Parkos, we guarantee you that the car park providers will take good care of your car regardless of how long you leave it with us. Customers can sometimes be wary of leaving their car with us because we are not directly affiliated with the official car parks. We are conscious of this fact and, therefore, car park security is guaranteed. Our employees are trained to take care of your car, and all of them are insured to drive it. Our objective is to combine good value for money with excellent customer care. If you are satisfied with the package we offer at Parkos, we hope you will return to us the next time you are a Glasgow airport. This is the level of customer satisfaction we want to achieve.

Reliable airport parking: Our website makes the process of booking and paying easy. You choose the airport you are flying from and search for the car park space that suits you. Use our filter option if you are looking for a particular type of space. When you have found the spot you want, book it, and it will be confirmed by us directly. We cannot accept telephone bookings because our prices are real-time and can fluctuate depending on the time of year and current demand. The price you are quoted is the price you will pay regardless of how the price might change afterwards. After you have paid, you will receive details of your booking and the location of your booked parking in a confirmation email. Please contact our customer service if you encounter any problems.

Secure payments: After you have booked your car park space, you will be asked for payment. We have a wide range of payment options to choose from. PayPal and all major debit and credit cards are accepted. When is payment is confirmed, we will send you a confirmation email with the booking information for the Glasgow airport parking. All of our payments are processed through our secure payment system. All your information is encrypted, and therefore, your financial information is protected from any criminal activity. At Parkos, we don't have access to any financial information. Your bank deals with these transactions. The majority of our car park partners will also accept cash if this is the way you want to pay. However, we advise you to check with your car park on this page to confirm that they accept cash payments.

Reviews: At Parkos, we consider your reviews to be an essential contribution to our airport parking business. Without them, we will not be aware of the issues you might have with the service of one of the Glasgow airport car parks. So both Parkos and our car parking partners must get feedback from you to help us improve. We would like to know about your overall experience at our car parks to fix anything we are doing wrong. So please take time to send in a review the next time you avail of our car parking services. Thankfully, most of our reviews indicate that our customers are pleased with our service, making us think we are going in the right direction. We want you to experience a level of service that leads you to book with us again when you are at Glasgow airport.

Customer service: Customer service is very important to us at Parkos. Because we are not affiliated with the official airport car parks, we realise that our customer service has to be at the highest level to gain the trust of our customers. Therefore, any issue you might have is taken seriously and dealt with efficiently. The helpline on this website will take care of any issue you might have. We know that travel plans can change quickly. Therefore, we give you the option of free cancellation 24 before you arrive. This applies to booking alterations as well. We want you to park your car with us every time you come to Glasgow airport. We want the combination of cheap parking options and good customer service to be why you do so.
If you need a route description, take a look at our directions page. We hope to see you soon.
Frequently Asked Questions
How early to arrive at Glasgow airport?

In general Glasgow airport advises you to take at least 2 hours for airport security. That means that you should add the time for check in procedure and the time it takes you to park the car. How much time you should add depends on if your flight is domestic or international and the Glasgow airport parking method you have chosen.

Park and Ride

The most chosen form of parking is "Park and Ride". Park and Ride operators are located near the airport. Because these locations are mostly not within walking distance of the airport a free shuttle is provided to take you to the airport. The transfer to the airport is usually between 10-20 minutes. Please see the listing page of the parking for information about the shuttle service.

Meet and Greet

With meet and greet parking there is no transfer time as you'll drive straight to the airport. When you arrive at Glasgow airport a valet employee will be waiting for you. After a short inspections and paperwork you'll be able to go directly to the checkin counter,

International flights

Security is often more stricket when traveling internationally. Thus we advise you to take an extra hour for international flights. To ensure you'll have enough time please be ready to go through security at least 3 hours before boarding time.

How does Meet and Greet work at Glasgow airport?

The Meet and Greet facility at Glasgow Airport allows you to park your car quickly and easily. You go directly to the terminal building at Glasgow Airport and call the parking partner around a half-hour before you arrive. They will then be aware that you are on your way to the Glasgow airport terminal. The parking phone number may be found in the email confirmation you got. More information about the Meet and Greet service of car parks near Glasgow airport may be found in the article below.

On arrival

You may drive your car to the Glasgow airport's departure hall. When you arrive, a parking provider employee will greet you. He or she will inspect your vehicle for damage. The parking provider's staff will take your keys and drive your vehicle to the car park. You may then check in with ease at Glasgow Airport. You do not need to drive to the car park; the parking lot employees will park your car in a parking spot for you. Isn't it simple?

On return

Please notify the car park provider that you have arrived and have picked up your bags at the baggage area. The phone number of the car park partner is included in the booking confirmation e-mail. Then you and a parking provider employee agree on a time for your arrival. After that, an employee will drive your car to the agreed-upon location. You will usually meet in front of the Glasgow airport terminal.

Advantages and disadvantages

When it comes to Glasgow airport parking, you should always make a more informed decision. The benefits and drawbacks of the Meet & Greet service are explained below.

Advantages

Time-efficient. It should go without saying that having your car parked for you saves time. You do not need to travel from the parking lot to Glasgow airport since you are right in the departure hall.

Convenience. It is not necessary for you to transport your large and heavy luggage from an off-airport parking lot to the departure hall. You just exit your car in front of the departure hall.

Disadvantages

Trust. In the car park, you can't see where your car is parked. We can, however, guarantee that all of our car park partners on our comparison website only use trained shuttle bus drivers.

Cost. The Meet & Greet parking option is just slightly more expensive than other parking options, such as Park and Ride.

How does Park and Ride work at Glasgow airport?

When you select Park and Ride at Glasgow Airport, you will be sent to the parking provider's car park. Car park partners on Parkos' comparison platform are all close to Glasgow Airport. A complimentary shuttle service connects you to the airport terminal. You can find out how long it will take the transfer bus to arrive at Glasgow airport on our website and in the confirmation email you receive after making a reservation. This website includes further information about the Park and Ride service provided by Glasgow Airport car parks.

On return

When you return from your trip and land at Glasgow Airport, please call the car park provider. Meet an employee of the car park at the agreed-upon location. The shuttle bus returns you to your parked car. The phone number of the parking provider will be provided in the confirmation email you get from us after booking your parking place.

Traffic information

If you are flying into Glasgow airport, please keep in mind that it is a bustling, congested area with regular traffic delays. As a consequence, whether your flight is early in the morning, late in the afternoon, or at night time, we advise you to take extra precautions. Before you leave, check the daily busy routes to see if any road improvements are being made.
Our benefits
All car parks are carefully inspected
The best deals on airport parking
Free cancellation up until 24 hours
Over 4 million customers globally