Southend Airport Parking
Approximately 36 miles (58 km) from the centre of London on the outskirts of Southend on Sea in Essex, England, is London Southend Airport. Southend is London's fourth busiest airport in passenger numbers, with two million passing through in 2019. That year Southend airport served fifty destinations in Europe. Parkos provides cheap parking at Southend airport by partnering with local off-site car park owners. Although our sites are not affiliated with the airport, they are never far from the terminal building. We call them 'Alternative sites'. Your Southend airport parking space can be booked online seven days a week, 24 hours a day. Please take the time to browse through the choice of car park spaces on our website now!
Southend railway station is close to the terminal building and connected to Liverpool Street station. Trains depart from there every eight minutes during busy hours. The journey takes nearly approximately fifty-five minutes. Buses also serve the airport from the surrounding areas. The Which? Group voted the airport the best airport in Britain for three consecutive years (2013,14 and 15). It was also voted the best London airport for six straight years from 2013 to 2019. Parkos offers three parking alternatives for you to choose from. Our meet and greet parking Southend airport will afford you the luxury of handing over your car to our car park partners' employees at the terminal building.
Cheap Southend airport parking
Taking your car to Southend airport is the best choice if the option is available to you. The airport is only 42 miles from central London and is a very short trip, mainly on the A13. So, your journey to the airport will be relatively straightforward. You do not have to rely on suitable train or bus times and you can don't have the burden of loading and reloading your luggage all the time. Parking can be costly at airports and can consume a significant portion of your budget. At Parkos, we guarantee you the best value for money for Southend airport parking long stay when you are away on your trip.

Parkos offers the best prices and availability at Southend end airport. When browsing through our website, click the search button for Southend. This search will lead you to the parking option available. Use the filter button to identify the exact parking space you want. Book it when you have found the spot that suits you, and we will confirm your space immediately. The filter function allows you to pick various options, like choosing a parking space closest to the terminal or a roof to protect your car from the elements. If you decide to book our park and ride Southend airport service, you drive your car to the designated reserved spot and take a shuttle bus to the terminal.

Parkos has teamed up with local business people to provide you with what we call: 'Alternative parking'. Our car parks aren't affiliated with the airport but are always within easy access of the terminal. The car park provider will never be cheaper than the price offered on the Parkos website. In some cases, we provide cheaper parking than them. If you book through Parkos and something goes wrong with your booking, our customer service department will ensure their issue is resolved as soon as possible and to your satisfaction. We guarantee that we will take care of you and your car from when you book to when you leave Southend airport after your journey.

It is always advisable to book your parking space well in advance, especially considering the demand for airport parking in recent times. When you pre-book with Parkos, you will be getting the best deal available at the time. Just because we offer great value for money does not mean we neglect the security at our sites. Our car parks have CCTV, high fences surrounding the area and 24-hour staffed security. We know that your car is of great value to you and you might be wary of booking with an off-site car park company. At Parkos, we guarantee that we will take great care of your car from the moment you entrust it to us.
Southend Airport parking options
At Southend airport, Parkos provides you with three parking options. The standard service is Park and Ride, where you pre-book your designated parking spot directly from our website. After parking your car, you take a shuttle bus to the terminal. Our Meet and Greet option allows you to drive your car to a designated spot where you hand over your car to one of the car park providers' employees and walk straight into the terminal. If you decide to stay at the airport the night before your flight, you can benefit from our hotel and parking service. When choosing this option, you can enjoy a relaxing hotel night and park your car on site.
Park and Ride Southend airport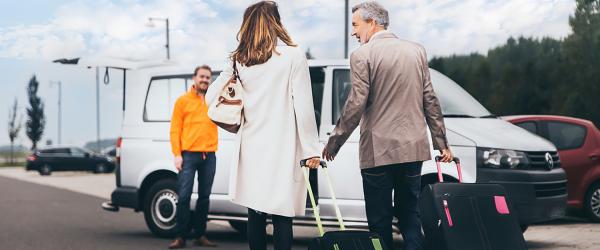 Parkos standard and most popular service is Park and Ride. After confirming your booking, we'll send you an e-mail with directions to your spot. When you arrive at Southend airport and have parked your car, check it with the car park manager. At this stage, you can leave your car keys with them. You can then take a shuttle bus to the terminal. These shuttles arrive regularly and have lots of space to store your luggage. All of Parkos car parks are close to the terminal at Southend airport. On returning, wait for the shuttle bus to arrive to bring you back to your car. Parkos Park and ride is the cheapest parking option at Southend airport.
Southend airport parking Meet and Greet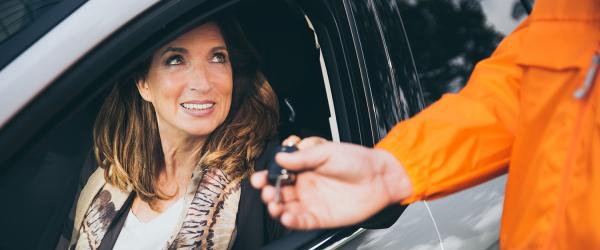 If you are on a tight schedule or have a lot of luggage, our Meet and Greet service option is the perfect choice. It allows you to drive your car to a designated spot where one of the car park providers' staff will meet and take the vehicle off your hands. The employee will then park your car in a safe car park for the duration of your trip. You pick up your car at the designated spot after returning from your trip. Parkos will ask for your relevant contact details when you confirm your booking. You'll then receive a follow-up e-mail detailing the drop-off point and the name of the employee taking care of your car.
Hotel & Parking Southend Airport
You might sometimes wonder why your flight was such good value. Is it because it departs at 6 am? If this is the case, public transport is not an option and driving your car through the night might not appeal. Parkos provides a Hotel and Parking service, allowing you to book a hotel night and park in the hotel's car park. This option is the perfect solution when you have an early flight the day after. It is advisable to book this service well in advance as the demand for it can be very high, especially during the peak holiday season. The hotel shuttle bus will take you to the terminal in good time for your flight the next day.
Southend airport long stay parking
Parkos guarantee that we will take good care of your car regardless of how long your car is parked with us. We have thoroughly checked out all our car parks before entering a business arrangement with our car park provider partners.Parkos realise that some of our customers can be sceptical about unofficial car parking. This is why we make an extra effort to ensure that our customers are satisfied with every aspect of their experience with us. All the car park providers and their employees are insured to drive your car and have been trained to take care of them appropriately. Therefore, we are in no doubt that you will be satisfied with our service.

We have made a significant effort to ensure that this website is user-friendly, particularly when you book your parking spot. To book, click on Southend airport and filter through all other available parking spaces. We will display both the price and the location of the spot. Book it and pay when you have chosen the space that suits you. This space is now confirmed, and the price is locked in, regardless of future price increases.You will receive a confirmation e-mail from us shortly afterwards. If you have any issues with the booking, reach out to our helpline, and we will resolve any problems you may have. Check out our questions and answers section on this website for additional information.

We accept most debit and credit cards as a form of payment. PayPal is also an option. In some cases, the car park providers will accept cash on arrival. However, we advise that you check with them first to see if this is the case. Our payment portal is fully encrypted so Parkos cannot access your data. Your bank deals with the payment directly. In the event of a cancellation, we will refund your amount paid as soon as possible. If you have an issue with this please contact our helpline and our staff will resolve the matter quickly. It's also possible for you to print out an invoice if you should require one.

Parkos takes customer reviews seriously. They are a great way to gauge our performance and improve certain service aspects. We need to know how your experience was with us, whether good or bad. If you have had a problem with one of the car park providers or an issue with the booking system we can fix it if you tell us about it. We want you to choose Parkos every time you fly from Southend and hopefully make every visit better than the last. Check out our reviews on this website and other review platforms. Thankfully we have a lot more positive reviews than negative ones. That is the way we want to keep it.

Good personal service is essential to the success of our business. Because we don't offer official parking spaces at Southend airport, we know it has to be of excellent standard. If you have any issues, send us an email, and we will reply to you within 24 hours. Call our helpline with more pressing matters, and we will help you out on the spot or use our travel directions to Southend airport parking. We realise that travel plans change quickly. Therefore, we offer free cancellation and changes if confirmed 24 hours before your booking. We want you to be a return customer. With a combination of the cheapest parking at Southend airport and fantastic customer service, we hope to achieve that goal.
Frequently Asked Questions
How does Park and Ride work at London Southend Airport?

With the often congested Southend airport parking terminus, park and ride Southend is your best alternative. Here, several private businesses offer off-site parking near the airport with a full spectrum of prices and services offered. For example, you can choose to park your car in a space with a roof for extra vehicle protection. Also, you can choose between those offering a shuttle to the airport or not. But some may offer the shuttle service at a small fee. Otherwise, a park and ride off-site parking service near Southend Airport gives you the top-quality parking service at a friendly cost. Note that these parking services are flexible to your travel schedule so you can change your flight without issue. Most importantly, you can get the parking lot information online wherever you are, view all the available slots and even book one online. Besides, the security of your car is guaranteed. And the businesses are licensed, trustworthy, and have a flawless reputation all over the UK.

So, where can you book with, compare, or get more insights into these available private parking lots near Southend Airport? We at Parkos give you extensive details on the park and ride lots near Southend Airport. Our experts inspect the parking locations, guarantee the lowest prices, enable free cancellation and update you on the available lots every time. We also give the latest updates about the traffic at Southend Airport and the customer reviews about each of the parking lots. Currently, SACP is the parking provider of our choice near Southend Airport. And its parking fee starts at £62.99 a week. So, you can decide to book a slot here online or drive yourself to its location; D3 Millhead Way, Purdeys Ind Est, SS4 1XQ, Rochford. It's just 5 minutes from the airport, making it an extremely convenient choice. After you book in, a free shuttle will take you to the airport terminal. Remember to call the provider on your return, then a helpful employee will meet you on the shuttle bus.

Traffic information

Southend Airport; UK's fastest-growing regional airport has both a rich history and an exciting future ahead. The airport serves many people and although the Covid-19 hit the industry hard, it survived. It even managed to serve approximately 94, 000 from April 2021 to April 2022, a big number during the pandemic period. So, the airport is always full of congestion with traffic delays happening on daily basis. In fact, the airport introduced a Traffic Management System in 2019 to manage the no-stopping zones with double yellow lines. Thus, travellers need to be extra careful whether their flights are late at night, early morning, or in the afternoon. Besides, you can choose one of the alternative routes. For instance, coming from Yaxley, you can head to Chelmsford through Battles Bridge and then continue through Hullbridge, Ashington. This route will bring you directly to Rochford. This route is hardly congested so you can ensure arriving to your airport parking in perfect time for your flight.

How does Meet and Greet work at Southend Airport?

Parkos provides a Southend airport parking Meet and Greet service to its customers. This service means you can hand your car over to one of the car park providers' staff when arriving at the terminal. The staff member drives the car to a parking space, where it will remain until your return.

After you have booked and paid for this service on our website, you will receive an email detailing where to meet the car park provider's staff. This will be accompanied by their name and telephone number. This way, you'll be able to maintain contact with each other in case any issues arise.

Continue your journey

Our Meet and Greet service is perfect for people who appreciate its convenience or are pressed for time. It also suits people with mobility issues as they will not have to travel far to the terminal. The service allows for a seamless transition to the departure hall.

You can spend the extra time you save by booking the Meet and Greet service by having a bite to eat or a drink in one of the restaurants and bars at Southend airport. Alternatively, you could spend some time browsing the duty-free shop, accessible to everyone since Brexit.

On return

When you book our meet and Greet service, we will ask you for your flight details.This way we will know exactly when you will be collecting your car when you return to Southend. You can contact the car provider's staff on arrival, and your vehicle will be waiting for you at the designated spot when you leave the terminal.

Advantages and disadvantages

When you book Parkos meet and Greet service, you will realise its advantages outweigh its disadvantages. The benefits include allocating less time to your journey when travelling to the airport. You will also enjoy the convenience of walking straight into the terminal on arrival at Southend. The disadvantage is that it costs more than our Park and Ride service, as it offers more benefits.

Advantages

Time efficiency. When you are on a tight schedule, booking our Meet and Greet service at Southend airport is the safest way to ensure you make your flight. Even if you think you have timed your journey well, unexpected delays may occur. With Meet and Greet, you reduce the risk of this happening.

Convenience. Meet and Greet affords you great convenience. You only have to unload your luggage when you reach the terminal building and hand over the keys to the car park provider. The same applies to your return home. The car park providers' staff will be waiting for you with your car at the designated spot.

Disadvantages

Trust. At Parkos, we understand that handing your car over to someone else isn't easy. However, we guarantee that we will take the best care of your car when you are away. If you are in any doubt about this, read all the positive reviews we have posted on our website.

Cost. The one disadvantage of booking our Meet and Greet service is that it costs more than standard parking at the airport. However, this extra cost will be worth every penny if you want to save on your journey time and have a seamless transition to the airport terminal.
Our benefits
All car parks are carefully inspected
The best deals on airport parking
Free cancellation up until 24 hours
Over 4 million customers globally