We help you find the best parking prices at Birmingham Airport
The benefits of Parkos
All parking locations are personally inspected
Guaranteed the lowest price
Changing and cancelling is free
We're here to help
Our experts are here to assist you with comparing car parks and are happy to answer any questions you may have.
Please contact us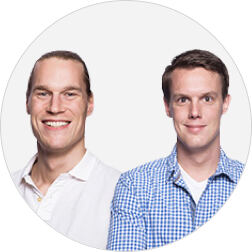 Customers rate our parking providers with an average of
Customers who have booked a parking space through us, rate these with an average of 8.7/10 based on 421 reviews.
Parking at Birmingham airport
The most preferred and relaxing way to get to the airport is driving yourself as you have complete control. Parkos makes the process easier for you by comparing parking providers around Birmingham airport and reserving a spot for you. Parkos makes sure you get the best price as well as the best parking spot. Reserved parking lots will not be displayed. The parking spots that are displayed by Parkos will be close to the airport, making it accessible for travelers from all over the country giving excellent parking solutions to everybody. Book your parking spot with Parkos for the best parking experience.
Passengers Birmingham airport
| Year | Amount |
| --- | --- |
| 2013 | 9,120,201 |
| 2014 | 9,705,955 |
| 2015 | 10,187,122 |
| 2016 | 11,645,334 |
| 2017 | 12,983,436 |
| 2018 | 12,445,295 |
Birmingham airport (BHX) formerly known as Birmingham International airport, is an international airport 13 km southeast of the city centre of Birmingham. Birmingham is a public airport used for public transport of passengers or for flying instruction. Passengers numbers throughout 2017 where over 12.9 million, making it the seventh busiest UK airport. These massive amount of passengers can relax in one of the airport lounges.The airport offers international and domestic flights. International flights include Europe, the middle east, Indian subcontinent, North America and the Caribbean. Birmingham airport is an operating base for multiple airlines. Some examples are FlyBe, Jet2.com, Ryanair, Thomas Cook Airlines and Tui Airlines.
Air Travel gets more affordable with each passing year making it the first travelling preference for people around the World. People expect cheaper parking because of this, unfortunately, it is not so. Official parking spaces at Birmingham airport are pretty expensive, it's the same with every other airport in London like the Manchester airport, Liverpool airport, Bristol airport, Luton airport, Gatwick airport, Heathrow airport, Stansted airport, Aberdeen airport, Southampton airport etc. Smart entrepreneurs discovered this problem and offered solutions by offering alternative car parking options such as off-airport parking. These companies are not a part of Birmingham Airport but still offer great, affordable parking solutions. These services have also gotten popular with car hire companies and they now offer the same services as well. Most of the times these services are relatively cheaper than what you would be paying at the airport parking facility, making parking near the Birmingham airport affordable and easy. With Parkos saving your pennies is easier as you can compare all parking spots available around the airport and grab the best deals.
Birmingham airport address and information
| | |
| --- | --- |
| Adress airport | Birmingham B26 3QJ, Verenigd Koninkrijk |
| IATA-Code | BHX |
| Airport type | Public |
| Passengers | 12,445,295 |
Cheap parking at Birmingham Airport
Are you going on a vacation or a business trip abroad and need a parking spot at Birmingham Airport? Reserving parking spots is a breeze with Parkos. Paying extravagantly on parking spots isn't favourable for many of us. Cheap parking spots are available around Birmingham airport all year round. Parkos brings to you a choice of parking spot providers who's main focus is providing cheap, safe and long-term parking at the airport. These companies are simple, they don't have fancy offices, high-end management system or other luxuries making them offer their excellent services for cheap. Companies like Airparks, ShortRun, Airparks Birmingham or APH Park provide you with excellent parking and long-term parking spots for cheap prices.

These parking spot service providers are not located at the airport but not far from it, they are located at very convenient locations, for example – Next to the exit of M42. Birmingham airport has a wide variety of parking options in every direction. The parking spots are located within a short distance from the airport making it easier to commute to and fro from the airport. The benefit of cheaper terrains for the providers assures parking spots at even cheaper rates.

Generally cheap services are thought as low-quality services. This is not the case with Parkos or its parking providers. These companies don't depend on big names or a continuous stream of cars, therefore, are forced to give the highest quality of services at relatively cheap prices, the reason they provide special offers like car spa services on occasions when you are travelling abroad. You can choose the package that best suits your needs. The parking spot providers give you the highest quality so that you return as their customer repeatedly. These businesses are not successful with short term strategies, therefore, they offer you extra , quality services. Most of these providers are open 24*7.

These statements are proved by our satisfied clients. Our clients at Parkos can leave a review after using our services. We recommend you to read our Birmingham parking reviews before making a decision on a parking.
Park and Ride & Meet and Greet parking at Birmingham airport
We often use terms like Park and Ride & Meet and Greet parking on our website, let us explain more concerning these terms.
Park and Ride parking at Birmingham airport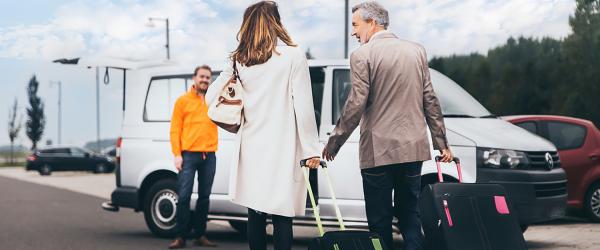 For parking your car at Birmingham airport there are various parking forms you can choose from. They are Park and Ride & Meet and Greet. If you want to drive directly to the parking provider you can choose Park and Ride. Regardless of your choice, you do not have to worry about traffic. After parking your car commuting to the airport is easy with our shuttle bus right to the airport terminal. Advance booking makes sure that the parking provider knows your time of arrival and departure and have the transport ready for you. Some Parking companies have fixed transfer timings in accordance with the airport transfer but most providers offer you individual shuttles for your comfort and are free of charge. This makes the experience simple and comfortable. The payment is guaranteed to be exactly what you see on the website and not a single pound more. The process of pick up is the same as your drop off, a shuttle bus will be available for you upon arrival to take you to your car at the car parking area. It's up to you to choose whether you want to opt for covered parking or open parking as both are available. You can also choose to drop your keys with the service provider or take them with you. For your ease and comfort, you can choose to book a night at the airport hotel, you can even find an airport hotel with parking if you are lucky. If you are interested in our park, sleep and fly kind of service you can check out our website for our offers. Hotels along with parking are great but are not easily available. We assure excellent services with a review of a minimum8.8 so you can rest assured that your car is in capable hands. Do you have general questions about Park and Ride parking around Birmingham airport? You can find your answers at our FAQ.
Meet and Greet Parking at Birmingham airport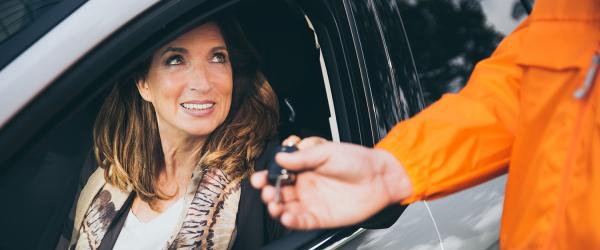 You can choose Meet and Greet at Birmingham Airport for a comfortable and relaxing experience. You can choose in advance between covered and uncovered parking. You can drive your car right away to the Birmingham airport terminal, instructions to where you need to drop your car at will be mentioned in your confirmation email. An employee of our company will await your arrival at the mentioned location. The employee will then take your car and park it on your chosen parking space. When you reserve your car parking spot in advance you will receive a confirmation email from us with all detailed information along with the driver's telephone number. We request you to call the driver in advance to inform him of your arrival so that he can be ready to receive you. You can also choose special assistance. Meet and Greet parking picks your car from the airport and you won't need to go through the hassle of going to the service provider yourself. On your return, your car will await you at the airport so that you get back home instantly without having to commute in different ways. Meet and Greet will give you the best parking experience ever at Birmingham airport. This service is extremely popular amongst entrepreneurs as they are frequently required to go on business trips. Parkos assures you affordable parking and quality services. For General questions about Meet & Greet parking, browse through our FAQ.
Long Term Parking At Birmingham Airport
Long-term parking with Parkos is a breeze. Be it for two days, a week or a month, Parkos will help you find the best parking providers. Our comparisons will help you find excellent parking spots at great prices. Every provider of ours is inspected by Parkos so that your experience with us is safe and reliable and you can go on your trip with peace of mind.
Here are some tips to assist you with short and long term parking at Birmingham airport.

Compare directly between different kind of providers: You can save a lot of pounds by comparing prices and Parkos helps you do just that. Long-time parking at Birmingham airport can prove to be quite expensive, Now, you don't need to pay more than what you need, we guarantee you the lowest prices at Parkos.

Choose your style of parking: You can choose whether you want your car to get picked at the airport or if you want to commute on a shuttle to the airport after dropping your car off. You have options to choose from ,when you park at Birmingham airport. We have already described the differences between Meet and Greet & Park and Ride above. You also have various payment options, most companies offer you various kinds of transaction options like paying upfront, through cash or credit card. Parkos makes the process of airport parking a piece of cake.
Park & Ride parking lets you drive straight to the parking company and check out your chosen parking spot, later you are transported to the airport free of cost on a shuttle, on your return you will find the shuttle waiting for your arrival. Park and Ride is the best option as it's cheap and offers quality services. Parking with Parkos is way cheaper than official parking spots at Birmingham airport.
On the other hand Meet & Greet parking gives you the option of driving straight to the airport terminal (More information on this is provided in your confirmation e-mail) where a driver awaits to pick up your car and park it at your chosen parking spot, this saves your time and makes it easier for you to check-in on time. Upon your arrival, your car will be waiting for you to drive back home. You can choose between Park and Ride or Meet and Greet, and indoor parking or outdoor parking when you opt to park at Birmingham airport.

Safety: Now that you have decided on your provider after comparing prices in Parkos you will be happy to know that your car is in safe hands. All locations provided by parking providers are personally checked by Parkos so that they are safe and reliable so that your car gets parked in a safe spot. Parkos also ensures that its parking providers provide the safest parking spots to their customers by checking on their security precautions. This way you can take off without having to worry about the safety of your car. All available parking terrains have security and are guarded 24*7. You can compare these parking packages to travel insurance for your car back home. Parkos premium park and ride experience let you be at ease and relax completely as you enjoy your journey and leave your car back at Birmingham car park.

Plan your trip: We recommend you to plan your drive so that you arrive on time to check-in before leaving en-route to Birmingham Airport. Traffic and detours are unpredictable while traveling and require some planning. Parking at Birmingham airport and reaching your destination can be made easier by looking into the traffic information and planning your trip ,as required on the route planner page.