Parking at East Midlands airport
East Midlands Airport (EMA) is the 11th busiest airport in the UK, with airport passenger numbers averaging around 4,5 million a year. This is a drop from its peak of 5,6 million in 2008. East Midlands Airport serves the surrounding cities of Nottingham, Derby, and Leicester. Parkos provides great value for money airport parking at East Midlands Airport. Although the airport car parks on our website are not affiliated with the official airport, they are all close to the airport terminal and are only a short journey with a transfer bus away. Our online booking system compares a wide selection of "alternative" East Midlands airport parking spots, so you can choose the best deal that suits you. We guarantee you that you will not get better East Midlands airport parking deals than those offered here. Check out our website for more details now!
East Midlands airport is not directly connected to a train station. The nearest one is about five miles away. A transfer bus serves as the connection between the station and the airport terminal. The airport is well served by bus links from the major cities in the area. They arrive from Leicester, Derby, and Nottingham, seven days a week, 24 hours a day. The airport has excellent connections to several motorways, the M1 and the A46 being two of them. Another good reason for taking your car to the airport is to avoid the drop-off fee of five pounds for the first ten minutes and a pound for every minute after that. Parkos offers you cheap East Midlands airport parking when you take your car to the airport.
Due to its central location in the UK, East Midlands airport is a major cargo hub. The most prominent commercial airlines to use East Midlands are Ryanair and Jet2, while TUI operates several charter flights. They offer both short haul and long haul flights. East Midlands airport has one airport terminal, one check-in hall and twenty-three gates. The terminal building is easy to navigate as an airport passenger. It won't be long before you're sipping on a cold beer or eating a nice meal in one of the many bars, restaurants and duty free shops in the terminal building. They also have a very impressive Escape lounge that is presently closed because of the pandemic but will reopen in April 2022. If you make use of the East Midlands Airport Meet and Greet service, you will have extra time to enjoy the terminal's amenities.
Cheap East Midlands airport parking
East Midlands airport is well connected to several motorways. This makes it easily accessible from a few big cities close by. This means taking your car is the best and most convenient option when catching a flight there. You won't have to rely on a train or a bus, making your own schedule to ensure you arrive at the airport in good time. But parking your car at the airport can be expensive. At Parkos, we compare the best deals for East Midlands airport car parks and present them with a lower price to the customer. You will always get the best price available when booking your car park space with us. Check out the Park and Ride option now and see what we mean.

Booking a flight can be relatively easy compared to the other things that have to be arranged before going on holiday. Finding a parking space with the cheapest price and the most convenient service is one of these things. The easiest way to book your East Midlands airport car park is through our comprehensive booking platform. This will take care of your car parking needs with one press of a button. You can search through all the East Midlands airport parking options available until you find the airport parking service that suits you. You can book it directly, and we will immediately confirm the space. If your flight is early in the morning, then the Hotel and Parking service is what you are looking for. Check out this service on our website now!

Parkos and local businesses have partnered to give you the best value for money when it comes to long stay parking East Midlands airport. All our car parks on our website are not directly affiliated with the East Midlands airport official car parks, but all are a short distance from the terminal. They are "alternative parking" spaces, and generally our partners own the land where the car park is located. This means our fixed costs are lower than our competitors, and we can offer more competitive prices. Parkos receives a commission on every booking confirmed through our website. The price we quote on our website will always be the same, if not less than if you had booked directly through the provider. Booking through us comes with the extra bonus of our customer service. If you encounter any problems, we are here to help.

The car parks on our website are cheaper than the official East Midlands airport car parks because we have lower fixed costs. This does not mean that the service is not as good as our competitors. We pride ourselves on the fact that it is at least as good, if not better than theirs. Our customers might be unsure about booking with us because we are not part of an official car park. Therefore, we try harder to show our customers that we are a serious business. For example, all our car parks have CCTV cameras, are surrounded by high fencing, and have 24-hour security staff. Our customer service will solve any problems you have before, during, or after your stay with one of our partners. At Parkos taking proper care of you and your car is our most important priority.
Parking options at East Midlands airport
The three primary services we offer are Park and Ride, Meet and Greet, and Hotel and Parking. With our Park and Ride service, you arrive at the car park, check-in with our car parking provider, and take the shuttle to the terminal. When you come back to the airport, you get on the shuttle bus again, which will take you back to your parked car. Our Meet and Greet service adds even more convenience to your airport parking experience at East Midlands airport. You drive your car directly to the terminal and leave your car with one of our employees. Your car will be waiting for you at the same place when you arrive back in East Midlands. Our Hotel and Parking service sets you up with a hotel room and a parking space on the hotel grounds.
Park and Ride East Midlands airport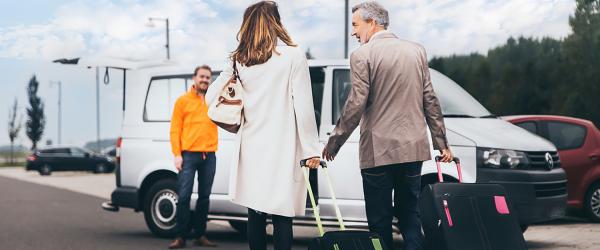 Park and Ride is our most popular service and is booked by most of our customers. This service offers excellent value for money. You will never wait for long for one of our shuttle buses, and the journey to the terminal takes very little time. You will receive a booking confirmation email when you have paid for your booking and secured your parking space in one of the car parks at East Midlands airport. This will give directions to your chosen car park and allocated airport parking space. Check in at the provider's office and confirm your booking when you arrive. Then you take a shuttle bus to the terminal. When you come back to East Midlands airport, you take the shuttle back to the car park where your car will be waiting in the correct car park. For more information on the Park and Ride car parks, check out the Park and Ride section on this website.
East Midlands airport Meet and Greet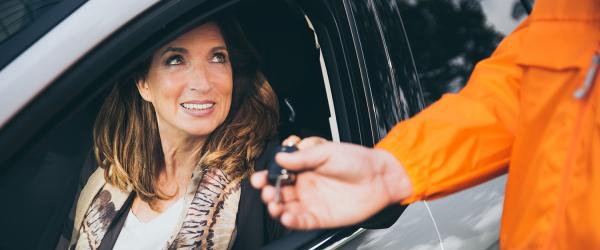 The Meet and Greet service is designed to aid customers on a tight timeline or those who want to arrive at the airport in style. You drive your car to a designated location in the departure area. One of the employees of the car park will meet you and take your car. He will then drive it to the parking space where it will remain for the duration of your trip. It will be waiting for you at a specified location when you arrive back. We will need your departure and arrival details when you book this service. In your booking confirmation, you will receive the name and phone number of the member of staff that will be taking care of your car. This is the most efficient way of transferring from your car to the terminal.
Hotel and Parking East Midlands airport
Our East Midlands airport Hotel stay and Parking service is catered to our customers who have an early flight or want a bit of luxury before their holiday or weekend away. We can book a hotel night at one of the airport hotels, including a parking space and airport transfers. This service is perfect if you have an early flight the next day or want to be relaxed the day of your flight. The demand for this service is high, especially during the high season, so we recommend that you book well in advance. We will need all your flight details when you book. You will be driven to the terminal the following day, in good time to catch your flight. We have a selection of airport hotels on our website for you to choose from.
Long stay car park East Midlands airport
Our customers are understandably cautious because we are not directly affiliated with the East Midlands airport. We are aware of this situation and, because of it, we have to make an extra effort to prove to you that we offer high-quality airport parking. We guarantee you that we will take care of your car no matter how long you leave it with us. All the car park employees are insured to drive your car, and we train them to take a look after it as if it was their own. Our ultimate goal is to have a satisfied customer. If we achieve this goal, we will have a great chance of seeing you again the next time you are travelling through East Midlands airport on your way to sunnier climes.

Reliable airport car parks: Parkos makes the booking process for your car parking space easy. You browse through the available short stay car park or long stay car park options on our website. Our website will show the best East Midlands airport parking prices at the same time. You book the spot that suits you, and when you have paid, we send you a booking confirmation with all the booking details. The cost of long stay or short stay car park space can go up or down, depending on the season and current demand. Therefore, you can only book online as all our prices are in real-time and can fluctuate. However, once you have booked your space, the day price is locked, regardless of any price changes in the future. Your confirmation will give you directions to your space. If your plans change, you can call our helpline, and we will help you with any alterations you need to make. It is also possible to cancel your reservation for free.

Secure payments: We have made our payment system safe and versatile. Parkos accepts the majority of all debit and credit cards. PayPal is also an option. After we receive your payment, you receive a confirmation email. All the payments go through a secure payment platform, and we are not privy to any personal information. Your bank takes care of the payment details. We cannot access any of your card details after you have paid. Most of our providers will accept cash if you prefer this payment method. However, we advise you to check with your booked East Midlands airport parking provider first to confirm that they accept cash payments, as not all of them do. You can do this by checking out their personal page on our website. You can also download an invoice for your off-airport parking space on our website.

Reviews: We encourage you to write reviews about our East Midlands airport parking services. The only way to know what our customers think of us is through the feedback about the parking services we get from these reviews. They are so important because they give us an honest appraisal of your experience with Parkos and the parking partners. If our car park provider has messed up somehow, we want and need to know. Someone should inform us if one car park provider said he had handicapped facilities when he didn't. If you have had a bad experience with our customer care staff, please tell us to make it better for you the next time. We have a lot of good reviews, so we hope we are on the right track to achieving 100 per cent customer satisfaction.

Customer service: At Parkos, customer service is our highest priority. Because our first-time customers might be a little cautious when booking a parking at East Midlands airport with us, we need to take care of them when they do. We have a comprehensive FAQ section on our website, answering most questions. Send your query, and we will sort you out. We understand that plans change and your East Midlands airport parking need with it. If you need to cancel or alter your booking, we will assist you in making the process seamless. If you encounter any problem before, during, or after your visit, please contact customer service to sort it out for you. When you want the best customer service and cheapest parking at East Midlands airport, look no further than Parkos and save money on airport car parks.
If you need a route description, take a look at our directions page. We hope to see you soon for your next trip.
Frequently Asked Questions
How early to arrive at East Midlands Airport?

Trying to figure out how early to arrive at the airport, will depend on which kind of East Midlands Airport parking you book. The general rule of thumb is to check-in 2 hours prior to your departure time. To allow for plenty of time before your flight from East Midlands Airport, please keep in mind how long it will take you to park your vehicle and get to the airport from the parking.

Park and Ride

The Park and Ride offers are usually the most affordable parking options. If you book this option, you will drive to the parking lot, often located 10-20 minutes from the airport terminal. From the parking lot, their shuttle bus will transport you to the airport and bring you back to your car upon your return. The shuttle operating hours and transfer times vary by car park, we suggest checking with the parking prior to booking to ensure their hours will fit your needs.

Meet and Greet

East Midlands Meet and Greet is the most convenient option for travelers, as you can drive straight to the airport. A valet from the car park will be waiting for you at the terminal and will park your car for you. When you are approximately 30 minutes away from the airport, please call the car park you booked with to inform them of your arrival so that the valet will be ready. Once the valet drives your car to the car park, you can easily walk into the airport and check-in for your flight.

International Flights

When you have an international flight, keep in mind you may need to check-in and arrive at the airport 3 hours before departure time. The check-in process may be longer for international flights and the airline should send you information on when to arrive at East Midlands Airport. We recommend checking with your airline to ensure that you arrive at the correct time and have plenty of time to park your vehicle.

How does Meet and Greet work at East Midlands airport?

There are a few things to consider if you have chosen the Meet & Greet service at East Midlands Airport. With the Meet & Greet parking option, you have to drive to the departures hall. When you arrive, a member of staff will park your car for you once you have completed a few checks together. The confirmation email will include contact information for you to call when you are on your way to the airport so that they can be prepared to meet you at the East Midlands airport terminal.

On Arrival

Once you arrive at the airport, you simply unload your luggage and proceed to the check-in counter to begin your journey. You are not required to drive to the parking lot. Your car will be driven to the allocated parking area by a member of the East Midlands car park staff.

On return

Please notify the car park operator that you have arrived and got your bags from the baggage area. The East Midlands car park provider's phone number is contained in the booking confirmation e-mail you got from us. Then you and a parking provider employee arrange on a time for your arrival. Then, the parking lot employee will drive your vehicle to the assigned location. Usually, you will meet in front of the East Midlands airport terminal.

Advantages and disadvantages

There are of course advantages and disadvantages. The following is a brief explanation of the main advantages and disadvantages of the Meet & Greet parking service.

Advantages

Time efficiency. It goes without saying that having your car parked for you will save you time. Go to the departures building and leave your car with a car park employee. From there, a driver will take over and you may continue your journey.
Convenience. Another advantage that arises in a variety of ways is convenience. For example, you can exit your vehicle closer to the departures zone, requiring less distance to carry your bags and, most likely, receive greater assistance from parking attendants.

Disadvantages

Trust. Trust may be a disadvantage if you don't have a good view of where your vehicle is parked. Parkos only works with professionally approved car parks that use expert drivers, so you don't have to worry about your vehicle.
Cost. The Meet and Greet service is somewhat more expensive than, for example, Park and Ride because of its ease and efficiency.

How does Park and Ride work at East Midlands airport?

When you choose the Park and Ride option at East Midlands Airport, you drive to the reserved parking area. Parking partners on Parkos' comparative platform are all located near East Midlands Airport. The East Midlands airport terminal is accessible by a free shuttle service. More information regarding the free shuttle transfer, such as the time it takes to go to the airport, can be found in the confirmation email.

The parking provider's phone number is listed in the confirmation email we send you once you reserve an East Midlands airport parking space. Please notify the parking provider on your return to East Midlands Airport. You meet a parking attendant at the agreed-upon place at the airport terminal.

Traffic information

The East Midlands airport region may be packed and congested, with frequent traffic delays. We recommend that you take extra measures when driving to the airport. Check the popular roads and see if there are any road works going on before you go.
Our benefits
All car parks are carefully inspected
The best deals on airport parking
Free cancellation up until 24 hours
Over 4 million customers globally