Parking at Bristol airport
Bristol Airport (BRS) is located about eight miles south-west of the Bristol city centre. It is the eighth busiest of UK airports, flying 8.9 million passengers in 2019. The airport operates at close to capacity, and as recently as February 2022, the Bristol airport owners have been granted planning permission to expand Bristol International airport to facilitate 12 million passengers. Parkos provides Bristol airport car parks at the cheapest spot combined with the best customer service. You can book your cheapest Bristol airport parking online. Our website is easy to use, and our customer service is always ready to help you with any queries. You can book Bristol airport car park spaces 24 hours a day, with immediate confirmation. Please look at the selection of spaces we have and reserve your long stay car park or short stay car park today via Parkos!
Bristol airport has only one terminal building and, quite unusually, no jetways. Both commercial and charter airlines use Bristol airport. The flights are mainly within Europe, Tui flights to Egypt being the exception. Ryanair and Easyjet are the big players here, with Jet2 making the airport its tenth base in 2021. Bristol airport is not accessible by train, although plans for a Rail Link are ongoing. Buses operate from nearby towns like Bath and Exeter. So driving your car to the airport is one of only two transport options. You will need cheap parking Bristol airport, and Parkos is the company to provide it. We provide "alternative parking " at Bristol airport, which is convenient and offers great value for money. Look at all our options on this website and book the best deal for a car park with Parkos.
Parking guide - More information for Bristol airport car park
| | |
| --- | --- |
| 🚙 Parking lots: | 2 parkings |
| 🏆 Top rated: | VacationCare - Meet & Greet |
| 💶 Cheapest: | Vacationcare - Park & Ride |
| 🛫 Closest: | Simply - Park & Ride |
Bristol airport terminal provides all the services one would expect at an International airport. Duty-free is making a massive comeback after Brexit, with all passengers entitled to buy their quota for flights within Europe. Bristol Airport offers a "reserve and collect" service to pre-order online and collect when you get to the airport. You avoid buying it at the airport, and it gives you a little bit of extra time to have a drink or something to eat at one of the many restaurants, bars and departures lounge at the airport. Bristol airport has two lounges, which you can pre book online. Look at our booking options on this website. If you avail of our Meet and Greet services at Bristol airport, it will enhance your airport experience, which is a plus.
Cheap parking at Bristol airport
Because there is no rail link to Bristol airport as yet, taking your car is probably the best option. There are lots of advantages to doing this. Your luggage travels in your vehicle with you to the destination, so you don't have to carry it with you all the time. If you drive your car to the airport, having booked our Bristol airport Park and Ride service, you won't have to walk any significant distances with your heavy baggage in tow. Another great advantage of taking your car is that the waiting time when you arrive back in Bristol is minimal. Booking a car park is easy with Parkos. We provide you a cheap and secure car park at Bristol airport. You won't find better value for money anywhere. Browse through our website and compare Bristol airport parking prices.

Parkos provides off-site airport parking by teaming up with local business people to offer cheap parking at Bristol airport. The car parks of our partners are not affiliated with the official car parks that the airport provides. Therefore, we call it "alternative parking". Because our partners are local, they usually own the airport parking lot's land. This, coupled with lower fixed costs, allows us to offer cheaper airport parking than our competitors. Although the Bristol airport parking options are not directly at Bristol airport, they are only a short minivan journey to the terminal. If you decide to book the Bristol airport hotels and parking, you can drive directly to your hotel and park your car in the hotel's car park. Look at this option on our website and book it today to enjoy affordable services!

Although the car parks are not official, they provide the same service. Your satisfaction is our most important concern, and we make it our mission for you to be delighted with the service that Parkos provides. We know that leaving your car in an unfamiliar place can be a cause of concern. Whether you need to book a space for a quick getaway or avail of our Bristol Airport long stay parking, we guarantee you we will take care of your car when you are away. All the Bristol airport car parks are manned 24 hours a day with CCTV cameras and high fences surrounding them. We provide the most secure and cost-effective car parking at Bristol airport. We have hundreds of positive reviews to back this statement up.

The booking process is easy. There are filters to help you out when looking for an exact Bristol airport parking location. All the airport parking spots that appear on our site are available and bookable immediately. After the payment goes through, you will receive a booking confirmation email detailing. We also provide our helpline number in case of emergencies. You can cancel your booking 24 hours before. You can also alter it. These services are cost-free. We pride ourselves on our customer service. Many customers think that the parking experience may be substandard as compared to official Bristol airport car parks because it is cheaper. But this is not the case. Many of our reviews indicate that we have a better customer experience than our competitors. And the customer is always right. Start comparing parking at Bristol airport.
Parking options at Bristol airport
Parkos offers three different parking options. They include Meet and Greet, Park and Ride, and Hotel and Parking. If you choose our Meet and Greet service, you just drive your car to the terminal building, hand over your car to one of our employees, and enter the departures hall. With the Park and Ride option, you drive your car to your designated spot. After you check-in, you hop on one of the shuttle busses, which take you to the terminal in just a few minutes. The Hotel and Parking option means that we will provide hotel accommodation and parking when you arrive at Bristol Airport. It is the perfect service to consider if you have an early flight the next day. Whatever airport parking option suits you best, we can provide it for you at Parkos.
Bristol airport Park and Ride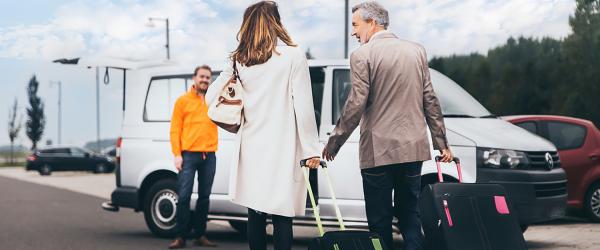 Our Park and Ride option is the most popular airport parking option we provide. After you have booked, your confirmation email will confirm your booking for Bristol airport parking. You will be given specific directions on how to find it. When you arrive, you check in at the office to confirm your booking. Then, you can hop on a shuttle bus that will give you a quick and easy transfer to the airport's main terminal. We recommend that you leave your keys with the Bristol airport parking. This ensures the staff can easily access your car when needed. When you return, the driver will pick you up from the terminal and bring you back to your car. As you can see, the experience is seamless, and none of the car parks are too far away from the terminal, so the journey takes very little time with the airport transfers.
Meet and Greet Bristol airport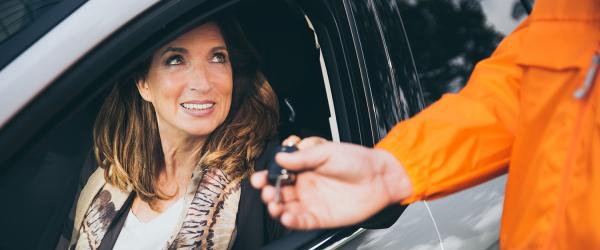 The Meet and Greet service is a service we offer customers that will have the most effortless transfer possible from car to the departure hall. You drive your car directly to your pre-ordained spot where you will be met by one of the staff members. They will take your keys and drive your vehicle to a Bristol airport parking spot, where it will remain until it is delivered back to you on your return. The Meet and Greet airport parking option is perfect for people on a tight schedule. It also suits people with mobility issues who want to avoid unnecessary walking to and from the airport. When you book, you provide us with your flight times and your expected arrival at the airport. After that, you leave the rest to us. Check out Meet and Greet (also known as Bristol valet parking) on our website!
Bristol airport Hotel and Parking
Our Hotel and Parking service is the one to choose if you have an early flight. We can book your hotel and your parking space, allowing you to enjoy a good night's sleep before your flight. The next day, the hotel staff will bring you to the airport. We advise that you book this service well in advance because there is a significant demand for airport hotels with parking spaces, especially during the peak season. If there is no availability on your chosen date, you can book our car park space that is close to your hotel, and we will take you there. Thus, you get the best of both worlds with the cheapest parking and a convenient hotel night before your trip. Have a look at how to book this efficient service on our website!
Bristol airport long stay parking
Airport parking can cost a lot when going away on trips, and any tips to save money on airport parking are greatly appreciated. Due to the productive relationships with our Bristol airport parking lot partners, we can offer the affordable long stay car parking. Our costs are lower than those of official car parks who have to pay high rent to the airport owners. Despite airport car parks being cheap, we need to reassure our customers that our service is as high as our competitors. We will go out of our way to make your experience a good one, so you spread the word and, of course, come back to us the next time. Have a look through our checklist below to see how you book and pay for your car park space.

Reliable Bristol airport parking lots: It is easy to make a reservation. Just select the airport parking option you want and book it. The car park spaces that appear on the website are available as you browse. We won't send you an apologetic email saying it wasn't available. Your parking booking must be made online as all our airport parking prices are in real time and can fluctuate due to demand. Once you have booked, you will receive a confirmation email detailing your booking and directions to your parking spot. If you need to cancel your booking, you can do so 24 hours beforehand. This also applies to any alterations you may want to make. This service is cost-free. Don't hesitate to call our customer service helpline with any other problems. We always advise our clients to screenshot or print the confirmation email.

Secure payments: When your booking for a car park is confirmed, you will be presented with the accepted payment methods We make this easy too. Parkos accepts most major debit and credit cards. We also accept PayPal. We use a safe and secure payment system to protect your financial information. We will also not have access to your personal information. The relevant bank deals with the whole process. If you don't want to pay by card, you can pay in cash at your Bristol airport parking. You will, however, have to check with the car park provider first to see if they accept this method of payment. Not all of them do. You can get this information from the provider's page on this website. Once you have paid, you will receive your confirmation email. You can download the invoice.

Reviews: We would love you to write a review of your experience to let us know how we are doing. If you have any complaints, we want to hear them to get better. If you were dissatisfied with the service at one of our Bristol airport parking partners, we want to listen to that too. They also want to improve in their services. If, for example, one car park wasn't handicap friendly when it said it was, we want to know. Also, if you were poorly treated, tell us, and we will do something about it, so it doesn't happen again. Of course, you are allowed to leave positive reviews as well. We have hundreds of them. Knowing what we are doing right is very imperative.

Customer service: We understand how hard it can be to leave your car at a car park that is not directly affiliated with the airport. For this reason, we provide the best customer service to put our customers at ease. We have an extensive Q and A section on our website to offer clients more details. We also have a customer helpline where you can type in your question or circumstance. When it comes to Bristol airport parking, we realise that everything is on a very tight timeline, so we will get back to you quickly to help you. When you book with Parkos, you can be assured that you will get the most affordable and customer-friendly car park space at or near the Bristol airport terminal.
If you need a route description, take a look at our directions page. We hope to see you soon for Bristol airport parking.
Frequently Asked Questions
How early to arrive at Bristol airport?
How does Meet and Greet work at Bristol airport?
How does Park and Ride work at Bristol airport?
The benefits of Parkos
All parking lots are carefully inspected
The best deals on airport parking
Free cancellation up until 24 hours
Over 2 million customers globally