We help you find the best parking prices at Stansted Airport
The benefits of Parkos
All parking locations are personally inspected
Guaranteed the lowest price
Changing and cancelling is free
We're here to help
Our experts are here to assist you with comparing car parks and are happy to answer any questions you may have.
Please contact us
Customers rate our parking providers with an average of 8.7
Customers who have booked a parking space through us, rate these with an average of 8.7/10 based on 421 reviews.
Tracy Wood Sunday 12 June 2022
Was very happy with the service
Jan Stie Sunday 12 June 2022
Really appreciate your service
Car parking at Stansted airport
Stansted Airport served over 28 million passengers in 2019, making it London's third busiest airport and the UK's fourth busiest airport. With over 200 destinations in more than 40 countries, it is easy to understand why Stansted airport operates 24 hours a day, 365 days a year. In fact, London Stansted Airport is second only to Munich Airport when it comes to serving the most destinations in Europe. Due to the vast traffic that passes through the airport, it can be costly to leave your vehicle at the official Stansted airport car park locations. Finding cheap Stansted parking is difficult and time-consuming. Therefore, if you are tired of searching for cheap Stansted airport parking, you have come to the right place. Here at Parkos, we have all the cheap parking at Stansted airport to meet your needs and budget.
Stansted Airport is located off the M11 motorway, Junction 8 if approaching from the direction of Cambridge. If you are travelling from London, it is off Junction 8a. There are reliable official multi-storey car parks available at Stansted Airport. The costs of the Stansted airport parking facilities can run very high for most people. If you have chosen car parking at Stansted Airport, we recommend arriving 2 hours before your flight's departure. This will guarantee a stress-free Stansted parking experience through check-in and security. On the other hand, the private off-airport car parks are located within a short distance from Stansted Airport, so you can save money and time on a car park at Stansted airport. They are served by a free shuttle bus to the terminal, which is very convenient. This ensures a seamless and swift transit from your vehicle in the car park to the check-in desks or security at the airport terminal building.
Parking guide - Short stay, long stay or mid stay car park at Stansted Airport
| | |
| --- | --- |
| 🚙 Parking lots: | 2 parkings |
| 🏆 Top rated: | VacationCare - Meet & Greet |
| 💶 Cheapest: | Vacationcare - Park & Ride |
| 🛫 Closest: | Simply - Park & Ride |
If you are searching for Stansted Airport parking and airport hotels options because you have an early flight, Parkos is here to help. We do all the hard work and find you the closest Stansted car park to your hotel that's available at the Stansted parking prices possible. In addition, you have the option to cancel your booking Stansted airport parking free of charge up to 24 hours before your arrival at Stansted Airport. Plans can change at any time. And so, we understand now more than ever the importance of being flexible with travel arrangements and the parking packages on our website. By collaborating with the local Stansted airport car parking partners, our website provides a fast and easy way for you to compare and save money on airport parking at Stansted airport for your budget. Stansted airport parking options include collecting your car at departures if you select the Stansted Meet and Greet parking option from our range of Stansted parking options.
Cheap airport parking Stansted
As the demand for air travel has grown, M.A.G (Manchester Airport Group) has invested over £600 million in Stansted Airport to meet growth. In recent years, M.A.G was given permission to expand Stansted Airport by the Uttlesford district council. The airport will, in future, be able to accommodate 35 million passengers a year. This expansion means there will be a higher demand for Stansted airport parking spaces as well as more Stansted car parks for the growing numbers. Luckily for you, we at Parkos always stay one step ahead. We will continue working closely with local car parks to ensure that the cheapest parking at Stansted airport is available on our comparison website. As a result of these agreements, we will maintain our promise of offering the guaranteed cheapest price possible for Stansted parking options such as short stay parking and long stay car parks at Stansted.

Deciding how you will get to Stansted Airport is a crucial part of your travel plans. It contributes to a stress-free beginning to your trip. If you are fortunate, you will be able to simply book a train or bus that will take you directly to the terminal. However, for many travellers, the quickest and most convenient option will be driving to the terminal building and parking for the duration of the trip. Arranging parking at the Stansted airport can prove to be both expensive and time-consuming, especially at the official Stansted airport parking. At Parkos, we ensure an enjoyable experience while providing you with the cheapest Stansted airport parking prices. On our website, our partners offer a variety of car park options to meet your Stansted parking needs. The car parks with Stansted Meet and Greet service are very popular with our customers.

Our solid partnerships with off site airport parking Stansted give you access to the best value Stansted airport car park options and incredible services. All the independent Stansted airport car parks are owned privately. This enables them to keep their prices low compared to the big official airport car park. The cost-saving is passed on to the customer, meaning you get a fantastic parking spot at a lower price. You have the opportunity to choose from a wide selection of options such as the Park and Ride service with airport transfers. A lower price does not mean inferior service, though. In fact, the level of parking service provided by our parking partners is often superior to our competitors. Every car park location offers fantastic value for money. We have hundreds of customer reviews to back this up, with many readily available to read on our website.

For both short stay car park and long-stay car park options, rest assured that you will find the cheapest parking at Stansted that suit your needs the best. Whether you need parking for a few weeks or a few months, you are assured of a safe and convenient parking experience at Stansted airport parking. Different airport parking providers have different Stansted parking price options because of the additional services available. These can include closer proximity to the airport, Meet and Greet car parks or a shuttle to and from the airport. But of utmost importance with long-stay parking is the safety and protection of your vehicle. We insist that our secured car park partners have staff on duty 24-hours a day as well as CCTV and fences for extra layers of security. In addition, they can provide protection for your parked car from natural elements such as rain, sunshine and snow.
Parking options at Stansted airport
There are a number of airport parking options around Stansted airport available. The Meet and Greet parking service allows you to drive up to the airport terminal, and have a parking staff member waiting to collect your car. Likewise, when you return, they will be waiting for you at the arrivals terminal with your car. This option means you don't have to worry about how you will get to and from the parking location to the terminal. Another great option is the Park and Ride service. Simply drive to the Stansted parking area and check-in your vehicle. The convenient free shuttle service will then take you to the airport. If you have an early flight, the Hotel and Parking service allows you to park at or near the hotel you have booked at the airport. A transfer bus will transport you between the hotel and the airport.
Park and Ride Stansted airport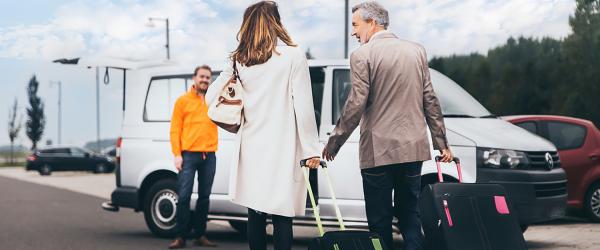 Drive your car directly to the car park with the Park and Ride option. The exact location and directions to the long stay or short stay car park are sent to you right after you have confirmed your booking for Stansted parking. Upon arrival, the information desk will give you additional assistance. This includes the option to leave your car keys safely with them if you wish to do so. A shuttle bus will collect you from the car park and promptly take you to the terminal. On your return, the shuttle bus will take you back to your car. The times of the transfer bus will be available once you have selected a specific London Stansted car park. Please remember to always double-check the transfer information supplied by the Stansted car parking partner in order to ensure you arrive for your flight on time.
Meet and Greet Stansted airport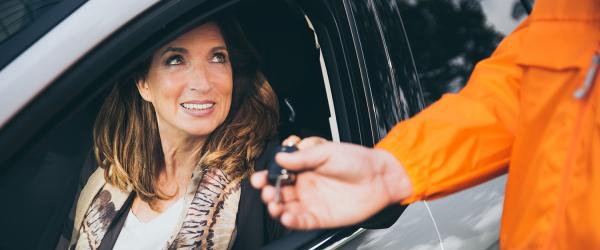 The Stansted airport Meet and Greet service is an exceptional and convenient option when it comes to parking your car. After you make your booking for airport parking Stansted, relevant information such as the location of your Stansted car park spot and the contact details of the transfer bus driver is shared with you via email. On the day of your flight, simply drive your car directly to the terminal at Stansted airport. Here a waiting staff member will collect and drive your car to the car park you have booked. This service will save you a lot of time at the terminal. All you have to do now is walk a short distance to the check-in desks or directly to security. For details on the payment options, visit the frequently asked questions section on our website where this is all explained.
Stansted airport parking and hotel
Occasionally an early flight will mean an overnight short stay at one of airport hotels at Stansted airport grounds. To avoid the stress of a very early drive to the airport, consider the Stansted hotel and parking packages our partners have on offer. All we need are your flight details, the estimated time of arrival and the check-out time. If there is hotel parking available on your specified date, you will be notified at once. Should none be available, we can provide a variety of parking options to pre-book near your hotel in advance. We will also arrange for a driver to take you directly to the airport hotel you have booked. The following day, the hotel will provide a free shuttle service to the airport terminal. Even if we are unable to assist you with a specific problem, we will do our best to provide the next best solution.
Stansted airport parking long stay
When you are away from important possessions such as your vehicle, you want peace of mind. That is why we work hard to ensure the best customer service possible. Whether it is your first time parking in and around Stansted airport, or you have had bad past experiences that have put a dent in your trust in parking providers, we want to assure you that you are a priority for us. We have clear information on payment options, security details of the parking areas, and excellent customer service on hand to answer any questions about airport parking at one of the car parks in London Stansted. In addition, Parkos will serve you with a comprehensive range of Stansted parking partners that will provide excellent parking services based on your unique needs. Whether you only require parking for a day or two or several months, we have the perfect options for the cheapest car park for you.

Reliable airport parking Stansted: Making a reservation is fast and easy. Firstly, select the airport you are flying from. Then enter your travel times and dates for your departure and return, so we can find you the best possible Stansted car parking option. Feel free to look through all the options available and pick the car park that best meets your needs. To ensure the best and cheapest parking deal possible, you can only book online as the prices change in real-time. Once you have made your reservation for one of the Stansted car parks, we immediately transfer the details to our parking partners. You will receive an email confirmation of your booking with all the necessary information. We always recommend either printing or screenshotting the email as a safety measure. The confirmation email with all the details will arrive in your inbox as soon as payment has been received.

Secure payments: when you choose and confirm your parking space, you will see the available payment options for you. These options include both online and on-site payments. When paying online we accept most major credit and debit cards, although this may vary from one service provider to another. All our payments transactions are processed using a secure payment system. Parkos will not have access to your personal data at any point during the booking. If you would rather pay on-site, it is possible once you arrive at your chosen car park. Please check online first to see what payment methods your provider accepts to avoid any inconvenience. For the long stay car park option, you are able to download an invoice should you wish. Please contact our customer support team if you have any issues with payments.

Reviews: After parking at Stansted airport, we ask all our customers to submit reviews if they wish to do so. This allows us to assess your experience and rectify any outstanding issues or weaknesses in our system. We also want to hear from you if you have a comment or complaint about any of our partners. We are always looking to improve the parking services wherever possible. At Parkos, we are committed to accommodating customers with mobility difficulties. Almost all the car parks have designated spaces for disabled customers. Regrettably, some of the parking providers will not be able to offer this disabled parking service. Please check their details via our website to see if they provide this parking option for you. It is our objective at Parkos to make your time at Stansted airport is as pleasant as possible.

Customer service: When you book with Parkos, we make sure all your needs are promptly met. Our goal is to provide unrivalled service and customer care, at the lowest prices guaranteed. At Parkos, we believe in teamwork. We work closely with the many airport parking Stansted providers to ensure that your parking experience is as enjoyable as possible. We provide an excellent and stress free parking service regardless of whether you choose the long-stay option or the Meet and Greet service. Our staff will go above and beyond to exceed your expectations. Our aim is to be your number one choice when it comes to airport parking at Stansted airport. For a seamless online experience, we make our booking system as transparent as possible. Please feel free to leave a review on our website. This way we will continue to improve and enhance our services.
If you need a route description, take a look at our directions page. We hope to see you soon.
Parking providers at Stansted Airport
Frequently Asked Questions
For flights from Stansted airport we recommend that you are checked-in and ready to go...
Read the full answer