We help you find the best parking prices at Exeter Airport
The benefits of Parkos
All parking locations are personally inspected
Guaranteed the lowest price
Changing and cancelling is free
We're here to help
Our experts are here to assist you with comparing car parks and are happy to answer any questions you may have.
Please contact us
Customers rate Parkos with an average of 8.6
Customers who have booked a parking space through us, rate these with an average of 8.7/10 based on 421 reviews.
Jeffrey Sunday 26 June 2022
Were received well and quickly taken to the airport. Nice that the staff parked our car for us.
Anonymous Sunday 26 June 2022
Straightforward website, booking was quick and easy!
Exeter airport car parking
With international flights running across several locations, Exeter airport can be one of the busiest airports in the country. Over 35 domestic as well as European destinations have flights working from Exeter. Several airlines run to and from Exeter airport, from British Airways to TUI Airways and Loganair. It has a single airport terminal and takes care of several customer services. For instance, the first floor holds the executive lounge. Downstairs, passengers can indulge in checking out the cafés, the restaurants, airport lounges or the shops. Exeter airport parking services may be full even during the low season. Hence, passengers end up paying more than they should for Exeter airport car parking.
Thus, airport parking can prove to be quite a hassle at Exeter, especially in the high season. Therefore, Parkos takes charge to help you select the most acceptable Exeter airport car park options for cheap parking at Exeter airport. With an extensive network of local car park partners, you can choose the best deal at Exeter airport parking. We compare all options and prices for airport parking at Exeter airport so that you do not have to do the hard work when looking for a car park. It is easy to follow and accurate so that you can make that trip free from any unnecessary worry.
Parking guide - More information about Exeter airport parking options
| | |
| --- | --- |
| 🚙 Parking lots: | 2 parkings |
| 🏆 Top rated: | VacationCare - Meet & Greet |
| 💶 Cheapest: | Vacationcare - Park & Ride |
| 🛫 Closest: | Simply - Park & Ride |
Although Parkos charges commissions to provide such private Exeter airport parking services, the prices are some of the lowest in comparison. Regardless, the cost does not exceed that of the individual airport parking services. Booking through Parkos means paying the cheapest prices for airport parking services that you may have to pay higher for otherwise. As a matter of fact, Parkos even offers the option to cancel your reservation free up to 24 hours after the passenger's arrival. That is how easy, inexpensive, and trouble-free it is to book your space with Parkos. Explore some of the best value for money and customer service with Parkos.
Cheap car park at Exeter airport
Planning that trip, whether business or holiday, on a short stay car park or or long stay car park, it does not mean you have to spend too much money on airport parking. Even so, finding cheap and convenient parking areas can be quite a difficult task. Parking at the official Exeter airport car parks is even more of a struggle. Hence, Parkos advises you to avoid all problems by booking online with us. We offer you options suited to your timings and convenience through our various services, and you save money when booking with Parkos. You can either avail of the shuttle bus service through Park and Ride with airport transfers or let our employees at Parkos help you find your perfect Exeter airport parking through Meet and Greet Exeter airport.

Travelling, especially for business, requires a lot of planning, not to worry about anything other than your work. Therefore, Parkos is here to take care of car parking to make your trip trouble-free. Exeter airport hotels and parking can be tricky and very costly. There are several accommodation options to choose from around the airport. For example, the on-site hotel of Hampton by Hilton is a stone's throw from Exeter airport terminal building. For such instances, Parkos helps you find off site car parks nearby that can be offered at the cheapest rates so that you do not end up spending most of your money on airport parking instead. We offer exactly the same product as the official car parks, but cheaper. You can simply pre book online via parkos.co.uk.

Parkos caters to the customers for Exeter airport long stay car parks as well. We understand that many things can go wrong on a trip, or instead, work can take longer than expected. With Parkos, it is easy and completely safe to park your car for a longer time and not even overspend money on an appropriate car park at the airport. We guarantee the utmost protection and good quality care of your vehicle so that you can concentrate on your work instead. With the help of honest car parking employees, fully functional CCTV cameras working throughout the day, and high fences around the areas, Parkos ensures that your trip goes smooth and steady, with no worries about Exeter airport parking.

Indeed, assuring the cheapest parking rates without compromising on the quality of our service is our ultimate motto. We work hand-in-hand with independent parking services to shortlist the best options for our customers. It is a common misconception that private car park services can be costlier than the official car park amenities of Exeter airport. Instead, it is the other way around. Such personal services offer suitable airport parking areas at lower prices, have less traffic, and much better management than official airport parking areas. Moreover, booking these services through Parkos allows you to get them at even cheaper rates. Additionally, you do not have to miss out on airport car parks quality!
Parking options at Exeter airport
You can either choose a Park and Ride service, a Meet and Greet (valet service), or a Park Sleep Fly for parking. With Park and Ride, you drive your vehicle directly to the selected car park and register your details at the information desk. Our shuttle bus picks you up with your luggage to drop you off at the departure hall after a short transfer ride. Through Meet and Greet, once you drive up to the terminal, a staff member of the car park takes over your car and drives it to a suitable parking spot. Or, if you have an early flight with the Park Sleep Fly option, you can book a nearby Exeter airport hotel with its own parking spot that Parkos can help you find!
Park and Ride Exeter airport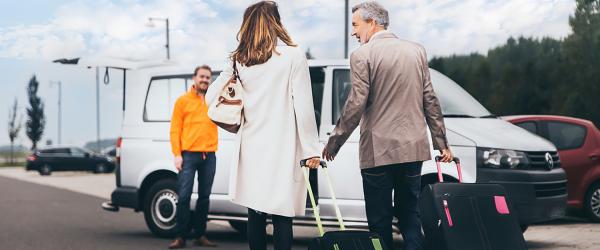 With the Park and Ride option, you are responsible for driving your vehicle to your chosen parking spot. This is also given in your booking confirmation email. Our bus service picks you up upon updating your details at the information desk. The car park is responsible for dropping you off safe and secure with your luggage at the terminal. Meanwhile, your car is at its utmost safety with parking airport Exeter. You can choose for a covered or an outside parking. It is essential to leave your car keys with the car park employees to provide all services appropriately. We will bring you back to your car at the parking spot upon your return. Park and Ride is easy and fast, with just a short walk to the check in desk.
Meet and Greet Exeter airport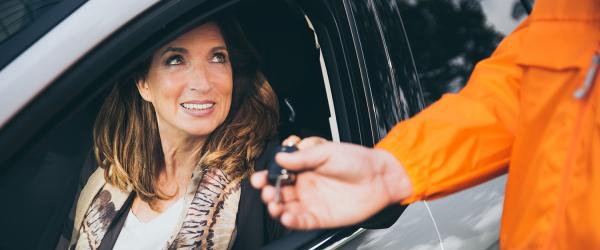 Our Meet and Greet service is an even easier parking airport option. You only have to drive your car to the airport, drop off for your departure and hand it over to the employee. We share all information regarding the parking spot you pre book online, the name of the transfer bus driver, and their contact number to maintain complete transparency. From there, it is just a short walking distance of few minutes to reach the check in desks at the airport. On the other hand, your car is kept well and safe in the same way until you return from your trip. However, unlike Park and Ride, you do not have to spend any time at the information desk.
Exeter airport Hotel and Parking
Flight timings can vary significantly throughout the year. Often, one needs to avail of an early flight which, quite importantly, requires them to book nearby airport hotels overnight. Booking through Parkos means getting all the help to find a hotel with parking spot. We need all the necessary information to carry this out, for example, your flight timing, arrival details and the like. However, if such airport hotels are unavailable, especially during peak seasons, you can still book and Exeter airport parking spot with us. We will make sure to drive you to your hotel, which in turn will drop you off at the airport terminal when needed.
Exeter airport long stay parking
At Parkos, we cannot emphasize enough how important it is to have a smooth and hassle-free trip regardless of it is long or short. For passengers flying for longer trips, leaving your car in the care of a stranger can be stressful. However, Parkos assures the best quality of service for you and your car and promises to tend to every need with its excellent customer support. There are several facilities for you to consider so that you can be at your utmost ease on your trip. From safe and secure payment methods to a good client review record, Parkos takes reliability and safety matters extremely seriously.

Reliable Exeter airport parking lots: Reservation is easy at these trustworthy parking areas. All you have to do is fill in the airport details, your flight timing, and the date and time of return. We have come up with a list of several parking options for you to choose from. Once selected, you will make the payments online since we gather all information in real-time. Upon payment, we send all necessary information to the appropriate parking airport partner at Exeter. Soon enough, you receive an email confirming your booking and containing every detail you need to know. However, it is always extra safe to take a screenshot of any confirmation or email you receive.

Secure payments: Needless to say, payment is easy and fast. Although Parkos accepts both credit and debit cards, it allows its customers to have the option of paying both online and on-site. In cases where suitable payment methods are not available, you can make the payment on-site, even on the day of your departure for Park and Fly.. Moreover, all kinds of income are absolutely safe and well protected. Parkos does not save any payment information as it is the job of your bank. You can also download the invoice from our website in case of longer trips. Our exceptional customer support swiftly handles any problems.

Reviews: It is always important to receive feedback from our customers that help us move forward. We urge you to review us to understand how the different aspects of Parkos are working. Moreover, it helps us figure out how we can improve our service. You can even raise an issue against a service provider, which we will positively look into. In fact, it is always advisable to do a thorough checking of the parking provider before booking their services. Some providers, unfortunately, do not have specific facilities like parking spaces people with reduced mobility. If so, such information is almost always present on their page on our website.

Customer service: One of the best features of Parkos is our service to our customers. Although making reservations and payments is extremely easy here at Parkos, technical and other problems may arise once in a while. In such cases, we have a dedicated team to solve all your concerns as soon as possible. We are continuously in touch with all the parking partners at Exeter to bring you the best lists on parking areas and services. Moreover, with our Park and Ride and Meet and Greet services, we are sure to impress you with our hospitality. We request you to leave a review to better ourselves at your service. Please reach out to customer service with your questions or concerns, or check out the FAQ section to find an answer on your question.
If you need a route description, take a look at our directions page. Book car parking at Exeter airport now and we hope to see you soon for your next trip.
Frequently Asked Questions
When you select the Park and Ride option at Exeter airport, you will drive to...
Read the full answer
When departing from Exeter Airport, the recommendation is to arrive for check-in and security at...
Read the full answer