We help you find the best parking prices at Jersey Airport
The benefits of Parkos
All parking locations are personally inspected
Guaranteed the lowest price
Changing and cancelling is free
We're here to help
Our experts are here to assist you with comparing car parks and are happy to answer any questions you may have.
Please contact us
Customers rate Parkos with an average of 8.6
Customers who have booked a parking space through us, rate these with an average of 8.7/10 based on 421 reviews.
Jeffrey Sunday 26 June 2022
Were received well and quickly taken to the airport. Nice that the staff parked our car for us.
Anonymous Sunday 26 June 2022
Straightforward website, booking was quick and easy!
Jersey airport car parking
Jersey airport (JER), on the channel island of the same name, is located about seven kilometers from its capital St Helier. We at Parkos have teamed up with local business people to provide off-site parking to save you money before you travel. Parkos offers the best value for money Jersey airport car parking. All the public car parks are close to the departures terminal, for added convenience.
There is no train connection to Jersey airport. Buses run regularly, and there are taxi ranks located outside the airport. Taking your car is easy and cannot be compared to the stress incurred at other big-city airports in the UK. When you take your car, Parkos offers cheap parking Jersey airport. Compare our prices to our competitors and book your parking at Jersey Airport space with Parkos now!
Parking guide - Short stay car parks or long stay car parks at Jersey airport
| | |
| --- | --- |
| 🚙 Parking lots: | 2 parkings |
| 🏆 Top rated: | VacationCare - Meet & Greet |
| 💶 Cheapest: | Vacationcare - Park & Ride |
| 🛫 Closest: | Simply - Park & Ride |
The terminal has a range of outlets offering hot and cold food and drinks. If you are pressed for time, they offer a "Grab and Go" service where you can pre-order food and collect it at the airport. Book the Park and Ride service, and you will have plenty of time to relax in the terminal before your flight.
Cheap parking Jersey airport
Your best option is to take your car to the airport. It allows you to plan your journey and get to the airport in good time for your flight. But the main car park can be expensive if you don't compare prices before booking. The Meet and Greet service offers the most convenience and best value for money. Check it out on our website now!

Our booking platform makes booking your car park space easy. You can use the filter on our search engine to find the car parks that suit you the best. After you have picked out your space, book to confirm. If you have an early flight, why not consider booking the Jersey airport Hotel and Parking service? This is a great way to arrive fresh for your trip.

Together with local entrepreneurs, Parkos can offer you the best value for money Jersey airport short stay car park or long stay car park. Although we are not directly affiliated with the airport and the main car park at the airport, the car parking locations of our partners are close to the departures terminal and arrivals terminal. The usual parking rates on our website will always be the same as those offered by our partners, giving you great value for money and excellent service rolled into one.

Although our usual parking charges are lower than our competitors or than the main stay car park at the airport, our customer care and service is just as good. All the car parks on our platform have CCTV cameras, are surrounded by high fences, and are staffed around the clock. Our customer service will help you with any queries you have. At Parkos, our most important concern is taking care of you and your parked car while at Jersey airport.
Parking options at Jersey airport
With the Park and Ride service, you park your car and take the shuttle transfer bus to the departures terminal. The bus takes you back to the main car park when you return. Our Meet and Greet service allows you to drive directly to the departures terminal building and collect it there when you return. Parkos Hotel and Parking service combines a hotel night and on-site parking. Check out the offers on our website and book your parking spot online.
Park and Ride Jersey airport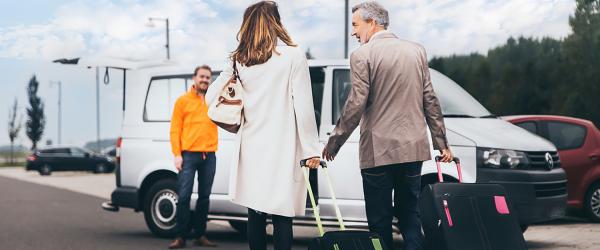 With the Park and Ride service, you choose your parking spot and book it. After payment, we send you an email giving directions to your parking spot. When you have parked your car, hop onto one of our shuttle buses that will take you to the airport. These buses arrive regularly. When you come back to Jersey, you get the bus straight back to your parked car.
Meet and Greet Jersey airport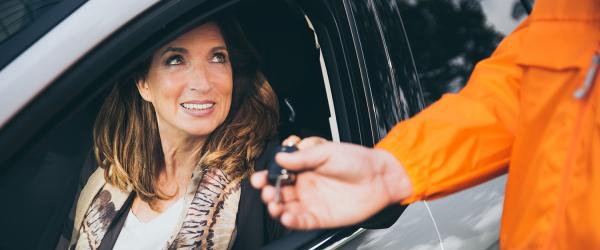 The Meet and Greet service allows you to leave your car in a car park in front of the terminal on departure and collect it at the same place in front of the arrivals terminal. Before collecting your car from the arrivals car park, please call the parking provider a half hour before you arrive back at the airport. We will send you an email outlining the relevant details. The confirmation email will provide the employee's name taking care of your car. Our employee takes your car and delivers it to you at the meeting spot when you arrive back.
Jersey airport Hotel and Parking
Our hotel and Parking service offers you the combination of a hotel room and an on-site parking space. This service has proved to be popular, and spaces are limited. Booking well in advance is recommended. If you have an early flight, staying at an airport hotel is the best option for you. A shuttle bus will bring you and other passengers to the terminal the morning after.
Jersey airport long stay parking
Parkos will take care of you and your car from the minute you book. Our employees insured to drive all the vehicles in the car parks. Our goal is that you will be so satisfied with the cheap parking and the excellent customer service that you will book with us the next time you fly from the airport of Jersey. Book one of the parking services now!

Reliable car parks: Our booking platform is easy to use. When you have selected your car park space, book it and then pay. You have now guaranteed your car park space at a price quoted, regardless of how the usual parking charges fluctuates in the future. We send an email confirming all booking and relevant details. Please get in touch with our customer service if you have any queries. We will provide you with an answer immediately.

Secure payments: Parkos accepts most debit and credit cards. PayPal is also an option. Your payments go through a secure and encrypted payment system. At Parkos, we have no access to your personal information. The payment is the responsibility of your bank. Most of the car parks on our platform accept cash when you check in with them. However, before you arrive, confirm that they accept this form of payment.

Reviews: We would like you to tell us about your parking experience by writing a review on our website. They help us with our overall service. Your thoughts tell us exactly how our business is going. Not the way we think it is going. Every review is read and discussed with our employees. We hope to improve on anything negative written in our reviews.

Customer service: Our helpline will answer any query you might have. We know that travel plans can change quickly. Therefore, we offer free cancellation 24 hours before you arrive. You can also change your booking at any time. Our mission is to book with Parkos every time you come to Jersey airport. We hope to achieve this through our combination of cheap parking and excellent customer service.
If you need a route description, take a look at our directions page. We hope to see you soon for your next trip.
Frequently Asked Questions
In general, for parking at Jersey Airport, we recommend that you come 3 hours ahead...
Read the full answer
The Meet & Greet service at Jersey Airport makes parking your car quick and straightforward....
Read the full answer
At Jersey Airport, choose the Park and Ride option. Using this option, you drive to...
Read the full answer