We help you find the best parking prices at Manchester Airport
The benefits of Parkos
All parking locations are personally inspected
Guaranteed the lowest price
Changing and cancelling is free
We're here to help
Our experts are here to assist you with comparing car parks and are happy to answer any questions you may have.
Please contact us
Customers rate our parking providers with an average of 7.9
Customers who have booked a parking space through us, rate these with an average of 8.7/10 based on 421 reviews.
Terriann hibbert Thursday 24 March 2022
Was nervous about leaving my car and keys as expected. Was under the impression that the place I was looking for was called parcos how ever it was...
Sandra Burt Monday 21 March 2022
The gentleman at vacation care were excellent and really friendly. Excellent communication and absolutely No issues. I would definitely recommend them...
Manchester airport car parks
The international airport of Manchester (MAN) is the third busiest airport in the United Kingdom, with more than 29 million passengers flying from Manchester airport in 2019. Various airlines such as easyJet, Ryanair, TUI Airways and Jet2 operate flights to 200 destinations around the world. Manchester Airport has three passenger terminals, which are connected at a short walking distance from each other. Manchester Airport also has a train station and it is possible to stay overnight at one of the Manchester airport hotels. In 2021, the 75th anniversary of the commercial airport was celebrated.There are multi-storey car parks available at the official Manchester Airport. The costs of the official Manchester airport parking options can be very high. There are private car parks within a short distance of the airport, served by a free transfer bus. At Parkos, we compare all the best prices for car parks at Manchester airport to get you, our customer, the best deals. Our website offers you an effective way to compare and book the best Manchester airport parking options. We work together with local car parking partners to find the best deal available at Manchester airport. Parkos works on a commission basis from the car park provider, but the price offered on our website will never be higher than the car park price offered by them. We receive commission only on bookings made through us. The customers, in effect, get better parking services, for the same parking prices. When booking through us, you can cancel your reservation free of charge up to 24 hours before your arrival at the Manchester airport car park. Book a car park at Manchester airport today.
Manchester airport parking Terminal 1
Terminal 1 is the biggest terminal at Manchester airport with Europe's two biggest low-cost carriers, Ryanair and EasyJet, operating from here. Manchester airport is located about 9 miles south of Manchester city centre and is serviced by the M56 motorway. Manchester airport can get very busy. However, there is a wide variety of restaurants, bars, and airport lounges to choose from and, in general, everything runs pretty smoothly. Terminal 1 is close to the Manchester airport parking Terminal 2. There is a walkway between the two terminals which takes about 15 minutes.At Parkos, you can book off-site long stay car parks or a short stay car park that you can cancel free of charge up to 24 hours before your arrival at the Manchester airport parking. There are also parking lots close to Terminal 3 available, which is only a stone's throw away from Terminal 1. You can enjoy a carefree journey in one of the shuttle buses to the departures area of Manchester airport. Alternatively, you can have your car picked up at departures if you avail of the Manchester airport Meet and Greet option.
Parking guide
| | |
| --- | --- |
| 🚙 Parking lots: | 2 parkings |
| 🏆 Top rated: | VacationCare - Meet & Greet |
| 💶 Cheapest: | Vacationcare - Park & Ride |
| 🛫 Closest: | Simply - Park & Ride |
Manchester airport parking Terminal 2
Terminal 2 at Manchester airport is the long-haul terminal with some big airlines like Qantas, Cathay Pacific, and Singapore airlines departing from there. It is close to Terminal 3, so getting from your Manchester airport parking space to the departure hall is easy. It is advisable to arrive with plenty of time to spare before your booked flight, because Terminal 2 can be very busy in terms of passengers. The terminal building has a great selection of shops and restaurants for you to choose from. All the major airlines will have their airport lounge. The terminal has express check-in and a duty-free service. Your experience at Terminal 2 is designed to be as stress-free and efficient as possible. At Parkos, we hope to add to this positive experience of parking at Manchester airport.
Manchester airport parking Terminal 3
Terminal 3 is mainly a domestic terminal, Ryanair being the biggest domestic airline to use it. A few international airlines like Air Canada and Qantas also use it. It is connected to Terminal 1 and is just a short walk in between the two. Even though Terminal 3 is the smallest of the terminals it still has 47 check-in desks and 14 air bridges. It offers fast-track check-in and duty-free pickup service. Added to that, it has 14 shops and restaurants making Terminal 3 a nice place to be. The parking partners of Parkos offer Manchester airport car parking services very close to Terminal 3. Pick out the car park that is closest to the terminal. We make this very easy for you on our website. Once you have booked, you will get directions to your Manchester airport car park in the confirmation email.
Cheap Manchester airport parking
As the city of Manchester and its surroundings have grown, so has the demand for more air travel. The Manchester airport authorities have plans for steady growth over the coming years. The demand for cheap air travel is inexhaustible, with Ryanair and EasyJet leading the way in low-cost flights. Proposals are in place for more Manchester airport hotels with parking options and car hire facilities. There will be more demand for Manchester airport parking spaces. More car parks will be needed and Parkos intends to team up with local car parks that want to have their car parking options on our comparison platform. With these agreements in place, we can maintain our promise of offering the best prices on airport parking at Manchester airport.

Planning your holiday or trip can be great fun and gives you something to look forward to. Deciding on how you are going to get to Manchester airport is an important part of your travel planning. You might be lucky and be able to hop on a train or a bus that will get you to Manchester airport with the right amount of time to spare. However, if this is not the case, driving your car will be your only transport option.Booking a Manchester airport car parking space can be arduous and expensive, especially if you book a spot at the official Manchester airport park. It can also take a large chunk of your holiday money even before you leave the country. At Parkos, we make sure that you will have a convenient experience, while at the same we make sure that the Manchester airport parking prices are the lowest. You can also choose between options, such as Park and Ride or Meet and Greet parking, whichever suits you best.

Parkos has teamed up with local independent Manchester airport car parks to offer you cheap car parking at Manchester airport. Because they are not big companies and they are own off-airport parking facilities, they can keep their costs down. These cost savings trickle down to the customer, and you end up with a great parking space for a lower price for your parking spot. The car parking at Manchester airport options offer great value for money. All of the car parks on our website are within easy reach of all the Manchester airport terminals. Being cheaper than the rest doesn't mean the car parks offer an inferior service. We realize that this is something our customers might be conscious of. We need to prove that the level of parking service of the airport car parks is as high, if not higher than our competitors. Furthermore, we have hundreds of reviews to prove that this is true. Read them on our website.

Manchester airport long stay parking is one of the options you can book at Parkos. You can leave your car with one of our partners for parking at Manchester airport for as long as you want, and they guarantee that they will take care of it for you. You can rest assured that your car will be safe regardless of whether you are going away on a long weekend or a three-month work contract. We will get you the best price for long-term parking by getting price comparisons from all our providers. At Parkos, we are in no doubt that you will be happy with the price you pay at the Manchester airport car parks. We can assure you that your car will be safe when you are away. We insist all of the car parks have employees working round the clock, 24 hour CCTV cameras, and high fences surrounding the car parks.
Parking options at Manchester airport
At Manchester airport car parks, you have a few parking options. Park and Ride and Meet and Greet parking are the two main ones. Park and Ride entails driving straight to your chosen car park. After you have checked in at the information desk, one of the shuttle ride services will take you to the departure hall. While some Manchester airport parking lots have set transfer times for airport transfers and free drop off, the car parks on our website have personnel who will drive the shuttle for customers. You won't be waiting long. Meet and Greet parking at Manchester airport parking Terminal 1 allows you to drive your car up to the terminal building. Here, you will hand over your car to one of the staff members of the parking. You just need to walk a few metres to the departure hall. Your car will be driven to the airport on your return.
Park and Ride at Manchester airport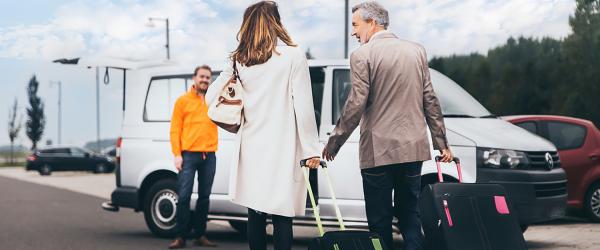 When you choose the Park and Ride parking option, you drive directly to the car park pinned on your confirmation email. After you have checked in at the information desk to confirm your booking you hop on a shuttle bus to the Manchester airport terminal. The driver will pick you up from the terminal and bring you back to your car when you return from your trip. It's as simple as that. You can opt for covered or outside parking. You can leave your key with the parking partner or decide to bring it with you. We advise you to leave your keys, to cover all eventualities. If you choose the Meet and Greet service that will be necessary. The stress-free and efficient Park and Ride service will give you the perfect start to your holiday or business trip. It has proven to be very popular among returning customers.
Meet and Greet parking at Manchester airport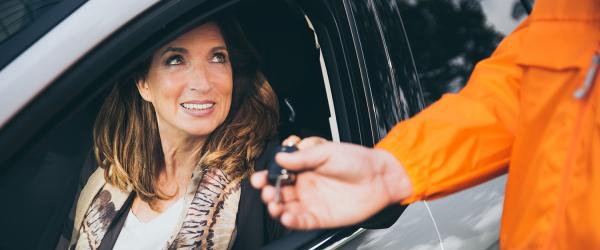 The Meet and Greet service is a premium option at Manchester airport. This effectively means that you drive your car directly to the Manchester airport, at whatever terminal you are leaving from. When you book Meet and Greet car parks, you will get all the information you need to get to your drop off zone with a minimum of fuss. The information we provide will give you the exact location of your parking space, the name of the transfer bus driver, and his or her telephone number. You drive to your drop off point at departures and the parking employee will take your car and drive it back to the car park that you have booked. The only thing you have to do is walk a few minutes to the airport for your check-in. We explain all the payment details in our frequently asked questions section on our website.
Hotel & Parking Manchester Airport
Sometimes an early flight will necessitate an overnight stay in one of the Manchester airport hotels. Although in the high season we will try to organize an airport hotel with parking for you. We will need your flight details, estimated time of arrival, and check-out time. We will let you know, as soon as we can, if there is any hotel parking available on your specified date. If there isn't any available, you can pre-book a car space that is close to your hotel. We will ask someone to drive you to your airport hotel. The hotel will, more than likely, have a shuttle bus that drives you to the airport the next day. Even if we can't help you ourselves with a particular problem, we will assist you in any way we can. Check out our frequently asked questions section on our website for more information.
Long term parking at Manchester airport
At Parkos, we want to help you with answering your questions the best we can. We realize that handing your car over to another person is something that you do not take lightly. Parkos has comprehensive customer care in place to help you with any queries or problems that may arise when parking at Manchester airport. We explain our payment system clearly and concisely to you on our website, so you know exactly how to confirm your booking. Furthermore, we answer all the most common questions in our FAQ section. We will resolve any queries not covered on the website. Type your question into our help desk box at the top of the Q & A page on our website. We will get back to you as soon as we can. Browse through our website and see how easy it is to book your Manchester airport parking.

Reliable parking lots: Making a reservation is easy. Select the airport you are flying from and fill in your departure and return dates and times. Look through several car parks and choose the one that suits you best. You can only make reservations online as all our prices are in real time to guarantee you the cheapest parking price. When you have booked we send the booking information to our Manchester airport parking partner. After this is confirmed you will receive an email with all the relevant details. We advise all our customers to take a screenshot of their email or print it for extra assurance. Your confirmation email will arrive in your inbox shortly after payment has been received. Get in touch with customer service if you didn't receive it. You can change or cancel your reservation for free up to 24 hours.

Secure payments: Once your airport parking space is confirmed you can see all the payment methods available to you. It is possible to pay both online and on-site. Payment methods may vary from one provider to another. We accept most major credit and debit cards when you pay online. We process all our payments via a secure payment system. Parkos does not have access to any of your personal information. That is taken care of by your bank. If you don't want to pay online, you can pay when you arrive at the parking lot. Check online first to see what type of payment your provider accepts, just to be sure. You can also download an invoice for your long stay car park on our website. You will see that our payment system is easy to use and secure. If you encounter any problems please contact us at customer service.

Reviews: We encourage our customers to leave reviews when they park at Manchester airport. This gives us an insight into how the car parks are doing. Our providers are our partners but if you have a comment or complaint about them, we want to hear it. We will raise the issue with a view to getting better in the future. We try to cater to customers that have mobility problems. Most of the parking providers have special parking places for disabled or less-abled customers. Unfortunately, some parking providers may not offer this type of car parking. You can find out if they have car parking options for you on their page via the Parkos website. We will help you get the most convenient parking service. It is our goal to make your experience at Manchester airport an enjoyable one. Our positive reviews indicate that we are on the right track.

Customer service: At Parkos, we endeavour to bring you the best of everything when you book with us. Safe and cheap parking with great customer service. We are always interacting with the Manchester airport parking providers to make your parking experience as seamless as possible. It doesn't matter if you decide to book our Park and Ride or Meet and Greet options. Each one will exceed your expectations. We want you to appreciate our flexible and varied payment system, so you don't encounter any unforeseen problems when booking with us. It is our goal that our customers automatically choose us first when booking their off-airport car park at Manchester airport. We try to make our booking system as transparent as possible to heighten your online experience. Please leave us a review after your stay with us, so we can make continuous improvements to our business.
If you need a route description, take a look at our directions page. We hope to see you soon
Parking providers at Manchester Airport
Frequently Asked Questions
The Meet and Greet service at Manchester airport is a simple and convenient way to...
Read the full answer
When you select Park and Ride at Manchester airport, you drive yourself to the parking...
Read the full answer
For parking near Manchester airport, we advise you to be at least 4 in advance...
Read the full answer