We help you find the best parking prices at Gatwick Airport
The benefits of Parkos
All parking locations are personally inspected
Guaranteed the lowest price
Changing and cancelling is free
We're here to help
Our experts are here to assist you with comparing car parks and are happy to answer any questions you may have.
Please contact us
Customers rate Parkos with an average of 8.6
Customers who have booked a parking space through us, rate these with an average of 8.7/10 based on 421 reviews.
Jeffrey Sunday 26 June 2022
Were received well and quickly taken to the airport. Nice that the staff parked our car for us.
Anonymous Sunday 26 June 2022
Straightforward website, booking was quick and easy!
Gatwick airport parking
Gatwick Airport, or London Gatwick, is an international airport in West Sussex, 29.5 miles (47.48 km) south of Central London. It's the UK's second busiest airport by passenger traffic and the eighth busiest airport in Europe. Gatwick airport has tens of millions of passengers passing through it each year. The airport has two terminals, the North and South terminal. The shuttle airport transfers connect both the North Terminal and South Terminals, leaving every couple of minutes, with a journey time of just two minutes. Many airlines, including British Airways, EasyJet UK, and TUI Airways fly from Gatwick to over 230 destinations worldwide. There are also several airport hotels nearby for Gatwick's vast number of passengers to stay in. Gatwick airport was also the first in the world to have a direct train line servicing it. The Gatwick Express is the train that goes directly to Gatwick Airport from London. However, many Gatwick airport passengers want cheap and convenient Gatwick airport parking close to the airport terminals. Finding affordable and cheap Gatwick parking deals for Gatwick North terminal or Gatwick South terminal is easy when booking Gatwick airport parking options with Parkos.
There are many car parks available at Gatwick North and South terminals, although the cost of the official Gatwick official parking options can be very high. At Parkos, we compare all the Gatwick airport parking charges so that you can save money on Gatwick airport parking. Our website offers you an easy way to compare and book the best parking at Gatwick airport options. We work together with local car park partners to find the best deals available at Gatwick Airport. Parkos works on a commission basis from the car park provider, but the Gatwick parking prices offered on our website will never be higher than the car park price offered by them. We receive commission only on bookings made through us. You, in effect, get better parking services, for the same parking prices. When booking through us, you can cancel your reservation free of charge up to 24 hours before parking at Gatwick South or North terminal.
Parking guide for Gatwick airport car parks
| | |
| --- | --- |
| 🚙 Parking lots: | 2 parkings |
| 🏆 Top rated: | VacationCare - Meet & Greet |
| 💶 Cheapest: | Vacationcare - Park & Ride |
| 🛫 Closest: | Simply - Park & Ride |
Gatwick parking North Terminal
The North Terminal is 1.2 miles (1.93 km), or a 5-minute drive from the South Terminal. The Gatwick North terminal typically hosts long-haul flights, and many British Airways and Virgin Atlantic flights depart from and arrive here. EasyJet UK also operates its flights from this terminal. The North Terminal has a variety of shopping options, restaurants, airport lounges and coffee shops, as well as a Bureau de Change. You will also be able to find luggage facilities. Once you go through passport control, there are still many amenities and food and drink outlets available. The North Terminal also offers Wi-Fi, technology shops, and a multi-faith chapel. Gatwick's North Terminal is not directly accessible by train, so can only be reached by car, coach, or Gatwick shuttle. If you are flying from Gatwick's North Terminal, at Parkos we can find you a range of affordable and convenient options for an off airport car park near Gatwick airport.
Gatwick parking South Terminal
The South Terminal is the busiest of the Gatwick North and South Terminal. It hosts the majority of inbound and outbound flights. The South Terminal is serviced by the Gatwick Express and other non-direct trains. Some popular airlines that serve the South Terminal include Ryanair, Iberia and Turkish Airlines. Similar to the North Terminal, the South Terminal has a variety of shopping options, restaurants, Gatwick airport lounges and coffee shops. There is a Bureau de Change and luggage facilities. Once you go through passport control, there are still many amenities and food and drink outlets available. The South Terminal also offers Wi-Fi, technology shops and a multi-faith chapel. If you are flying from Gatwick's South Terminal, there are many convenient and affordable Gatwick airport parking available. These include Meet and Greet parking and Park and Ride options. The South Terminal also offers good Gatwick airport hotel and Gatwick parking options.
Cheap Gatwick parking
Gatwick airport is one of the four major airports serving London. As the City of London has grown, there has been an increased demand for air travel in the area. The major airports also serve the surrounding areas of South East England and the Midlands. While Gatwick currently only uses one of its two runways, there are plans to activate the Northern Runway. This could allow Gatwick airport to facilitate the travel of up to 75 million passengers per year. While there will be an expansion of official Gatwick long stay car parks, there will be a huge demand for Gatwick parking spaces. At Parkos, we can provide you with alternative Gatwick airport parking at cheapest parking prices for longer periods. We will continue to partner with local Gatwick airport car parks that want to be showcased on our comparison platform. Nobody enjoys paying over the odds for Gatwick parking. That's why we will continue to find affordable spaces at Gatwick car parks, at the best prices, all year round.

The most exciting part of your trip is planning it! Factoring in how you will get to Gatwick Airport is an important part of that planning. The direct trains are very reliable, and if you plan your trip well, you will arrive on time. However, if you are driving, reserving a car parking at Gatwick airport can be difficult and costly. Why waste what you could spend on your holiday on overpriced car parking? While the off airport car parks are not on the airport grounds, they are very close by. At Parkos, we ensure that we find you the most convenient parking space at the best price. At both Gatwick terminals, there is a choice of airport parking options including Park and Ride services. However, booking Meet and Greet parking at Gatwick is a good parking option if time is limited. Using these Gatwick airport parking methods, you will get from your car to the Gatwick airport terminals in no time.

Since the car park companies that we work with are smaller car park companies, we are able to bring you the lowest Gatwick airport parking prices. The companies we partner with own parking spaces outside of the airport grounds, so their overheads cost far less. We understand the concern that a lower price might imply reduced quality of parking service. However, the reputation of the car park companies we work with is very important to them as smaller businesses. They ensure that their customers receive the highest quality service. You can find customer reviews on our website. Often, the Gatwick car park providers we work with offer a range of extras within their parking package. For example, some car park providers will offer car-washing services while you are abroad. They also offer the same options as airport parking services, such as the valet parking that Gatwick officially provides. Providers will deliver a quality service, in the hope that you will use their parking services again.

Gatwick Airport has excellent long stay car park options, which you can book through us. You will be surprised at how long you can leave your car with us, so don't rule Parkos out just because your trip is a long one! Your car will be safe in a secure car park, no matter the length of your agreed stay. If you're looking for cheap parking at Gatwick airport, rest assured that we will always find you the best price for the duration of your stay. We do this by making price comparisons between all our parking providers, based on your requirements. We ensure that all our London Gatwick parking providers use 24-hour CCTV systems and regularly check that all vehicles are safe. All Gatwick car parks also have strict security measures for car identification. Therefore, you can feel at ease while on your trip that the only person who can reclaim your car is you. Keep reading to learn more about the parking at Gatwick services.
Car park options at Gatwick airport
Parking at the airport is a very popular choice. Many people prefer to make their own way to the airport, and not have to struggle onto public transport with their luggage. Similarly, airport parking is a good option for families with young children, and people with mobility issues. After a trip abroad, it is less stressful to come back to the comfort of your own car. If your flight arrives late, public transport may not be available. There are three main options for parking at Gatwick airport. These are Park and Ride, Meet and Greet services, and Hotel and Parking. All options are easy, cheap, and convenient. Some require you to use a shuttle service with free transfer bus, while others allow you to go directly to the terminal. With Hotel and Parking, you do not even have to touch your car again once you get to your airport hotel! Keep reading to find out more information on these Gatwick airport parking options.
Park and Ride Gatwick airport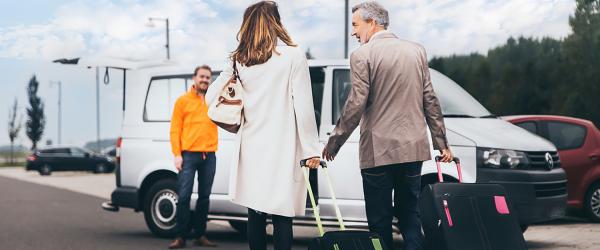 Park and Ride parking at Gatwick is a great option if you want to avoid jam-packed roads leading to the airport. Simply drive to the designated Gatwick car park, check-in, and leave your car there. You can choose whether you leave your car in covered or outside parking in many of the car parks. You are then transported to the airport terminal on a free parking transfer bus. Some airport parking lots do have fixed transfer periods based on the transfer runs at the airport. But a good number of Gatwick car parks will individually drive the shuttle for you. On your return, you will be picked up from the terminal by the car park staff, and taken back to your car. Many people prefer this stress-free parking experience. You can also decide to leave your key, though you are not obliged to. For extra comfort, you could book a one-night stay in the surrounding Gatwick airport hotels, where you may be able to park, sleep and then fly.
Meet and Greet parking Gatwick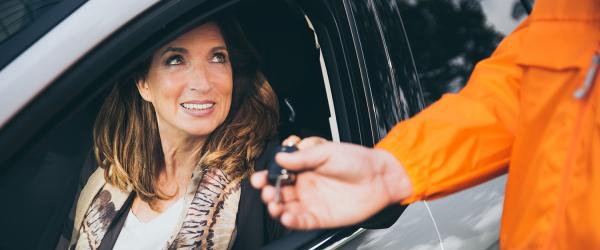 The Meet and Greet parking options, also known as Gatwick valet parking, allows you to drive your car to the airport terminal drop-off zone. After reserving a Gatwick parking spot ahead of time, we will send you a confirmation email. This will include the driver's telephone number. You can call through to the driver informing him of your arrival, or even request assistance if you need any. When you arrive, you will hand over your car to the parking employee. They will take it to be parked safely in the assigned airport parking lot, outside the airport. Therefore, the Meet and Greet parking option removes the need for a shuttle bus. You will simply walk for just a few minutes from your car to the terminal. On your return, your car will be driven back to Gatwick airport, allowing you to hop in and zoom off. At Parkos, you'll find that the Meet and Greet parking service offers a much cheaper parking rate compared to what you would be offered at the official airport parking lots.
Gatwick Hotel and Parking
If your flight is at an early time in the morning, you might consider an overnight stay in one of the Gatwick airport hotels. At Parkos, we can help you with arranging a short stay in an airport hotel along with airport parking. You will simply need to provide your flight details, including your time of arrival, and check-out time. We can then check whether there is any hotel parking available. If hotel parking is unavailable, you can pre-book a car parking space that is close to your hotel. We will arrange a driver to take you to your airport hotel. The hotel will typically have a shuttle bus that drives you to Gatwick airport the next day. In the unlikely event of any issues, we will assist you in any way we can to help you to resolve them. You can find out more by reading the FAQs section.
Gatwick long stay car park
Parkos makes parking at Gatwick airport for a long time very achievable, whether it is for a long weekend, or an extended period of time. We know that leaving your car with someone else while you are away is not an easy decision. At Parkos, we ensure that we only offer you the most reliable long-stay parking providers and will help you through our excellent customer care team. We outline our booking processes clearly for booking short stay car park or long-stay parking, so you can feel secure when making your booking. If you have any questions about booking long stay secured car park, you can use the help desk directly, or consult the FAQs page. Again, if we can't help you directly to solve any issues, we will try to assist you in any way we can. To help make your trip a pleasant one, here are some tips for long-stay parking at Gatwick Airport.

Reliable airport parking lots: It is very simple to make a reservation for a car parking at the airport. Choose where you are flying from, and give the details of your departure time and return time. Browse the car parks we have on offer, compare the prices and packages, and select the one that meets your needs best. You can reserve your booking online, and once you have booked, we will pass your details onto our Gatwick parking partner. Once this is confirmed, you will receive an email with all the details you need. We suggest that you take a screenshot or picture of your confirmation email, or print it, to avoid any delays in parking your car. You will receive your confirmation email a few moments after payment has been approved. Please contact customer services if you do not receive it. You are able to change or cancel your reservation without charge up to 24 hours prior to your slot.

Secure payments: Once we have reserved your space, we will show you the many ways you can pay. You have the option to make your payment online or in person, although payment methods are not the same for every Gatwick airport parking provider. We accept most major credit and debit cards and take all our payments through a secure system. The online safety of our customers is extremely important to us. Parkos is unable to access any of your personal information; it is your bank that processes the payment. If you are paying in person, check online prior to making your journey to check what type of payment your parking provider accepts. Ensure that you bring the correct method of payment with you. You can easily obtain an invoice for your payment by downloading it from our website. Feel free to contact customer services with any questions you may have about our payment process.

Reviews: We would love for our customers to leave reviews when they use any parking option at Gatwick Airport. This allows us and others to hear first-hand about your Gatwick parking experiences. We work very closely with our partners, and if you have a comment about their service, good or bad, we want to hear it! If a situation arises where you need to make a complaint, we will endeavour to make the necessary changes to improve our service. Currently, we are doing our best to cater to customers that have mobility issues. The majority of parking providers offer special airport parking places for disabled drivers. Unfortunately, not all parking providers offer this service. However, you can find out if your preferred parking provider has suitable car parking for you through our website. Please do leave us a review — maybe you will answer someone else's question with your comments.

Customer service: At Parkos, we aim to bring you the highest quality service in all interactions you may have with us. The parking offer is secure and affordable, and we always ensure that we are communicating with our Gatwick Airport parking provider partners to create a smooth airport parking experience for you. Whether you decide to book our Park and Ride or Meet and Greet service or you go for the Park, Sleep and Fly options, we want to make you feel comfortable at every step. We hope that when you go abroad again, we will be the first thought for a trustworthy and cheaper option for parking your car at Gatwick airport. We are transparent about how our car parking offers work in comparison to the official Gatwick Airport parking. Our hope is that this puts you at ease when choosing us for booking Gatwick parking. Please leave us a review, so that we can continue to give our customers the best deals.
If you need a route description, take a look at our directions page. We hope to see you soon.
Frequently Asked Questions
The Meet and Greet service at Gatwick airport offers a quick and convenient way to...
Read the full answer
Choose the Park and Ride service at Gatwick airport. With this parking option, you drive...
Read the full answer