Parking at Southampton airport
Southampton airport is a busy international airport based in the UK. A few well-known airlines operate from this airport, including EasyJet and British Airways. About 1.7 million people use this airport every year, meaning Southampton airport parking spots are in high demand. Indeed, it is one of the most popular airports in the UK when travelling to European countries due to its southern location. Therefore, Southampton airport parking requires careful consideration ahead of your trip. At Parkos, we assist customers in choosing an affordable and accessible short stay car park or long stay car park.
We have teamed up with local entrepreneurs to offer cheap Southampton airport car parks. We help our customers to achieve this goal through the comparison of privately owned off airport car park locations. These safe and secure airport parking spaces cost significantly less than the official airport car parks. Although the car parks are not directly affiliated with the official airport, they are all a short distance from the terminal, some located a short walk away. Parkos will help you every step of the way in choosing a Southampton airport parking spot that perfectly aligns with your needs. Check out all the available spaces on our website now!
Booking a Southampton airport parking spot before a trip abroad can be a time-consuming and expensive process. Especially when booking a Southampton airport parking spot in an official airport car park. This is why Parkos partners with independent car parks that place emphasis on value for money and finding great value for money. A cost-effective car parking option at Southampton airport is our team's Park and Ride service. You can use this Park and Ride Southampton airport service to save money while remaining within easy reach of the Southampton airport terminal building. This efficient way of parking gets your trip off to the best possible start. Book your short stay parking or long stay parking in advance through Parkos, to start your journey stress free.
Cheap Southampton airport parking
Parkos helps you to compare parking prices and finding great deals, saving you money and time. The Southampton Airport Meet and Greet parking service is the best choice for people who prioritise time efficiency and overall convenience. A professional valet will meet you at the airport upon arrival. You hand over your car to the employee, and he or she parks it in a car park. The car will be waiting for you when you arrive back at the airport. This allows you to focus on your trip instead of worrying about finding the right spot.

You may have to stay the night in one of the Southampton Airport hotels due to an early flight. Southampton airport hotel and parking is an ideal service for travellers seeking accommodation in addition to a convenient long stay car park or short stay parking. Parkos goes the extra mile to ensure a fair comparison of all surrounding hotels' prices, services, and locations. Our team will do its utmost to organise an airport hotel with suitable Southampton long stay or short stay car park. If we cannot arrange this, you can book a parking space ahead of time close to the hotel instead.

If you want long term parking, our Southampton airport parking long stay parking service is your best choice. Parkos appreciates the value of secure car parks, especially for travellers away for several days or weeks. Our customer service team will ensure a seamless Southampton long stay parking service. We are on hand to assist with any queries or issues. The FAQ section on our website also deals with common questions regarding payments or bookings. We will deal with your query immediately.

At Parkos, we can assure you that your car will be safe when you are away on your trip. We ensure that all our car parks have trained staff working around the clock. In addition to this, all the car parks of our partners have CCTV cameras and high fences surrounding them. Southampton airport car parking offers best prices without compromising on quality. Parkos provides better value for money when choosing a car parking space at Southhampton. But we do not compromise on service, which is as good as, if not better than our competitors.
Parking options at Southampton airport
Meet and Greet services at Southampton airport are located close to the airport. A member of the partners' staff will collect your keys and park your vehicle for you. Park and Ride allows customers to drive directly to their selected car park. After checking in at the information desk, you can take the shuttle service provided by the car park to the airport terminal. Alternatively, if you have booked our Hotel and Parking service, you can park your car on site while enjoying a comfortable night at a hotel close to the airport.
Park and Ride Southampton airport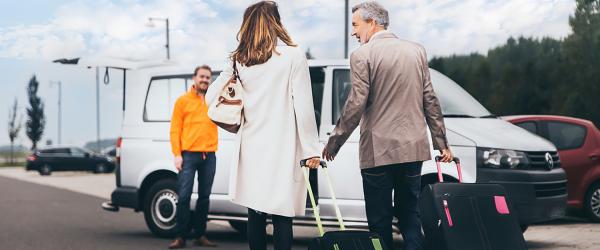 The Park and Ride service at Southampton airport parking is a truly seamless experience. All you have to do is drive straight to the airport car park you have booked. Park the vehicle yourself or give your keys to the valet. Next, proceed to check-in at the airport. Then, catch the efficient shuttle bus provided by our parking partner, to get to the departure terminal. Shuttles are included in the price of the parking. The professional driver of the shuttle service will be happy to help you with your luggage. You can find more information about the airport transfers in the booking confirmation your receive from us after making a reservation for Southampton airport parking.
Southampton airport Meet and Greet parking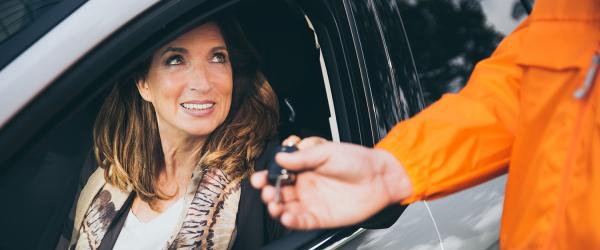 At Southampton car parking, the priority area of the short stay car park is designated as the Meet and Greet area. You will see a Meet and Greet dedicated sign here in this area. An authorized member of the team will check your car here. One of our employees will collect your car keys and park the car for you in the car park that is outside the airport main terminal. Once you return, you can collect your car in front of the arrivals hall.
Southampton airport Hotel and Parking
You might have to stay overnight at one of the Southampton airport hotels because of early flights. With this service, we need your flight details and check-in/out time to arrange available parking spot for you on your specified date. If there is no spot available we will let you know. In this case, you can pre-book a car park spot near your hotel. The hotel will provide you with a transfer bus that will drive you to the airport the next day. We will assist you in any way we can.
Southampton airport parking long stay
Browse through the Parkos website, and you'll observe that it is easy to book your desired spot. We understand how important it is to choose suitable parking options for your car. Therefore, we bring you the most reliable private off-site car parks so that you can feel genuinely relaxed about the process. We have a complete customer care service and multiple secure payment methods for your comfort. Moreover, we have compiled reviews from customers and different sources, enabling you to make an informed decision about your parking spot.

Reliable Car parks: The reservation process is quite simple. First, choose your airport i.e., Southampton, add booked flight date and return dates, and choose a location that you like. We provide real-time prices to help you find the most cost-effective parking spot. After you select a parking space, we forward the details to our Southampton airport parking partner. After they confirm, you will receive all the details through email. You can also take a screenshot or make a print of it. Then, you can make the payment and receive the final booking confirmation email.

Secure payments: After selecting the parking spot, you can see all the payment methods available. We accept all major debit and credit cards. Choose the one that suits you best. Along with the online payment methods, we also offer on-site payment for some parkings. All the payment methods are secure and fast. Indeed, Parkos does not access your personal information and keeps itself in line with data protection regulations. If you want to pay on location, you can check on our website which car parks offer on-site payments. Certainly, you will find our payment system secure and easy to use.

Reviews: We have a record of complete reviews about our partners. This ensures transparency and helps you to choose the best deal for Southampton long stay or Southampton airport. Therefore, we also prompt our customers to leave a review about the service they used. Moreover, we are open to any comment or complaint so that we can, in turn, discuss them with our partners. This helps to improve the overall experience at Parkos. We aim to provide an enjoyable experience to our customers at Southampton airport, helping them find a convenient spot.

Customer Service: Our customer service and support help add value to giving the most satisfactory experience to our customers. We offer 24/7 service to ensure all your needs and queries are correctly managed. If you have questions about parking spots, payment methods, or selecting the exemplary service, we are there to help. We are certainly open to comments and complaints as well. Indeed, our goal is that customers think of Parkos when they want to choose off-site airport parking spaces. Therefore, we aim to provide our customers with the best service and transparency.
If you need a route description, take a look at our directions page. We hope to see you soon for your next trip.
Frequently Asked Questions
How early to arrive at Southampton airport?

When departing from Southampton Airport, you should be checked in and ready to go through airport security at least 2 hours before flight. This does not account for the time required to:

take the car to the airport
how to go from the car park to the airport terminal building
the actual check-in time

International flight check-in may take longer due to additional security or processes. The time it takes to go from Southampton airport parking to the airport varies on whether you picked Park and Ride or Meet and Greet parking service.

Park and Ride

If you use the Southampton Park and Ride service, you must factor in the time it takes to go from the car park to the airport. When you arrive at the parking lot, a shuttle bus will be waiting to transport you to the airport. The shuttle departs on a set timetable or on demand. This will be specified on your parking provider's website. The transport time to the airport is normally between 10 and 20 minutes; you may check it on our website.

Meet & Greet

With Southampton Meet & Greet parking, you may save yourself a lot of time. You will drive directly to the airport terminal, and then an employee of the car park will take your car and park it on the parking terrain. There is no transfer time as a result of this. We recommend calling your valet a few minutes before your arrival to confirm your arrival time.

International flights

International flights may involve additional security precautions or processes. If you are unsure if this applies to you, you may always check with your airline. We recommend that you check in three hours before your flight's departure time for international flights.

How does Meet and Greet work at Southampton airport?

The Meet & Greet service at Southampton Airport is a convenient option for travelers to Park at Southampton Airport. The process involves driving to the departure hall where a friendly staff member will park your car after a few checks. Contact information for the staff is provided in the confirmation email. Upon arrival at the airport terminal, you can leave your luggage and proceed to check-in without having to drive to the parking lot. The car will be taken to its allocated spot by a Southampton parking staff member.

Returning from your trip, you should notify the car park operator of your arrival and retrieve your luggage. You can then arrange a time to meet with a parking staff member who will bring your car to the designated location, typically in front of the airport terminal.

Advantages and Disadvantages

The Meet & Greet service has both advantages and disadvantages:

Advantages:

Time-saving: Having your car parked for you saves time and allows you to continue your journey immediately.

Convenient: The proximity of the parking lot to the departures area offers greater assistance and easier unloading of luggage.

Disadvantages:

Trust: You may feel unsure about where your car is parked if you don't have a clear view. Parkos only works with trusted car parks and drivers to minimize this concern.

Cost: The Meet & Greet service is more expensive than other options like Park and Ride due to its ease and efficiency.

How does Park and Ride work at Southampton airport?

When you choose Park and Ride at Southampton Airport, you drive to our partner's car park. The Parkos comparing platform includes parking partners that are all located near Southampton Airport. The airport terminal is accessible through a free shuttle service. On our website and in the confirmation email you receive after booking a reservation, you can find out how long it will take the shuttle bus to arrive at Southampton airport. This article contains more information regarding Southampton airport car parks' Park and Ride service.

Please contact our parking partner when you return from your journey and arrive at Southampton Airport. Meet a car park employee at the agreed-upon place. The shuttle bus will take you back to your parked car. The parking provider's phone number will be included in the confirmation email you get from us after reserving your parking place for Southampton airport parking.

On return

If you plan to travel from Southampton Airport, please be aware that it is busy and packed, with frequent traffic delays. As a result, whether your flight is early in the morning or late at night, we recommend that you take additional steps. Check the daily busiest routes before you go to see if any road improvements are being undertaken or where the heaviest traffic is.
Our benefits
All car parks are carefully inspected
The best deals on airport parking
Free cancellation up until 24 hours
Over 4 million customers globally