Parking at London City airport
London-City Airport (LCY) is one of London's most easily accessible airports thanks to its geographical position just 6 miles east of Central London, and 3 miles from Canary Wharf. With an ever-increasing demand for air travel, there will always be more people on the move. Thus, more London City airport parking spaces will be needed. That is why, at Parkos, we can help you with parking at London City airport. We are here to help you find off-site parking at the cheapest parking prices. Read on to find out more on how find the best deal and to save money on airport parking.
People travel from all over the U.K. to fly from London City Airport. The flights range from international business trips to family holidays. At the airport, you will find airport lounges, restaurants, bars and public transport possibilities. However, wherever you come from, you are likely to need a parking space for some amount of time when you go to the airport by car. Being connected to major road links, there is an array of secure long stay parking or short stay parking spaces available. If you are unsure about the cheap parking at London City Airport offers, we are here to offer you advice and help you find exactly the same product as the main car park at London City airport, but for a cheaper price. Continue reading to find out a little more about how we, at Parkos, can help with that.
At Parkos, we offer a unique and simple answer to finding a cheap and secure car park near airports. Browse online to find all the best off-site car park spots at all U.K. airports. However, on this page we are looking at London City Airport. One of the most popular options to choose from is our Park and Ride London City Airport service. Simply park your car and take the provided shuttle bus service to the terminal building, so you can walk straight to the check in at the airport. It is a stress-free, extremely convenient and affordable service.
Cheap parking London City airport
As travel becomes more popular, so does the demand for airport parking. A great option for parking airport London City is the Meet and Greet option. This valet parking service allows you to drive straight to the airport, without the need to search for a car park. Once you've reached the terminal building, just hand over your car keys to the shuttle bus driver who will take your car to the pre-booked parking spot. It is then just a short walk to the check in desk. This service will save you all the hassle of finding a safe parking spot before your flight from London City airport.

Deciding how you get to any airport is an important factor when travelling. You could take a train, a bus or a taxi to the airport. However, you could also consider driving to the airport and opting for our London City Airport Hotels and Parking options. This service is primarily for travellers who have early morning flights. Booking at one of the airport hotels means you can leave your car in their car park for the duration of your trip and take a shuttle bus to the airport. It is another hassle-free service that we and our partners provide to our customers.

Parking at a short stay car park or long stay car park at London City airport at one of the partners of Parkos is one of the best options when you are planning to be out of the country for some time. The car parking facilities on our website are often much cheaper. However, your car might be considerably further from the airport. No worries, we have solved this problem too. You can park your car at your designated airport parking spot and take a shuttle bus from the car park to the main terminal entrance. A fast, reliable and affordable service that has proven to be very popular with passengers.

Here at Parkos, we provide an array of solutions for you through our online platform. Just type in your departure airport with your departure and arrival dates and browse our extensive selection of spaces and solutions. We aim to help you find and pre book the London City airport car parking option that suits all your needs and budget. Compare our Meet and Greet service, Park and Ride and of course, our Long-Stay car parks. In short, you will always find what you are looking for. Indeed, our services are quick, safe and reliable.
Parking options at London City airport
There are three main parking options at London City Airport. Firstly, we offer the Meet and Greet valet service. Here, you drive to the terminal and leave your car parked with a trusted member of the car park staff. Next, we provide a Park and Ride service where you park further away from the airport, but take the shuttle bus to the terminal. And, last but not least, we have the Hotel and Parking option where you stay overnight and park your car at the hotel car park for the duration of your trip.
Park and Ride London City airport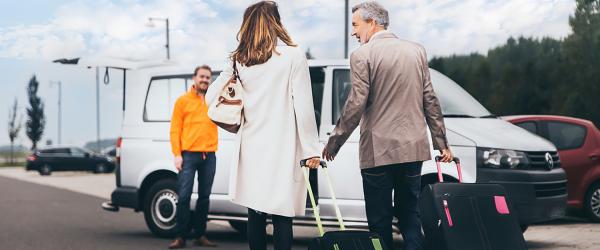 The Park and Ride service is extremely efficient at London City Airport. Although you will have to park your car further away from the airport, our parking partner will provide a shuttle bus that will take you to the terminal. The shuttle bus service offers you a comfortable and reliable service that runs regularly. Apart from offering you high-quality services, we also boast a qualified team of drivers who will offer you a professional and pleasant service, making sure you arrive on time for your flight.
London City airport parking Meet and Greet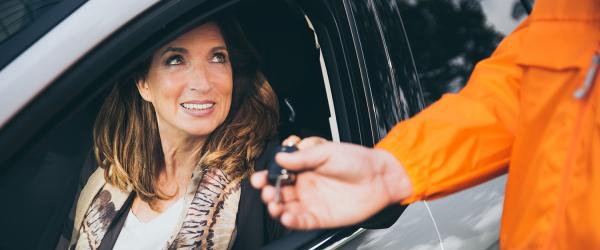 As part of our London City airport parking services, we offer a premium Meet and Greet service. Upon pre booking, we provide you with all the relevant information regarding your main car park spot, the driver's name and contact details. In short, drive to the terminal, and the staff will pick up your car and park it for you. This will save you a lot of time and hassle. For your return journey, all you need to do is contact the driver who will be waiting for you outside the airport terminal.
London City airport Hotel and Parking
Some of the earliest flights take off at dawn and to avoid feeling tired, you may prefer to stay overnight in a trusted hotel close to the airport. Before booking into your hotel, provide us with your flight details, and we will ensure our shuttle bus picks you up on time for your flight. Leave your car in the hotel car park, and we will do the rest. It couldn't be easier.
Parking at London City airport long stay
At Parkos, we offer a plethora of options for Long-Term Stay parking. Besides, all our offers are of great value and provide you with top quality service. Indeed, you are free to leave your car with us for any period of time, whether it be a week, month, or six months. We guarantee your car will be safe in our hands for the entire time.

Reliable parking: Making a reservation at London City Airport car parks through Parkos has never been easier. Just go online and select where you are leaving from. Fill in all the information, including departure and arrival dates and times. With a simple click, you will be able to see all the options, services and best prices we have on offer. Once you have booked and made payment, we will send you a confirmation email that you can save on your phone or print out.

Safety and Security: Once you have selected your parking option, you can then proceed to making payment. Here you can opt between paying online or on-site. However, you are advised to check the payment options as they vary from one provider to another. If for some reason you need to cancel your booking, this can be done free of charge within 24 hours of booking. We accept all major credit cards, such as Visa, Mastercard, American Express and PayPal. All payments occur via a secure connection, therefore your credentials are not at risk.

Customer Reviews: We aim to satisfy our customers at all times, therefore your feedback counts. We strive to provide the best services at the cheapest price possible while maintaining high standards. However, in the event of a complaint, we would like to hear from you. This way we can work to improve our services. Within 6 days of returning from your trip, you will receive an email from us inviting you to leave feedback on your experience. For example, if you have had difficulty finding a parking space for disabled people, we want to hear about it, so we can find a solution.

Customer Service: Here at Parkos, we offer the most trustworthy and efficient services when it comes to airport car parks. We provide an array of service ranging from Meet and Greet to Park and Ride, to make your trip smooth from the start. We designed our exclusive services for the most demanding customers who want maximum comfort and quality at affordable prices. Discover our proposals and optimize your parking time.
If you need a route description, take a look at our directions page. We hope to see you soon for your next trip.
Frequently Asked Questions
How early to arrive at Londen City?

We recommend that you check in and be ready to go through airport security two hours before your flight departs from London City airport. Please bear in mind that the following timings must also be considered.

Time to head to the airport.
Time to make the journey from the car park to the airport terminal.
Time to check in

Parking and check-in times at London City Airport may fluctuate based on your car park and whether your flight is national or international.

Park and Ride

Park and Ride at London City Airport involves driving directly to the car park. After you have parked your car, a shuttle van will be waiting to transport you to the airport. The shuttle bus transfer time is always listed on the parking page of your chosen location. In usual, the transition takes between 10 and 20 minutes. The shuttle's departure is dependent on parking availability. This can be done on the go or on a set timetable. Please double-check the shuttle information supplied by the car park.

Meet and Greet

Meet and Greet parking at London City airport means that you will drive directly to the terminal. A valet will be waiting to park your car for you. This method will save you time because there is no transfer time. To save undue tension, call your valet driver immediately before you arrive to confirm your arrival time.

International flights

Check-in for international flights may take longer due to additional security inspections. We recommend that you check in three hours before your flight. This guarantees that you have adequate time to check in and clear security.

How does Meet and Greet work at London City airport?

If you've chosen Meet & Greet service at London City airport, there are a few things to keep in mind:

On Arrival

When you arrive at the airport terminal building, simply unload your baggage and head to the check-in kiosk. No need to drive to the parking lot as one of the London City airport car park employees will drive your car to the reserved parking location.

On Return

Upon returning, contact the car park provider and inform them of your arrival and collected luggage from baggage claim. The phone number is included in the booking confirmation email. Agree on an arrival time with a parking provider personnel, then a parking lot employee will drive your vehicle to the designated meeting place, usually in front of the London City airport terminal.

Advantages and Disadvantages

Benefits:

Time-saving: Having your car parked for you saves time, allowing you to proceed directly to the departures area.
Convenient: The service offers several conveniences, such as a closer exit to the departures area, less distance to carry your luggage, and likely more assistance from the car park staff.

Drawbacks:

Trust: The lack of visibility of where your car is parked can cause trust issues, but Parkos only works with individually inspected car parks with professional drivers.
Cost: Meet & Greet service is more expensive than other options like Park and Ride due to its convenience and efficiency.

How does Park and Ride work at London City airport?

If you have chosen the Park and Ride option at London City Airport, you will drive to the car park of your choice. A complimentary shuttle bus will transport you to the airport terminal, allowing you to avoid traffic around the airport. All of our parking providers are conveniently located near London City Airport, and their distance from the airport is mentioned on our website, so you can check how long the shuttle takes to reach the airport.

On Return

When you return from your trip, please contact the parking facility. A staff member will be waiting for you with the shuttle bus at the arrivals hall, and you will be driven back to the parking lot. The car park provider's phone number can be found in the confirmation email you received after booking a reservation.

Traffic Information

It is important to check the major routes near London City airport daily, especially during busy morning and evening hours. Congestion on key highways near the airport may occur, adding time to your travel. Checking ahead of time may help prevent delays.
Our benefits
All car parks are carefully inspected
The best deals on airport parking
Free cancellation up until 24 hours
Over 4 million customers globally