Car parking at Leeds Bradford airport
Leeds Bradford airport is located 11 and 14 kilometers from Leeds and Bradford respectively. In 2019 the airport welcomed nearly four million passengers. Parkos has partnered with local airport parking partners to offer "alternative" Leeds Bradford airport parking. Their car parks are not affiliated with the airport, but they provide the cheapest parking options for you when looking for car parking at Leeds Bradford airport. The car parks on our platform are close to the airport terminal building, so the transition with transfer buses will be quick and easy.
Leeds Bradford airport has several bus connections from surrounding cities. Leeds train station is a busy hub, and buses to the Leeds Bradford airport run seven days a week from there. However, the bus and train schedules might not fit in with your flight schedule, so taking your car will be the best option. Parking at the airport can be an expensive affair. However, Parkos guarantees the cheapest airport parking product at Leeds/Bradford airport. Please have a browse through our website to see the services that are available and save money on airport parking.
Car park guide - Most important information about Leeds Bradford airport car parks
| | |
| --- | --- |
| 🚙 Parking lots: | 2 parkings |
| 🏆 Top rated: | VacationCare - Meet & Greet |
| 💶 Cheapest: | Vacationcare - Park & Ride |
| 🛫 Closest: | Simply - Park & Ride |
Leeds Bradford is a bustling short-haul airport with low-cost airlines Ryanair, EasyJet, and Jet2 all use Leeds airport. Ryanair has recently added three more routes to their schedule here. Leeds Bradford terminal offers a fast track and picks and go duty-free service. When you book our Park and Ride Leeds Bradford airport service, you will have time to visit some of the bars and restaurants the Leeds Bradford airport terminal has. Maybe you can treat yourself and book one of the three Leeds airport lounges.
Cheap parking at Leeds/Bradford airport
Taking your car to the airport is the best choice in most instances. It makes sure you get to the airport on time, and you don't have to carry your luggage around everywhere you go. Parking can be costly at airports, and if you don't book with the right company, you could spend a lot more money than you had budgeted for. When you book our Meet and Greet Leeds Bradford airport service, you will get value for money and experience an outstanding airport parking service.

Our comparison and booking platform takes care of your parking needs with the click of a button. To narrow down your choice, use the filter on our search engine to find the Leeds Bradford airport parking you want. Once you have chosen your car park, book it directly, and the space is reserved for you. If you have an early flight, we can secure our Leeds Bradford airport Parking and Hotel service for peace of mind and a bit of luxury. Check out this service at the cheapest price on our website now!

Parkos has teamed up with local business people to offer you the best value for money long stay parking Leeds Bradford airport. These car parks are not affiliated with the airport but are a short bus ride from the main terminal. However, the day price on our website will never be more than booking directly with the car park provider. You have the added security of our customer service to back you up. If you have any problems, we are there to help you.

Pre booking Leeds Bradford airport parking with Parkos is cheaper than when you book with one of our competitors. This does not mean that you will be getting an inferior car park service. All the car parks of our partners are manned 24 hours a day, have CCTV cameras, and are protected by high fences. Our customer service will solve any issues you have on the way, to, or at one of the car parks. At Parkos, taking care of you and your parked car is our top priority. As is your peace of mind. The positive reviews on our website testify to this.
Parking options at Leeds Bradford airport
With Park and Ride you take our shuttle bus to the terminal after you have parked your car in its designated spot. When you arrive back at Leeds Bradford, the bus will take you back to your car. With the Meet and Greet service, you drive your car up to the terminal. One of the staff members will take your car and safely park it until you arrive back at the airport. Parkos Hotel and Parking service allows you to book a hotel with on site car parks.
Park and Ride Leeds Bradford airport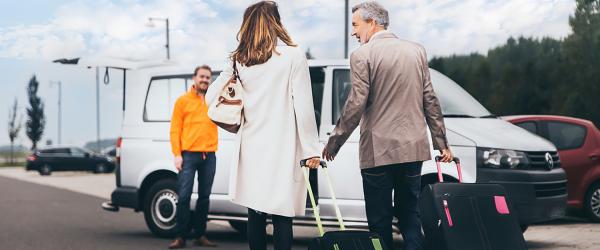 Park and Ride is a popular airport parking service with airport transfers. You select your preferred spot and book it. After you have paid, we send you an email outlining the directions to your space. After you have parked your car, check in at the office and hop onto one of the shuttle buses to be transported to the terminal. These buses arrive at regular intervals so you won't have to wait long. Get the bus back to the airport car park to collect your car on your arrival at Leeds Bradford.
Meet and Greet Leeds Bradford airport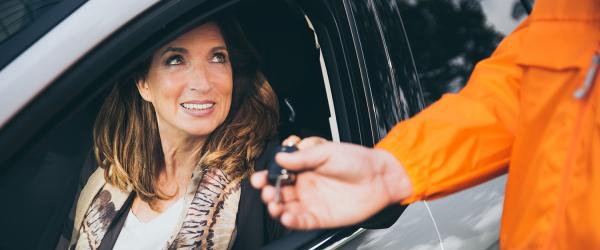 Our Meet and Greet service allows you to leave your car at the terminal on your way out and collect it at the same place when you arrive back. An employee of the car park will take your car keys and bring your car to the parking area. We send you a confirmation email detailing how to get to the meeting point at Leeds Bradford. We give you the name and phone number of the employee who will take care of your car. After meeting at the designated spot, the employee of our parking partner takes your car, and drives it back to you when you arrive back.
Leeds Bradford airport Parking and Hotel
If you have an early flight, you might need to stay at an airport hotel the night before. With Parkos Parking and Hotel service, we offer you the combination of a hotel night for you and onsite parking for your car. This is a popular service, but the spaces are limited. We advise you to book well in advance. You can park your car at one of the airport hotels and get a shuttle bus to the airport the morning after, refreshed and ready to go.
Long stay parking at Leeds Bradford airport
Your car is always safe when you book Leeds Bradford airport parking through Parkos. We realise that customers might be a little wary because we are not an official airport car park. There is no need to worry. All our employees are insured to drive your vehicle and are trained to take great care of them. Our goal is that you'll be so satisfied with our parking service that you will book with us the next time you are going on a trip from Leeds Bradford airport. We have a comprehensive Frequently Asked Questions section where you can look up the answers to most queries.

Reliable parking at Leeds Bradford airport: Our booking platform is user-friendly. Pick the relevant airport and see all our car parks. When you have selected your Leeds Bradford airport parking, book it and then pay. Once you have paid, you have locked in your space at the specified price, no matter how the price is affected afterwards. We send an email confirming the location of your booked car park and space. If you have any problem with your booking, contact our helpline on this website. We will answer your query as soon as we can.

Secure payments: Parkos payment system is seamless. We accept most debit and credit cards and PayPal if that suits you better. Your payments go through a secure encrypted payment system. All the information is encrypted. At Parkos, we have no way of accessing your details. Your bank is responsible for the payment procedure. Most of our car park partners accept cash if this is your preferred choice of payment. However, it is advisable to check with them first to confirm that this is the case.

Reviews: We appreciate it when you write a review on our website to let us know your experience with us. Without these reviews, we would find it more challenging to improve our overall service. If you have had a bad experience at our car parks, we need to know. Fortunately, our good reviews vastly outnumber our negative ones. Hence, we feel that we are doing something right. Please leave us your review after booking our short stay car park or long stay car parks to help us improve our business.

Customer service: Our customer service is very important to us. Parkos will answer any query you have through the helpline on our website. We know that when you travel, your plans can change quickly. Therefore, free cancellation is available if you do it 24 hours before you arrive. You can alter your booking at any time. Our goal is for you to book with us every time you need airport parking. To be sure of this, we need to combine our best price with excellent customer service.
If you need a route description, take a look at our directions page. We hope to see you soon for Leeds Bradford airport car parking.
Frequently Asked Questions
How early to arrive at Leeds Bradford airport?
How does Meet and Greet work at Leeds Bradford airport?
How does Park and Ride work at Leeds Bradford airport?
The benefits of Parkos
All parking lots are carefully inspected
The best deals on airport parking
Free cancellation up until 24 hours
Over 2 million customers globally