Bournemouth airport car parking
Bournemouth airport is located 6.5 kilometers from Bournemouth city centre. There is a direct transport to the city's train station, which, in turn, connects to London. The yellow bus runs five days a week with no service at the weekends. When you need parking at Bournemouth airport, Parkos has the best deals on airport parking. We guarantee you the cheapest Bournemouth airport parking when you book with us. Check out our website for details now!
A couple of factors come into play when deciding how to get to the airport. You want to make sure you get there in time but not with too much time to spare. The bus and train schedules might not align with your flight schedule or could be inconvenient to get to. Taking your car will be the best option, and at Parkos, we can provide you with cheap car parking near Bournemouth airport. The official airport car park at the Bournemouth airport terminal can be very expensive, however, we offer exactly the same product for paying the best price. Start comparing Bournemouth airport car parks today.
Parking guide - Most important information about Bournemouth airport car parks
| | |
| --- | --- |
| 🚙 Parking lots: | 2 parkings |
| 🏆 Top rated: | VacationCare - Meet & Greet |
| 💶 Cheapest: | Vacationcare - Park & Ride |
| 🛫 Closest: | Simply - Park & Ride |
Bournemouth is a relatively small regional airport with passenger numbers totalling around 800,000 in 2019. The two biggest European low-cost airlines, Ryanair and EasyJet, use this airport, with TUI operating some charter flights. The airport is very easy to navigate, and the check-in process is efficient. Parkos provides you with the Park and Ride option at Bournemouth Airport, which offers excellent value for money. Check out all the services on our website now!
Cheap car parking near Bournemouth airport
Bournemouth airport is small but has all the facilities you need before flying. They have a reserve and collect option for Duty-free, which you pick up after pre-ordering. The airport has airport lounges, bars and restaurants where you can have a drink and something to eat while you are waiting for your flight to be called. If you choose the Meet and Greet option, you'll arrive in good time to enjoy everything the airport has to offer.

Taking your car to the airport is your best option. It means you can make your own travel schedule. But parking your car at the airport can be expensive. It's a good idea to shop around for the best parking deals to avoid paying too much. If you have an early flight, take a look at the airport hotels with parking, which combines Bournemouth airport hotels with parking before your flight the next day.

Our website booking platform will take care of your airport parking requirements. You can filter your search to find the Bournemouth airport car park you want. Once you find the parking option that suits you, you book it directly on our site, and we confirm the airport parking space for you. If you need to leave your car with us for an extended period, our Bournemouth airport long stay car park is the perfect choice for you. Check out your options for Bournemouth airport parking on our website now!

At Parkos, taking care of your airport parking needs is our most important priority. We have partnered with local airport parking partners to offer you the cheapest parking available at Bournemouth Airport. Although the car parks on our platform are not directly affiliated with the airport, they are all a short shuttle or walking distance from the terminal. The car parks are secure, with CCTV, high surrounding fences, and 24-hour security staff. The Parkos customer helpline will deal with any queries you have before and during your stay with one of the Bournemouth airport parking partners.
Parking options at Bournemouth airport
Park and Ride means driving your car to a designated spot and taking a shuttle bus to the terminal. The same applies when you arrive back. Meet and Greet allows you to drive your car up to the terminal. A staff member of the car park will take your car and return it to you when you arrive back at Bournemouth airport. Parkos Hotel and Parking provides you with a room and parking on the hotel grounds.
Park and Ride Bournemouth airport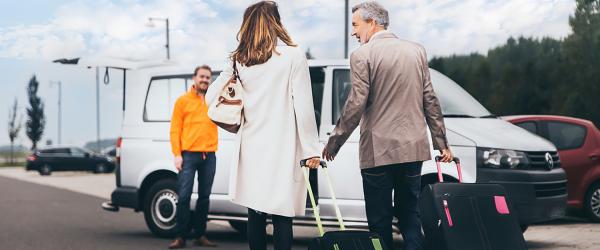 Park and Ride is the most popular parking option. You select your parking spot and book it. After you have paid for the best deal, we confirm your booking, and you will receive an email giving you specific directions to the car park. After you have parked your car, you jump onto one of shuttle buses, which will take you to the terminal. The journey will take about five minutes. On your arrival back in Bournemouth, you take the bus back to the car park, to get back your parked car.
Meet and Greet Bournemouth airport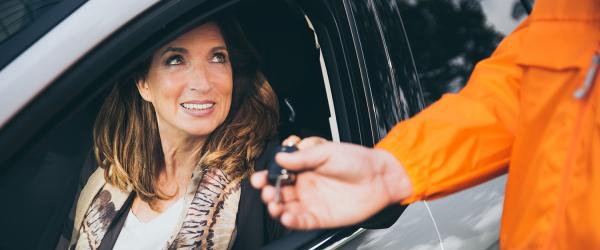 The Meet and Greet service option allows you to drive your car to the terminal building. From there, your car will be driven to the car park by the staff of the parking partner. They will park your car in a parking spot and they will take care of your car until you return. When you book this option at Parkos, you will be sent a confirmation email detailing how to get to the meeting point at the terminal. We will need your flight details when you book. Parkos will supply you with the name and phone number of the employee taking care of your car. With this option, you save a lot of time because you can directly go to the check in desks. It is only just a short walk to the terminal when you arrive with your car.
Bournemouth airport Hotel and Parking
When you have an early flight, you have two travel options. You can drive through the night or book Parkos Hotel and Parking. We will book a hotel room for you with on-site parking. This is a popular option, but the airport hotels are limited. Pre booking is advised. You can park your car safely at the car park the night before your flight and get a shuttle bus to the terminal building the morning after.
Bournemouth airport long stay car park
Customers can be reticent when booking their car park with us because we are not directly affiliated with the airport. When you leave your car with Parkos, we guarantee you it will be in safe hands. The staff is insured to drive your car, and they are trained to look after it. We want you to experience the best service at the best prices in the hope that you will book with us the next time you are at Bournemouth airport. We have a comprehensive Frequently Asked Questions section where you can look up the answers to most queries.

Reliable parking with Parkos: When booking a car park on our website, choose Bournemouth airport and search through all our available Bournemouth airport parking spaces. When you have selected the spot, book it and pay. Booking online is our only option as our prices are real-time and will be affected by the season and current demand. Once you have paid, your booking is confirmed. You will be sent a confirmation email detailing the location of the car park and your parking space. If you book early, you will benefit from the best prices for Bournemouth airport parking.

Secure payments: We accept most debit and credit cards. You pay after you have selected and confirmed parking airport Bournemouth in advance. We send you a confirmation email outlining your booking details. Your payments go through an encrypted payment system. At Parkos, we have no access to your financial information. Most of our car park partners will accept cash payments for Bournemouth airport parking. Find out if the parking provider accepts this payment method by checking their car park page on our website.

Reviews: Customer reviews are extremely important to us. Getting feedback from our customers is essential for Parkos and our car park providers. We want to know what kind of experience you have had with us regardless of whether it is good or bad. Fortunately, we have hundreds of good reviews, so we feel we are doing a good job and you are happy with our prices and customer support. Please leave a review the next time you visit us.

Customer service: At Parkos, we are very proud of our customer service. We answer your questions in our FAQ section on our website. If the FAQ doesn't address your issue, please contact our customer support helpline. We understand that travel plans can change quickly. This is why we offer free cancellation and booking alterations 24 hours before you arrive. We want you to book with us every time, and to ensure this, our customer service has to be a cut above the rest.
If you need a route description, take a look at our directions page. We hope to see you soon for Bournemouth airport parking.
Frequently Asked Questions
How early to arrive at Bournemouth airport?
How does Meet and Greet work at Bournemouth airport?
How does Park and Ride work at Bournemouth airport?
The benefits of Parkos
All parking lots are carefully inspected
The best deals on airport parking
Free cancellation up until 24 hours
Over 2 million customers globally