Car parking Belfast international airport
Belfast International airport is Northern Ireland's main airport as well as the second largest airport on the island of Ireland. In 2018, more than 6 million passengers travelled through the airport. EasyJet operates most of the flights from the airport. EasyJet is Northern Ireland's largest carrier. The airline flies mainly to European cities, with seasonal routes to popular travel destinations. There is only a single passenger airport terminal. It is located on two floors with the upper floor for departing passengers whereas the lower floor is for arriving passengers. Car parking Belfast International Airport is available at three car parks. However, Belfast international airport parking can be quite expensive.
There are several private car parks within a short distance from the airport. You can find several inexpensive options for low cost parking at Belfast International Airport. At Parkos, we sort out the best prices for parking at Belfast International Airport so that you get the best car park deals. Our website gives you an easy and quick way to compare and book a convenient parking at Belfast International airport. We partner with approved private car parks located off-site at Belfast International Airport. As such, you can be assured to find the best car park deals at Belfast International Airport on our website at any time of the year.
Parkos works on a commission basis with the private car park providers. Nevertheless, the total price on our website will never be higher than the price offered directly by the car park providers. Parkos will guarantee that, and you'll have one less thing to worry about when you make a reservation for a car park with us. We are only paid a commission for bookings made through us. It is a win-win situation for you. You'll get to choose better services but at the best rates to get great value for money. When you book through us, you can cancel your reservation free of charge up to 24 hours before your arrival. We mainly offer Park and Ride Belfast International Airport: a free shuttle bus will bring you to the airport terminal within minutes from the car park.
Cheap car park Belfast international airport
Belfast International Airport is very important for Belfast and, in particular, the Antrim and Newtownabbey Borough Council. Belfast International Airport is the key to the economic recovery of Belfast and Northern Ireland. The Antrim and Newtownabbey Borough council's planning committee has approved a £15 million investment plan for the Belfast International Airport. There will be a major extension to the main terminal building to give it a new facade and make the airport more efficient. The demand for cheap air travel, with carriers like EasyJet and Ryanair, will pick up in the coming years. Parkos anticipates more demand for self park spaces and other services such as Meet and Greet Belfast International Airport parking, also known as the valet service.

The airport extension will have an enhanced security area. This allows passengers to clear the terminal faster, thereby improving passenger's experience through the airport of Belfast. Nonetheless, planning your trip to Belfast International Airport is an important part of your travel plan. However, there is limited public transport for you. You can catch a bus from Belfast, Lisburn and Londonderry to Belfast International Airport. Alternatively, there are airport express coaches. Driving your car is the cheaper and hassle-free option of getting to the airport. Yet, booking an on-site airport car park can be difficult and expensive. Moreover, you will need Belfast International Airport Hotel and Parking for those early flights.

Parkos partners with approved private car parks to offer you a cheaper short stay car park or long stay car park at Belfast International Airport. As small companies operate these off-site parking facilities, they run the operations with very low overheads. They are able to pass on these cost savings to you. This is how you end up getting a car park for a much lower price. All the car park slots available on our website are easy to reach from Belfast International Airport main terminal building. Parkos assure you that the service levels of the car parks are as high as, or even much higher than our competitors. We even provide Belfast International Airport car parking long stay on our online booking site.

We provide a range of different convenient parking services and options for you. You can choose either the short stay or long stay car parking at Belfast International Airport. Long-stay parking is a popular service at Parkos. You can leave your car with our partners at Belfast International Airport for as long as you want, and in return, they will guarantee that your car is in safe hands. Our partners have CCTV cameras monitoring their car parks 24/7, employees working round-the-clock and high fences so that you'll have one less thing to worry about as you plan your journey. Again, you will get to see the best prices on our website.
Parking options at Belfast international airport
We offer three main options for you on our website. Firstly, Park and Ride. Secondly, Meet and Greet and lastly, Hotel and Parking. You can drive straight to your chosen car park slot with Park and Ride. Afterwards, we will have personnel on standby to shuttle travellers to the departure hall at the airport terminal. Meet and Greet allows you to drive directly to the airport parking at Terminal 1. You will hand over your vehicle to one of the staff members and off you go to the departure hall. We help you to arrange both the perfect space and one of the Belfast International Airport hotels with the Hotel and Parking option.
Park and Ride Belfast international airport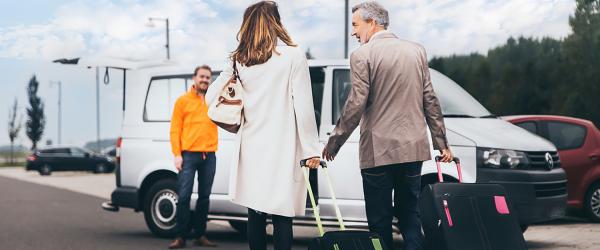 The Park and Ride option allows you to drive straight to your chosen car park slot. Then you need to check in at the information desk to confirm your booking. You can hop on to our shuttle bus services to get to the Belfast International Airport Terminal. When you return from your trip, we will have another shuttle bus to pick you up from the arrival hall and take you to your parked car. It's as simple as that. You can choose either covered or outside spaces for your vehicle. Furthermore, you can choose to leave your keys with the partner or take them along with you.
Meet and Greet Belfast international airport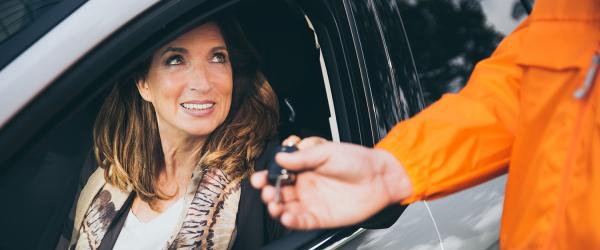 The Meet and Greet service is a premium option at Belfast International Airport. You can drive directly to the airport parking at Terminal 1. You drive to your drop off points at the departure terminal and the staff of our partner will take over from you and drive your vehicle to the allocated car park slot that you have booked. Parkos will give you all the necessary information in your confirmation email. You will know the exact location of your parking space, the name and contact details of the staff who is going to greet you and drive your car to the booked spot. You are just a few metres away from the departure hall, so after that it is just a short walk.
Belfast international airport Hotel and Parking
Hotel and Parking is for when you need to stay overnight at one of Belfast International Hotels before a flight. This takes the hassle out of an early morning flight check-in on the next day. Parkos will try to organise an airport hotel with parking for you. We will arrange both these facilities with your flight details, estimated time of arrival and check-out time. We will strive to find any hotel parking available at your specific time. If there isn't any available, you can pre-book on our website a space that is closer to your hotel. We will arrange for someone to drive you to your airport hotel.
Belfast international airport car parking Long stay
You might be worried about handing your car over especially if you are going away on a long weekend or even on a three-month work contract overseas. At Parkos, you can rest assured that your car will be in safe hands. We have a comprehensive customer care service in place to ease your concerns when parking at Belfast International Airport and we work properly with personally checked partners. We explain our payment system clearly on our website. Moreover, we answer all the common questions in our FAQ section. If you have any other questions about our booking facility, please type them into our help desk box at the top of the Q & A page on our website. We will get back to you soon. We have a comprehensive Frequently Asked Questions section where you can look up the answers to most queries.

Reliable Belfast International airport parking: Making a reservation has never been easier. Select the airport that you are flying from and include your start date and return date with time. Use the website to choose the car park and the parking slot. We only allow online reservations as our prices are in real time. Once you have booked in advance, you will receive an email with the relevant details. After we receive the payment, you will receive a confirmation email. We advise all travellers to take a screenshot of their email or print it out. Get in touch with customer service if you didn't receive it. You can change or cancel your reservation for free within 24 hours.

Secure payments: Our payment system is easy to use and fully secure. Mostly, you can pay online or on location. However, payment methods may vary with the providers, so you will have to check to see which type of payment your provider accepts on our website. We accept all major credit and debit cards and all payments are processed via a secure payment system. Parkos does not access any of your personal information. This is solely taken care of by your bank or credit card company. If you encounter any problems during the payment process, please contact us at customer service immediately.

Reviews: We would love to hear from you about your experience. As such, we encourage all our customers to leave reviews when they park their vehicles at Belfast International Airport parking. Our partners provide the private car park facilities, so we want to hear from you any feedback about those facilities. Then, we can raise it with them with the objective of improving the services provided to our future customers. Parkos also try to cater to travellers with mobility difficulties. Most of our providers have special spaces for customers with mobility difficulties. You can find out more on our partner's webpage through the Parkos website.

Customer service: Our goal is to provide cheap and safe parking with brilliant customer service at the Belfast International Airport, whether you are going on business trip or vacation. We believe in providing the best customer service for all of our customers regardless of the parking options you choose with us. It doesn't matter if you decide to book our Park and Ride, Meet and Greet or Hotel and Parking. Each option will always exceed your expectations. Parkos make your booking experience as transparent as possible. We offer a flexible and varied payment system for your convenience. We collaborate with our partners constantly to make your experience enjoyable and seamless. Please leave us a review after your stay with us.
If you need a route description, take a look at our directions page. We hope to see you soon.
Frequently Asked Questions
How early to arrive at Belfast Airport?

How many hours you should arrive at your Belfast airport parking depends on two things. 1. The type of flight you take (international or domestic) and 2. your parking method (meet and greet or park and ride). In general it is advised to be ready to go through airport security 2 hours before your plane takes off.

Park and Ride

Park and ride means that you'll drive your car to an offsite location. Here you park your car yourself. A free shuttle service is available to take you to Belfast airport. Most offsite parkings are located within a 10-20 minutes drive from the airport. When calculating the time you should arrive at the airport you should include the parking, shuttle transfer time and check in time. The estimated transfer time can always be found in the listing page of the parking.

Meet and Greet

Meet and Greet means that instead of driving to the parking you drive to the airport. At Belfast airport a valet driver will be waiting for you. After quick paperwork the valet will park your car for you. When you choose meet and greet parking you don't have to add extra time for parking and transfers.

International flights

International flights often have more security measures in place. Check in can take longer. You might have to go through passport control or have your visa checked. This costs extra time. We don't want you to stress in case the airport is busy and waiting lines are long. We therefore advise you to be at the airport and ready to go through security 3 hours before boarding.

How does Meet and Greet work at Belfast airport?

You can park your car quickly and easily with the Meet and Greet service at Belfast airport. You drive straight to Belfast airport's departure hall and call the parking partner around a half-hour before your arrival. The car park provider you reserved will be informed when you arrive at Belfast Airport. The parking phone number may be found in the confirmation email you received after booking a parking space. More information about the Meet and Greet service at Belfast Airport may be found further down this page.

On arrival

You drive your car to the Belfast airport departures hall, where you are greeted by a member of the parking provider's staff. The vehicle is next observed carefully, and you are required to sign a receipt for it. As a consequence, whenever you return from a vacation, you should carefully check to determine if your vehicle has sustained any damage. The attendant will take your car keys and drive it to the parking lot. So, in the meanwhile, you may go to Belfast International airport to check in and continue your trip without stress. You do not need to drive to the parking lot; instead, the staff will park your car in an available space for you.

On return

When you return after your journey, please tell the parking attendant staff that you have arrived and collected your bags at the baggage claim. The phone number of the parking partner may be found in the reservation confirmation email. You and the parking attendant have agreed on a time and location for your arrival. The parking lot employees will transport your car to the agreed-upon spot, which is usually in front of the Belfast international airport arrivals hall.

The advantages and disadvantages

You should always make an informed selection when parking with a Meet & Greet service at Belfast Airport. The advantages and disadvantages of the Meet & Greet service are outlined below.

Advantages

Time-efficient: It saves you time to have your car parked for you. You arrive at Belfast Airport without having to drive from the parking lot to the terminal building.
Convenience: You do not need to move your large and heavy luggage from the airport's car park to the Belfast airport's departure hall. All you have to do is park your car in front of the departure hall at Belfast International Airport.

Disadvantages

Trust: You can't see where your car is parked in the designated parking lot. We can assure you, however, that all of our partners only hire licensed transfer shuttle bus drivers. You may be confident that your car is parked in a secure and safe area at the parking terrain.
Cost: The Meet & Greet service is slightly more expensive than other parking choices at Belfast Airport, such as the Park and Ride service.

How does Park and Ride work at Belfast airport?

Choose the Park and Ride option at Belfast Airport. With this option, you drive to the car park operator and park your vehicle in a designated parking spot. All Belfast airport parking options are conveniently located near Belfast International Airport. The airport terminal can be easily reached with the free shuttle service provided by the car park. Visit our website to find out more about the shuttle service and how long it takes to reach the airport. You will receive a confirmation email after booking a parking spot that includes more information about the Park and Ride service provided by one of our parking partners.

On return

Upon your return to Belfast airport, make contact with the car park provider. Meet the parking lot employees at the designated location and take the shuttle bus back to your parked vehicle.

Traffic information

Please be aware that the area around Belfast airport can be congested and experiences frequent traffic delays, especially on busy roads. Regardless of whether your trip is in the middle of the night or early in the morning, we recommend checking for any additional traffic updates for frequently used routes.
Our benefits
All car parks are carefully inspected
The best deals on airport parking
Free cancellation up until 24 hours
Over 4 million customers globally